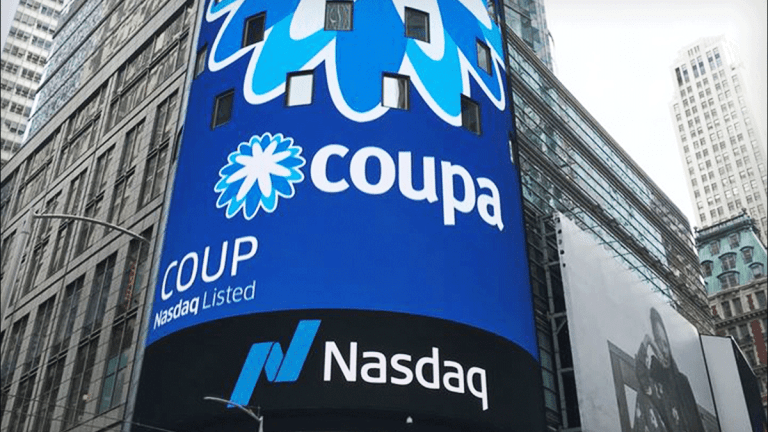 Why Coupa Shares Should Continue to Outperform
Recession fears are diminishing and the Fed is as accommodative as ever, with a strong economy in the backdrop. High-growth tech tends to outperform in this environment.
Recession fears are diminishing and the Fed is as accommodative as ever, with a strong economy in the backdrop. High-growth tech tends to outperform in this environment.
There are certain investment environments that augur much more favorably for the high-flying, parabolic-revenue-growing, negative-earnings-having tech stock cohort than others. We continue to have exceptionally easy monetary policy in the face of a strong economy. As long as the Fed remains accommodative and we avoid negative growth (reminder: slowing growth is not the same as a recession), the outperformance of this group should continue.
A somewhat low-profile choice that fits the mold beautifully is Coupa Software (COUP) - Get Report .
Before I dive into fundamentals, let's begin by reviewing how popular this company is becoming with hedge funds, which is what led me to look at it closer in the first place. This includes being the largest position in what has been the No. 2 best-performing of 13F-reporting hedge funds over the last ten years: Whale Rock Capital.
Whale Rock is an exclusively tech-oriented fund with roughly $6 billion in assets under management. It currently has nearly 7% of its portfolio invested in Coupa, representing a 5% stake in the company. Coupa has also been a growing institutional choice, with a 33% increase in reported holdings amongst hedge funds this year.
Coupa is a member of one of the most rapidly-growing technology sectors: cloud-computing software and services for businesses. They are what's called a "spend management" company, meaning they help companies become more efficient and informed regarding how they allocate capital and costs.
While the mega-corporations of the world are already segueing over to contemporary forms of payments via mobile and online, many smaller businesses have yet to fully adapt. Coupa is offering a fairly straightforward product and providing a service that all companies should be incorporating into their 21st-century operations.
The growth Coupa has experienced is consistent with this assumption.
Coupa has produced YOY quarterly revenue growth from 34-53% (53% was the most recent quarter) since its IPO in October 2016. As most early-stage tech companies with stratospheric growth but no net income yet tend to do, its stock price has followed the trajectory of its revenue growth. What usually fuels this growth is substantial spending, and Coupa has been no exception, as the charts illustrate below. It's crushed the market both this year -- with a 119% YTD return -- and since its IPO.
Of note: the changes in revenue growth are consistent with expenses. However, the percentage change in revenue growth has consistently outpaced the percentage change in expense growth, an encouraging sign of eventual profitability. 
Coupa's most-recent quarterly earnings topped analyst estimates by 10% as it registered a 51% increase in subscription revenues (its primary income source) and a 57% uptick in quarterly billings. Management raised guidance.
It's decently geographically diversified as well, with 25% of revenue coming from Europe. Something it hopes to increase as it focuses on aggressive global expansion, with offices in California, Europe, Latin America, and Asia Pacific.
What you have here is an overvalued stock by fundamental analysis metrics that mostly focus on earnings. However this fairly narrow, P/E-centric assessment process has caused the value-oriented Buffets and Einhorns of the investing world to eschew these high-fliers, and post returns that reflect it.
So long as economic and monetary conditions remain favorable and the expansion continues, this class of stock should lead. Coupa is a best-in-class option to consider adding.
 The author is long COUP.