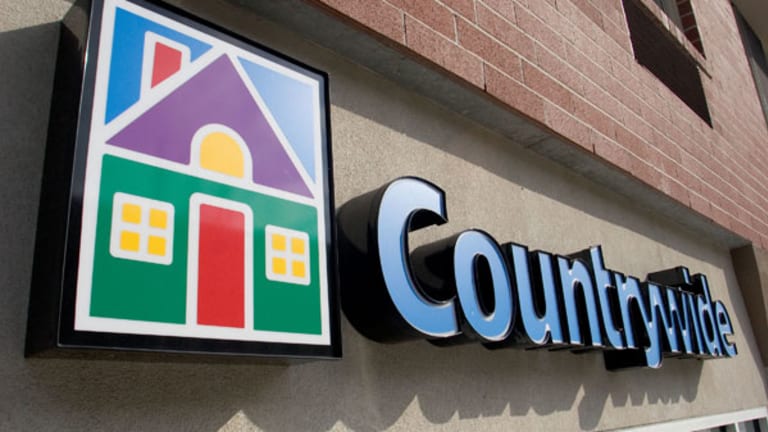 Countrywide II Off to the Races
Led by former Countrywide President Stan Kurland, PennyMac Financial Services executives know where the subprime bodies are buried.
Updated from 9:58 a.m. ET to include Friday afternoon market action and additional information on Penny Mac.
NEW YORK (
) -- Countrywide Financial may have made more subprime housing loans than any other institution before the housing bubble burst, but that certainly didn't scare away investors from the public market debut of Countrywide II, formally known as
PennyMac Financial Services
(PFSI)
.
PennyMac, the parent of mortgage REIT
PennyMac Mortgage Investment Trust
(PMT)
, is run by Stan Kurland, who spent nearly 30 years at Countrywide, where at different times he served as president, chief financial officer and chief operating officer. Seven of PennyMac's nine executive officers, including Kurland, worked at Countrywide.
As investors look for ways to buy up what's left of the cheap housing that remains from the disaster, having Countrywide on one's resume may be more of an asset than a curse. Certainly these folks know where the bodies are buried, so who better to know where the most valuable tombs are so that they can now be plundered?
That seems to have been the thinking of investors, anyway, who bid up shares of PennyMac more than 6% on its first trading day Thursday, and had added another 5% as of 12:19 p.m. on Friday.
BlackRock
(BLK)
which owns about 33% of PennyMac, will certainly benefit, as will Kurland and his colleagues. PennyMac's other big backer is hedge fund
Highfields Capital Management
.
Also see: Berkshire's B-Share Generation >>
PennyMac's business includes both servicing and originating mortgages, an area that has been hugely popular of late, with stocks like
Ocwen Financial
(OCN)
and
Nationstar Mortgage Holdings
(NSM)
having roughly tripled in the past 12 months, while even their slow and scrawny competitor,
Walter Investment Management
( WCS), has managed to double its share price during that same time period.
Specialty servicers such as PennyMac, Ocwen, Nationstar and Walter are essentially debt collectors. Lots of new business has come their way as big banks like
Bank of America
(BAC)
,
Wells Fargo
(WFC)
and
JPMorgan Chase
(JPM)
have backed away from servicing due to legal and regulatory hassles.
But are they really backing away from it, or are they just finding a different way to get involved? Bank of America was a co-underwriter of PennyMac's IPO and is a lender to the company. Another big bank,
PNC Financial Services Group
(PNC)
, has a healthy stake in PennyMac via its a 20% stake in Blackrock. One of my favorite parts of PennyMac's prospectus is where it says this PNC stake may result in PennyMac being regulated as a bank, which could hurt its business.
Here's another gem from the "other risks" section of the prospectus: "Certain of our officers, including Stanford L. Kurland, our chairman and chief executive officer, are former employees of Countrywide Financial Corporation, which has been the subject of various investigations and lawsuits and ongoing negative publicity. We cannot assure you that any existing or future investigations, litigation or negative publicity involving Countrywide Financial Corporation will not generate negative publicity or media attention for us or adversely impact us."
Also see: 5 Dumbest Things on Wall Street This Week: May 10 >>
But before
60 Minutes
or the bank regulators come knocking (if they ever do) and before investors decide the servicing space has become too crowded, there is money to be made. If you are feeling lucky, you may want to try and ride along with Kurland for a while. But if past is prologue, you are likely to have trouble figuring out when exactly to jump without getting bruised too badly from the fall. Don't worry about him, though.
-- Written by Dan Freed in New York
Disclosure: TheStreet's editorial policy prohibits staff editors, reporters and analysts from holding positions in any individual stocks.