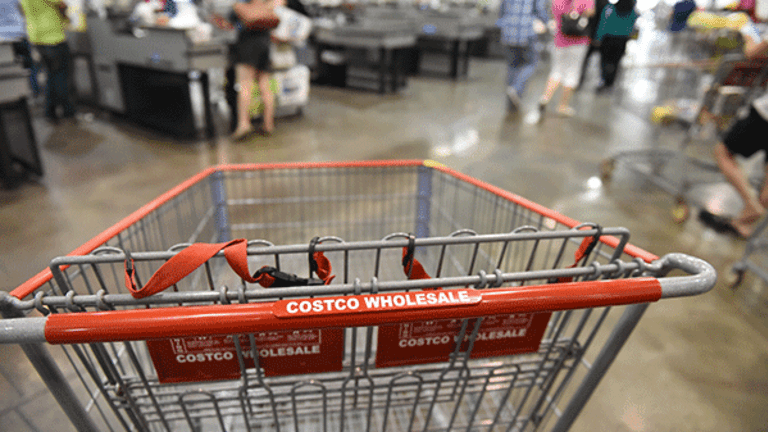 Could Walmart Shock Everyone By Spending Over $70 Billion to Buy Costco to Take on Amazon? Well...
The hypothetical.
I heard a rumor out there that Walmart (WMT) might consider acquiring Costco (COST) to offset the Amazon (AMZN) buyout of Whole Foods (WFM) . Just a rumor. However, even if this turned out to be true, these would not be the same type of deals.
First, Costco is near all-time highs, where savvy buyers, of which Walmart is among the savviest, don't buy. Savvy buyers like to buy assets, and everything else, near lows, and sell them near highs.
Amazon didn't agree to buy Whole Foods at its all-time high, near $60, in 2013. They waited until no one appreciated the asset, and after a 50% crash, they made their offer. No, Amazon isn't getting Whole Foods at that extreme discount, but they will get it around 30% below the peak.
For Walmart to do the same, Costco would have to fall from the $180 peak, toward $90, then Walmart would have to offer (and Costco would have to accept) around $125.
View Chart »View in New Window »
Our objective DSE (decision support engine) has just completed the modeling of Costco's highest probability outcome for the next few years. Voila, it shows that sub-$100 is a real likelihood around 15 to 25 months from now.
Notice that the monthly stochastics have made a series of lower highs while price made a series of higher highs? That's what DSE calls a bearish divergence sell signal, and informed members of our Trading Room (which you can try free by clicking this link) not to chase these buyout rumors. Rather, use $155 as the line in the sand to exit long exposure to Coscto, and consider shorting, for the ride into the green box.
In addition to the stochastics sell signal, this objective indicator needs to relieve current overbought extremes in sentiment. It usually takes around eight to 13 months, sometimes 21, for the overbought extreme to become oversold. If DSE's blue arrows are accurate, the path for Coscto is illustrated for savvy sellers to act now, and cover shorts into initial support near $140.
If the rumor is true, we would expect those savvy buyers at Walmart to see what DSE sees, too. Then, when the crowd hates Costco as much as it hated Whole Foods until Amazon loved it, a much better deal would be available.
View Chart »View in New Window »
This chart of Walmart, above, shows why now wouldn't be best time for it to be taking on the massive risk of an acquisition the size of Costco. The rise off Walmart's late 2015 low is corrective in structure, implying a new decline directly ahead. The red arrow highlights the highest probability outcome for these shares; a test of $50 +/-$5 in the coming 15-25 months.
Here, too, DSE is warning that now is not the time for buying actions in WMT, rather the $75 +/-$5 zone should be used to exit longs, and enter shorts.
So, while the rumors are fun to consider, Amazon was first to act, and copycat deals between names like Walmart and Costco are not likely to reward buying-speculators at this time.
Walmart's shares rose 1% to $75.62 early Monday afternoon.
This column originally appeared on RealMoney on Jun. 22.
Read More Trending Articles:
Jim Cramer on Oil, Amazon, Nvidia, Advanced Micro Devices, Bed Bath & Beyond, Mondelez, Citigroup, Starbucks, Caterpillar, Nucor, U.S. Steel and Bitcoin
Kroger Thinks Amazon Will Make One Massive Change to Whole Foods
For updates on this analysis, as well as other trading opportunities, 
try Ken Goldberg's DSE Alerts service
 for free for a couple of weeks, or contact him at