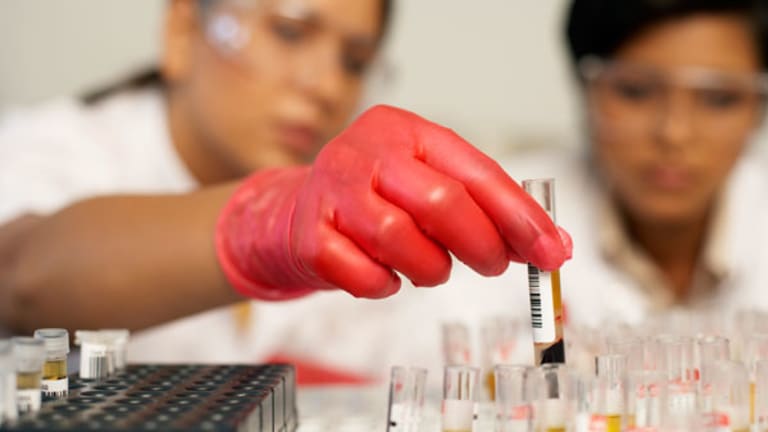 Could This Biotech Stock Be First to Break Feuerstein-Ratain Rule?
The F-R Rule has a perfect record predicting the failure of phase III cancer trials when the company running the trial has a market cap of $300 million or less.
BOSTON (TheStreet) -- Sometimes it takes a letter from a reader to prompt me to do something I should have done weeks ago.
Such is the case from a reader named Larry I. who writes: "Adam, have you run the CTI Biopharma (CTIC) - Get CTI BioPharma Corp. Report myelofibrosis drug [pacritinib] through the Feuerstein-Ratain Rule yet? I'd love to know how it comes out. Thanks."
Wow, great suggestion. Thank you. I can't believe I haven't done this exercise already. Sorry for my slacker-ness. Let's run through the calculations.
CTI Biopharma's publicly disclosed guidance is for results from the pacritinib phase III study to be announced "late" in the first quarter. Let's assume we get the pacritinib data on March 1. Per the Feuerstein-Ratain Rule, we look at CTI Biopharma's market cap four months back from the estimated phase III data release date, which in this case is Nov. 1, 2014.
CTI Biopharma's market cap on Nov. 1, 2014: Approximately $350 million. That's extremely close to the F-R Rule predicting pacritinib's failure with 100% certainty. The market-cap cut-off for phase III failure is $300 million, but that doesn't take into account any inflationary effects of the biotech sector as a whole over the past two-plus years.
I'm comfortable saying the F-R Rule predicts CTI Biopharma will announce the failure of the pacritinib phase III study in myelofibrosis later this quarter.
I ran the same analysis but shifted the assumed announcement data for study results to March 31 -- as "late" in the first quarter as possible. The result is the same. The F-R Rule predicts pacritinib failure.

The F-R Rule has a perfect track record of predicting the failure of phase III cancer trials when the company running the trial has a market cap of $300 million or less, measured four months before results are announced.
But the shocker alluded to in the headline of this story: CTI Biopharma stands a good chance of being the first company to break the F-R Rule.
What?!?!?!
I wrote about pacritinib in more detail one year ago so I'm not going to rehash the drug's fundamentals. Suffice to say, the drug has shown activity in previous myelofibrosis studies. It's probably not as effective as Incyte's (INCY) - Get Incyte Corporation (INCY) ReportJakafi but could be better tolerated due to more benign effect on platelet counts.
CTI Biopharma is conducting two phase III studies of pacritinib in myelofibrosis.
The first study -- the one we're discussing here -- is designed with a relatively low bar for success. Pacritinib is being compared against "best available therapy" excluding other JAK inhibitors (meaning no Jakafi.) It shouldn't be too difficult for pacritinib to beat the control arm on the study's primary endpoint -- the percentage of patients with at least a 35% reduction in spleen volume.
[The design of the second phase III study is more challenging for pacritinib, but that's a discussion for another day since patient enrollment isn't complete.]
If fundamental signs point to success for the first pacritinib phase III study, why does the F-R Rule predict failure?
Here's where you have to factor in the toxic history of CTI Biopharma/Cell Therapeutics and the general disdain for CEO Jim Bianco among health care investors.
I've spoken to a few investors this week about pacritinib. They agree the drug appears active and stands a good chance of succeeding in the first phase III study. But asked if they're willing to own CTI Biopharma, they say no. Small sample size, admittedly, but it's a representative view.
In the past year or so, CTI Biopharma has tried to bring in new executives and soft pedal Bianco's role at the company. The company is trying to move beyond its horrible track record of drug development futility and Bianco's self-enrichment schemes to get investors to focus solely on the future opportunity with drugs like pacritinib.
The reality is, Bianco's still a big negative for CTI Biopharma when it comes to the company's credibility on Wall Street.
I've long said I welcome the first company to break the F-R Rule. It will be ironic beyond belief and pretty much blow my mind if CTI Biopharma and Bianco --
 -- is the company to do it.
Adam Feuerstein writes regularly for TheStreet. In keeping with company editorial policy, he doesn't own or short individual stocks, although he owns stock in TheStreet. He also doesn't invest in hedge funds or other private investment partnerships. Feuerstein appreciates your feedback;
to send him an email.