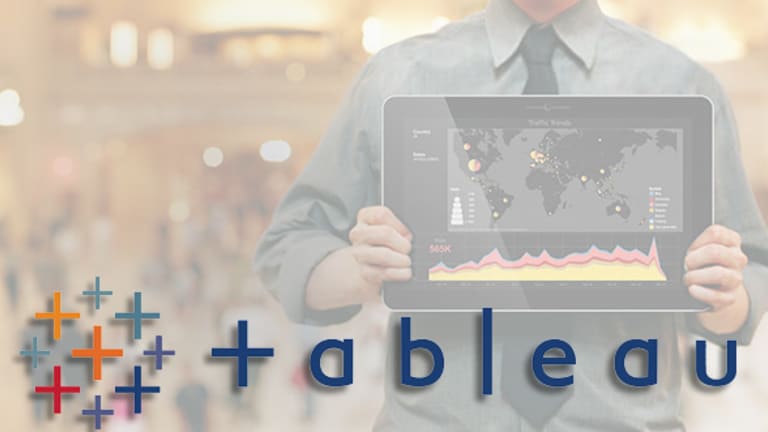 Could Tableau Software Deliver a Quick Pop?
Tableau Software stock is down 55% from the 52-week high. Investors are wondering if this stock can be salvaged.
Shares of Tableau Software (DATA) - Get Tableau Software, Inc. Class A Report have fallen 55% from their 52-week high. Tableau has delivered negative earnings surprises in each of the last four quarters. Can this stock be salvaged?
The company reports earnings on Tuesday.
After hitting a peak of $126, Tableau has seen its shares decimated as new competition and a longer sales cycle have made it more difficult to close large software deals.
On Aug. 2, Tableau missed second-quarter estimates by 5 cents. Revenue rose 32.4% to $198.5 million, vs. the estimate of $193.7 million. License revenue increased 20% to $116.3 million. International revenue grew to $57.1 million, up 55%. The company added 3,900 new customer accounts in the quarter, the highest quarterly additional in company history. Tableau has approximately 46,000 customers worldwide.
While revenue was better than expected, higher expenses wiped out earnings per share. The company reported earnings of $0. (Ouch!)
On the conference call afterwards, management issued downside guidance for the third quarter. Management predicted revenue between $201 million and $215 million, vs. the $218.9 consensus. The company chopped its fiscal 2016 guidance. For the full year, management sees earnings of 18 cents to 31 cents per share, sharply down from the 54-cent consensus estimate. Revenue is expected to be $825 million to $840 million, vs. the $847.4 million analyst estimate.
The mixed outlook created a lot of confusion. Analysts thought the company had been able to achieve a more flexible approach to licensing its software in hopes of accelerating sales. But it seems it had the effect of dampening sales. Sales and marketing expense increased meaningfully in the quarter.
It's not clear how much of the sales slowdown was self-inflicted or from new competition. Microsoft (MSFT) - Get Microsoft Corporation Report has been aggressively selling its Business Intelligence service, and it seems to have taken considerable market share from Tableau.
Tableau is also in transition from a distributed software model to a cloud service. That has made estimating sales especially difficult.
The company reports third-quarter results on Tuesday. I don't know anyone who has any confidence in the company's guidance. Analysts are projecting revenue of $213 million and earnings of 7 cents per share. License revenue is expected to be $125.9 million, up 15%.
With expectations so low and sentiment so negative, if the company can put together a decent quarter, I think the stock will bounce higher. After the ride the stock has been on, the bad news has to be priced in.
But for the stock to have an extended run, management has to demonstrate it can grow operating margins. In 2014, the company had an operating margin of 12.9%. This year, Tableau is expected to have an operating margin of just 3.3%. That's not enough to drive earnings per share, especially with revenue growing almost 28% this year.
Management plans to hold an analyst meeting on Nov. 8, which could act as an additional catalyst for the stock, especially if the company can deliver a one-two punch of a better-than-expected quarter and a bullish analyst meeting.
For those who want to speculate on a quick pop in the stock, Tableau could be the ticket. Investors with a longer-term horizon may have to wait until investors regain confidence in the company's guidance.
This article is commentary by an independent contributor. At the time of publication, the author held no positions in the stocks mentioned.