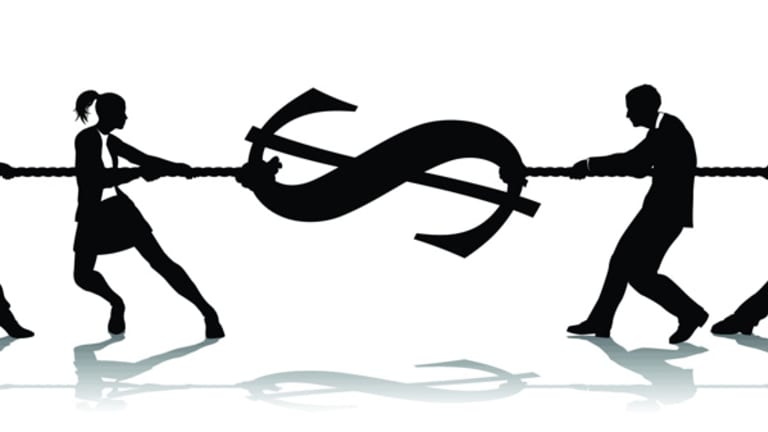 Could Nvidia and AMD Plunge Because of Bitcoin?
AMD and Nvidia are under pressure despite seemingly good news Tuesday.
Despite a new autonomous car deal between Volvo, Autoliv and Nvidia Corporation (NVDA) , shares of the red-hot chipmaker are down more than 3.5% Tuesday. It's down almost 6.5% over the past three trading sessions as well.
Advanced Micro Devices, Inc. (AMD) , another stock market darling over the past year, is feeling the pressure Tuesday as its stock falls more than 4.5%. Shares are down about 4.5% over the past three days. This comes despite positive news from Odeon Capital's Jahanara Nissar, who says the PC market looks its best since 2011 and remains bullish on stocks like AMD and Microsoft Corporation (MSFT) , among others.
So with seemingly good news out for AMD and Nvidia Tuesday, why are the stocks taking a hit, and why have they been falling over the past couple of days?
Could it be cryptocurrencies?
Meanwhile, Jim Cramer talks about oversold retail stocks on Real Money. Get his insights or analysis with a free trial subscription to Real Money.
Ethereum, a smaller but emerging play in the cryptocurrency space, has fallen about 20% in just a few days, while Bitcoin prices are down about 5.1% Tuesday. Bitcoin has fallen roughly $380 apiece from its near-$2,700 price on June 23. While Nvidia and AMD have not fallen in lockstep with Bitcoin's 10% drop, they are down notably on days where they would otherwise seem likely to be higher. 
For instance, the PowerShares QQQ Trust, Series 1 ETF  (QQQ) is down 1% over the past three days, with most of those losses coming Tuesday. TheStreet's own Jim Cramer, manager of the Action Alerts PLUS charitable trust portfolio, has pointed out the correlation between AMD, Nvidia and cryptocurrencies in recent trading sessions.
Because Nvidia and AMD make the necessary chips for mining cryptocurrencies like Ethereum and Bitcoin, investors have started buying them as a way to play the near-parabolic trend in this emerging currency environment.
And while that may be driving prices of these stocks in the short term, Cramer was sure to remind investors that there are other reasons to buy these stocks if investors indeed want to own them. Consider self-driving cars, gaming, data centers and artificial intelligence among just some of the reasons.
After a slow start on the year, Nvidia shares are up 40% in 2017 and a breathtaking 231% over the past 12 months. AMD stock is up 22% in 2017 and over 190% over the past year.
The rally in cryptocurrencies is breathtaking, but it's not sustainable, Cramer concluded.
Visit here for the latest business headlines.
Read More Trending Articles:
Stocks Extend Losses as Tech Falls, Senate Delay Hits Healthcare
This article is commentary by an independent contributor. At the time of publication, the author held no positions in the stocks mentioned.