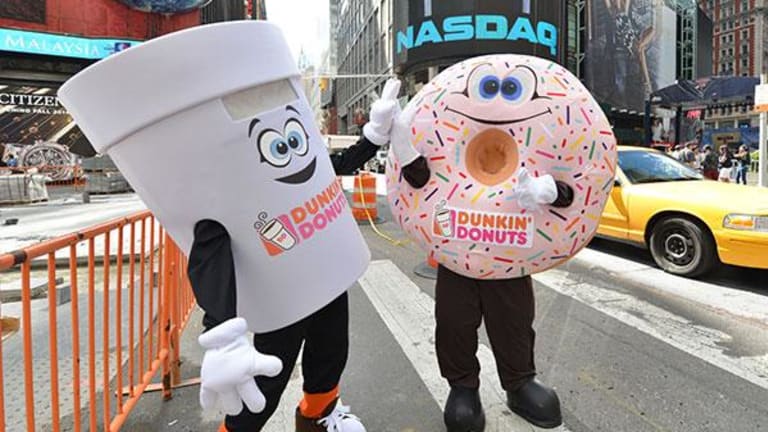 Could JAB Really Pay $9 Billion to Acquire Dunkin' Donuts?
JAB Holding is building a coffee empire. Dunkin' Brands would be a nice addition to its family.
If recent market rumors prove correct, it will cost executives sitting atop growing coffee empire JAB Holding  a pretty penny to eat up Dunkin' Brands (DNKN) - Get Report . 
The takeout price range for Dunkin' Brands -- which owns coffee chain Dunkin' Donuts and ice cream brand Baskin-Robbins -- could be in the range of $65 to $75 a share, estimated BMO Capital Markets analyst Andrew Strelzik in a note today. At high-end of the range, Dunkin' would be valued at about $6.9 billion excluding long-term debt, a 36% premium to its current market cap. Assuming Dunkin's over $2.4 billion in long-term debt, JAB would need to write a check for roughly $9.3 billion to buy a business that boasts almost 20,000 restaurants worldwide, a growing digital presence and strong inroads into the supermarket space.
Dunkin's enterprise value, which is the company's market cap plus debt, currently stands at $7.26 billion.   
"Investor questions about a JAB takeout of Dunkin' have persisted for some time," says Strelzik, adding that the likelihood of an acquisition is "uncertain." 
Calling JAB Holding shy to make a play for Dunkin' -- which would be the icing on the cake to the build-out of an impressive coffee franchise -- at almost any price would be silly to say at the very least.
In May, JAB -- which is the the family office of Germany's Reimann family -- shelled out $21 per share in cash, or a total value of approximately $1.35 billion to buy doughnut maker Krispy Kreme. The agreement represented a premium of approximately 25%.
"JAB is really putting together an amazing conglomerate. They want to own the morning," said Jim Cramer, TheStreet's founder at the time. "I think JAB has a balance sheet that could make Krispy Kreme a formidable competitor" to Starbucks (SBUX) - Get Report or the Dunkin' Donuts division of Dunkin' Brands.
"In the end, coffee is a growth market, so I don't think this deal will hurt anyone," said Cramer, who is also the manager of the Action Alerts PLUS portfolio, which owns Starbucks.
Last year, JAB plunked down $13.9 billion to purchase struggling coffee pod maker Keurig Green Mountain. The deal was done at an astonishing 78% premium. 
In July 2012, it bought Peet's Coffee & Tea for $974 million, or about a 29% premium. Five months later that year, it shelled out $374 million, or a 30% premium, to gobble up Caribou Coffee Co. The company also has controlling stakes in Jacobs Douwe Egberts as well, a coffee and tea giant that owns Gevalia, among other brands.