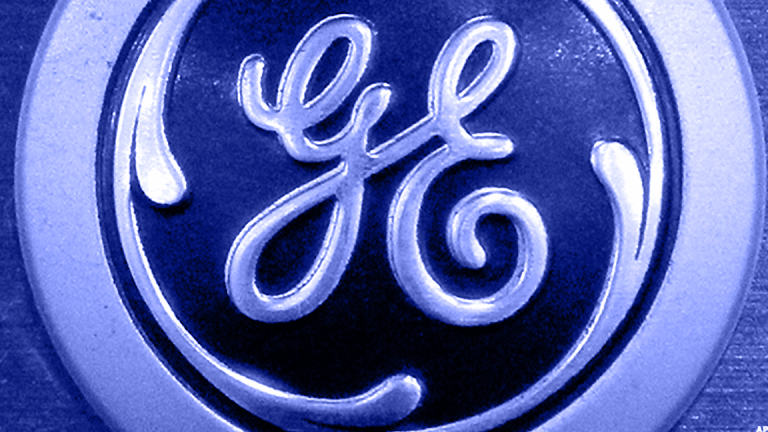 General Electric Drops Clues About Whether it Will Break Higher in January
Here's what GE needs to do to trigger a full-blown buy signal in January.
Don't call it a comeback.
In an about-face that's coming as a surprise to many investors, General Electric (GE) - Get Report is leading the Dow Jones Industrial Average higher in 2018. Shares of the $157 billion conglomerate are up almost 4% since the calendar flipped to January, performance that put it at the top of the pack ahead of Monday's open.
While shares of GE are correcting 2.3% in Monday's session, GE remains one of the strongest performers in the first month of 2018.
That's a stark contrast to how GE performed last year. Despite a buoyant market that ended more than 21% higher in 2017, GE shed around 43% of its market value last year, underperforming the rest of the market in a major way.
With that huge performance chasm last year, the recent strength in GE isn't totally out of left field -- after truly awful stock performance, GE is mean-reverting.
The question now is whether GE's return to positive performance in 2018 is merely a flash in the pan, or whether it's the start of a big meaningful trend.
To figure out what's happening next, we're turning to the chart for a technical look.
Big picture, GE is in make-or-break mode right now:
GE has been in a parabolic downtrend for most of the last year, plunging lower on every successive test of the arced resistance line on its chart. The most recent failed test of resistance was back in mid-October -- shares have shed another 24% of their value since then. So, the stakes are pretty high for GE bulls right now; either this big stock breaks higher and starts appreciating rapidly, or it gets swatted down in another double-digit selloff.
At this point, it's a little too early to say definitively which way this move is going to resolve.
There are some clues, however.
The 50-day moving average has acted like a solid proxy for GE's parabolic downtrend all year long, and Monday's dip has put shares right above that 50-day level this week. GE bulls can consider taking a small position here -- but investors should wait for a material breakout above $19 to enter a full-sized position in GE.
On the flip side, $17.50 support is the do-not-cross line for GE to the downside. If that long-term support level gets violated, it's likely we'll see more sustained selling in GE in the early months of 2018. Either way, the next few trading sessions are going to have a lot to say about how GE's price trajectory ultimately works out. Stay tuned.
More of What's Trending on TheStreet:
This article is commentary by an independent contributor. At the time of publication, the author held no positions in the stocks mentioned.