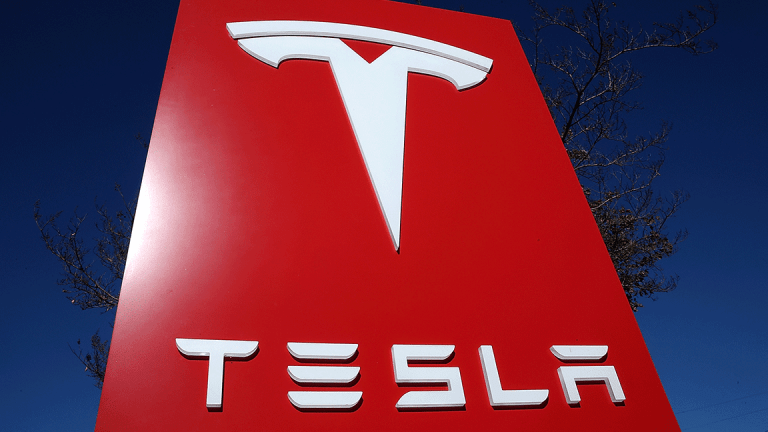 Could China Be the Lifeline Tesla Needs?
China is lifting its requirement for joint venture partners on automakers, among other industries. This could be exactly what Tesla needs right now.
There was good news and bad news for Tesla Inc.  (TSLA) - Get Tesla Inc. Report on Tuesday, which closed down $3.52, or 1.21%, at $287.69, but was climbing after hours.
The bad news is that Tesla is halting the production of its Model 3 sedan for four to five days in an unexpected move aimed at improving output. The good news is that China is easing its auto regulations and making it easier for foreign companies to set up shop.
That's good news for the industry as a whole -- ranging from Tesla to General Motors Co.  (GM) - Get General Motors Company Report , Ford Motor Co.  (F) - Get Ford Motor Company Report , Volkswagen (VLKAY) and others.
However, it's impact will be limited for all of them, with the exception of Tesla.
Under current regulations, automakers can only own up to 50% of their Chinese joint venture. Despite the rule, traditional automakers were willing to play ball in order to gain access to the more than 1 billion people in China.
This was put in place to prevent companies like GM from storming into China, effectively eliminating its competition and feasting in profits. Instead, the automaker had to team up with a company in China to produce its vehicles and split the venture.
It still led to handsome profits for the automaker.
For its part, GM was quick to issue a statement on China lifting these JV restrictions, saying it would not look to buy out its JV partners, and that its growth in China is because it's working with trusted partners. Further, the automaker "will continue to work with our partners to provide high-quality products and services to consumers."
Tesla in China
It comes back to Tesla because unlike most other automakers, it's looking to get into China but isn't there yet. CEO Elon Musk has previously said China could be a larger opportunity than the U.S. for the automaker. 
However, it (like any other automaker) faces a steep import tax of 25% when it ships its vehicles into China. Because this makes the vehicles so expensive, it tempers demand. That's why so many automakers were willing to take the 50/50 JV deal with Chinese companies.
China said it plans to ease those burdens over the next five years. Beijing will ease up even sooner, lifting the requirement sometime this year for electric car, drone, jetliner and helicopter makers. 
Under this new arrangement, Tesla will have the opportunity to not only avoid the import taxes on its vehicles by producing within China, but will also be able to eliminate having a JV partner. That's a true win for the automaker and one with good timing.
There is another consideration, though. It's not as if Tesla is flush with cash and given the number of projects it has in the pipeline, it will need plenty of dough going forward. With negative free-cash flow and a bottom-line deficit, raising capital shouldn't be out of the question.
Musk has already said the company will not need to raise capital. He added that Tesla should be cash flow positive and profitable in the second half of 2018, thanks in part to the "improved" production of the Model 3.
However, should Tesla choose to go without a partner in China, it will have to fund the entire project, something that will no doubt cost a hefty sum. In some respects, it's hard to image Tesla not raising capital, especially if it wants to embark on this mission sooner rather than later. 
Consider that Tesla has its expanding Gigafactory, plans to put capital expenditures toward the Model Y later this year and has already shown off the Roadster and its semi truck vehicle projects. Eventually it will need to expand its Fremont factory (or build a new one in the U.S.) assuming Tesla hits its production numbers. 
Still, China lifting these requirements could be the lifeline that Tesla needs, if the country is in fact as big as some investors think. If so, this could be a massive deal for Tesla, even if it needs additional funding. 
After weeks of escalating trade threats, China's move could help lower those tensions. Perhaps that's giving stocks a bump on Tuesday, with the S&P 500 up about 1% as investors hope trade tensions cool rather than heat back up.
It's also likely preventing shares of Tesla from being down more, with Tesla stock down just 54 basis points to $289.65 despite its Model 3 production halt.
This article is commentary by an independent contributor. At the time of publication, the author had no positions in the stocks mentioned.