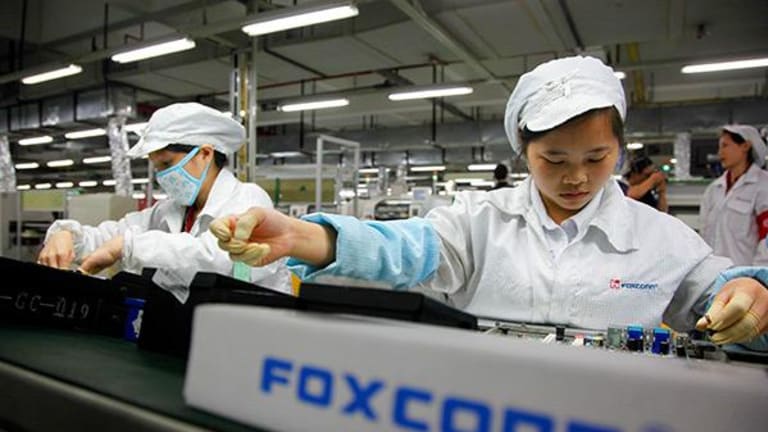 Could Apple Supplier Foxconn Be Signalling U.S. Expansion Plans With LCD Move?
Foxconn takes a controlling stake in Sakai Display, which could signify the company's LCD TV intentions as Trump boasts of SoftBank job creation.
Terry Gou, the founder of Apple (AAPL) - Get Free Report supplier Foxconn, could be moving closer to defining his U.S. expansion strategy with a tighter grip on a key LCD maker just as friendly rival Masayoshi Son's $50 billion American investment pledge begins to take shape.  
Foxconn, also known as Hon Hai Precision Industry (HNHPF) , raised its interest in Sakai Display Products, a unit of Japan's Sharp (SHCAY) , which it also owns, in a move that puts the Taiwanese components supplier one step closer to a transition into the end-products business. 
The move will shuffle ownership through Foxconn's Cayman Islands-based SIO International Holdings and raise its stake to just over 53%, according to the Focus Taiwan media group, and follows Sakai Display's decision to stop supplying SamsungElectronics (SSNLF)  with LCD TV panels.
Last week, Sharp said it will buy 56.7% in Cyprus-based SkytecUMC, a holding company which owns Slovakia-based Universal Media and UMC Poland, which are both involved in TV operations.
The move signifies comeback in the arena of TV making by Sharp, once a leading LCD TV maker which lost its momentum after badly-timed investments. It also comes amid media speculation that Sharp and Foxconn are considering building a new LCD TV panel plant in China backed by Foxconn's finances and Sharp's technical expertise for manufacturing large LCD TV panels. The plant could be launched as early as 2019.
Foxconn has also publicly committed to U.S. expansion after Softbank's Son was shown with papers bearing the Foxconn logo during a photo shoot with President elect Donald Trump on Dec. 6 in which the Japanese billionaire pledged to invest $50 billion and create 50,000 new jobs.
"While the scope of the potential investment has not been determined, we will announce the details of any plans following the completion of direct discussions between our leadership and the relevant U.S. officials," Foxcann said on Dec. 7.
SoftBank's promise appeared to take shape Wednesday when Trump told reporters outside his Florida estate that Sprint (S) - Get Free Report and satellite company OneWeb would create 8,000 new American jobs -- "taking them back from other countries."
Softbank is both an 82% owner of Sprint and a $1 billion investor in OneWeb, but it also has close ties with Foxconn, including a three-way joint venture with Alibaba (BABA) - Get Free Report to produce a humanoid robot known as Pepper. 
Foxconn's move to both control Sakai Display and direct a resurgence for Sharp in TV production by taking on Samsung could signal its ultimate ambitions in the U.S., where it has manufacturing sites in Virginia and Indiana and logistics operations in California and Texas. 
It might also be aimed at diversifying its business, which is heavily reliant on Apple: Foxconn didn't didn't cite the Cupertino, Calif.-based group by name in its April report, but there was little secret behind the company responsible for 54.81% of its net sales in the company's fiscal first quarter.
(Apple is held in Jim Cramer's charitable trust Action Alerts PLUS. See all of his holdings here.)