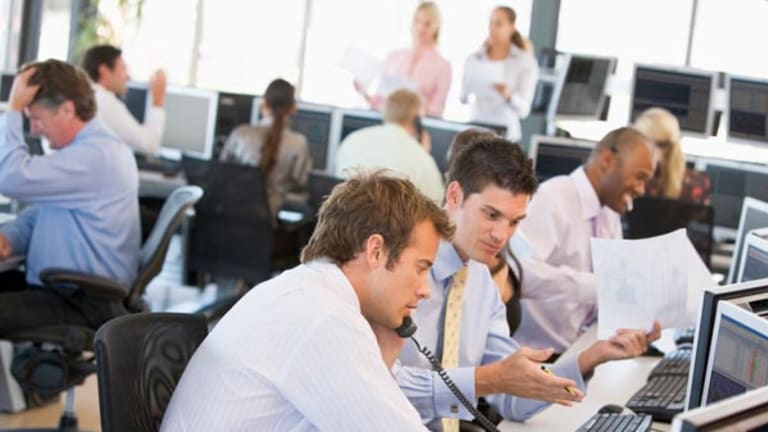 Natural Gas, Cotton Gain: Market Bits
Natural gas futures for April delivery blew past cotton to lead in commodities price action Monday amid a bout of short-covering by traders.
(Story updated with Monday's natural gas price drivers, update on cotton prices and analyst commentary on the bond market and yuan bonds)
NEW YORK (TheStreet) -- Natural gas futures for April delivery blew past cotton to lead in commodities price action Monday amid a bout of short-covering by traders.
Natural gas futures for April delivery rose 11.6 cents, or 3.1%, to settle at $3.925 per million British thermal units on the New York Mercantile Exchange.
"I think it's more technical in a short-covering rally, so to speak," said Phil Flynn, a senior market analyst with PFG Best, in explaining the natural gas rally. "I think when oil pulled back from a high a bit, you saw some short-covering a little bit on that trade."
Flynn said that last week, as oil prices kept soaring, traders were long on oil and heavily short on natural gas. The trading of such spreads has been increasing along with higher oil prices, according to Flynn.
Natural gas plays largely finished higher Monday even as the broader equities fell on a semiconductor sector downgrade by Wells Fargo, Moody's' downgrade of Greece and rising oil prices, which weighed on investor sentiment.
PAA Natural Gas Storage, L.P.
(PNG)
rose 0.1% to $23.94 and
Niska Gas Storage Partners
(NKA)
ticked up 0.3% to $20.65.
Atlas Pipeline Partners
(APL)
added 4.8% to $30.31.
Kinder Morgan
(KMI) - Get Report
rose 0.2% to $30.90 and
Kinder Morgan Energy Partners LP
(KMP)
ticked up 0.2% to $73.41.
EnCana
(ECA) - Get Report
fell 0.6% to $32.12, while
Chesapeake Energy
(CHK) - Get Report
lost 0.4% to $33.45.
In the morning, cotton was the biggest price gainer, popping by its exchange limit of seven cents as demand roars, but supplies tighten -- possibly with the help of farmers withholding supplies.
Cotton futures for May delivery rose 1.4 cents, or 0.7%, to settle at $2.1414 a pound Monday.
In the U.S., 97% of the U.S. Department of Agriculture's forecast for total cotton exports for the 2010 to 2011 marketing year has already been exported. This significantly outpaces the five-year average export of about 71% this time of the year.
"There is much concern that U.S. cotton ending stocks will tighten and users will be as we say, 'up the creek without a paddle,'" PFGBest strategist Robin Rosenberg said in a report.
Rosenberg said that U.S. cotton farmers are being accused of holding back cotton supplies as they wait for prices to rise even further.
"Cotton merchants have said they are receiving less cotton than they had contracted for." However, an industry group representing cotton farmers has been attributing the supply issues to bad weather, according to Rosenberg.
INTL/FCStone Fibers & Textiles Senior Risk Management Consultant Andy Ryan said in China high grades of local cotton have still been unavailable for immediate shipment to cotton spinners. China is the leading consumer of cotton and has seen bad weather and priority given to food crops over fiber crops hurt supply.
Ryan also noted that the government of Pakistan has reported that profits in the textile sector rose 183% to Rs12 billion, or $140.8 million, in the first half of the 2010 to 2011 fiscal year on the back of healthy profits from the spinning sector.
"Over the last month, prices for 'black gold' are up 17.5%," said Ryan. "This rising tide could raise prices for most commodity boats this week, taking cotton along for the ride."
Companies with businesses serving the cotton industry largely finished in the red Monday, falling with the rest of the stock market as rising oil prices, Moody's downgrade of Greece and Wells Fargo's downgrade of the entire semiconductor sector dampened investor risk appetite.
Origin Agritech
(SEED) - Get Report
fell 3.9% to $8.29 as
Monsanto
(MON)
fell 1.9% to $71.65.
E. I. du Pont de Nemours
(DD) - Get Report
was down 1.1% to $53.26 and
Intrepid Potash
(IPI) - Get Report
lost 3.1% to $37.04.
CF Industries
(CF) - Get Report
fell 4% to $128.90.
American Vanguard
(AVD) - Get Report
was lower by 3.2% to $7.99 and
FMC Corporation
(FMC) - Get Report
fell 1.8% to $76.56.
The U.S. dollar was gaining ground against the U.K. pound as the markets awaited the Bank of England's rate decision on Thursday and more information on monetary policy -- which is expected to stay unchanged for now -- amid concerns about the impact of a package of austerity measures on the U.K.
The U.S. dollar was rising 0.4% at GBP 0.61718.
"We retain our bearish view given the likelihood that austerity measures will prove to be a drag on growth," said UBS foreign exchange strategist Gareth Berry of the pound, in a report.
Berry said that a group of UBS clients were recently net sellers of the pound. "This is the first time since our records began in 2001 where our sterling investors have shown such unity of purpose," he said.
The euro was falling 0.1% against the U.S. dollar at $1.3972 after Moody's downgraded Greece's credit rating over debt default concerns and as the European Central Bank maintained its hawkish view on inflation.
Meanwhile, earlier Monday, the Chinese yuan hit a 17-year high, up 0.09% to 6.5628 per dollar, after the Chinese government said it will further open the doors to its foreign exchange market.
"The Chinese renminbi continues to move higher versus the dollar, in baby steps, but still it's a one-way move these days," EverBank World Markets president Chuck Butler said in a report.
Synthetic yuan-denominated bonds, which are bonds denominated in the Chinese currency, but settled in U.S. dollars, have recently begun gaining traction among Chinese property development issuers eager to keep debt issuance costs low while meeting market demand for the renminbi, which many believe will appreciate significantly.
It's widely believed that any increase of such bond sales would be met with great receptiveness.
"Reason number one is almost everyone universally believes that the yuan is undervalued," said Alan Zafran, Partner at investment advisery firm Luminous Capital Partner. "So they'd be owning a bond denominated in a currency that will be appreciating. And the perception is that the government is very strong financially. And three, scarcity value. There aren't that many around right now. The market always likes something that's scarce."
One of Monday's biggest credit market stories was Moody's downgrade of Greece by 3 notches to B1 with negative outlook, pushing the country's credit standing further into junk status.
"One is there are a lot of risks on how they're actually going to implement the fiscal austerity package," said Zafran. "Two, the country's got all kinds of difficulties with collecting revenues, namely taxes. Third, there's a risk that Greece is going to do some kind of voluntary distressed exchange before 2013 and so the market's front running a concern that they may force a restructuring before 2013."
Credit-default swaps on Greek bonds were trading at more than a thousand basis points on Monday.
"Once you're trading at a thousand basis points on a credit default swap, it's pretty darn clear you're trading as if you're going to restructure," Zafran noted.
In the U.S., the Treasury is selling $66 billion in notes and bonds this week.
Treasuries were softer ahead of the auction and in the face of rising inflation concerns aggravated by high oil prices. The benchmark ten-year note dipped 6/32, pushing the yield up to 3.514% and the 30-year bond fell 14/32 with yield rising to 4.625%.
>>Search for Highest Dividends by Rate or Yield
-- Written by Andrea Tse in New York.
>To contact the writer of this article, click here:
Andrea Tse
.
>To follow the writer on Twitter, go to
.
>To submit a news tip, send an email to:
.
Copyright 2010 TheStreet.com Inc. All rights reserved. This material may not be published, broadcast, rewritten, or redistributed.