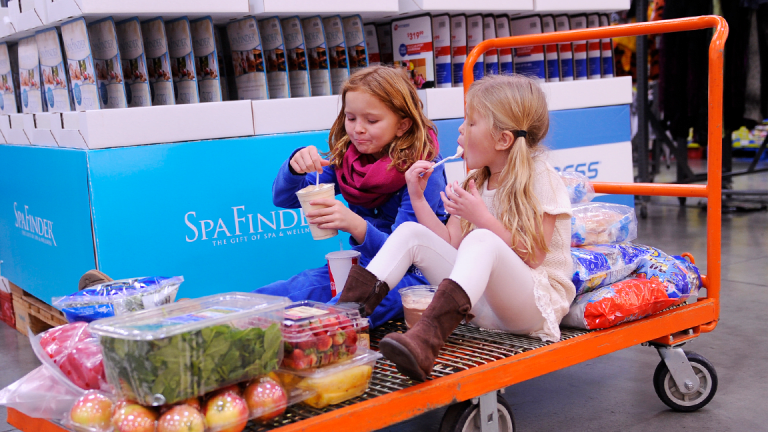 4 Ways Costco Is Trying to Survive Amazon's Onslaught
Costco is churning out digital sales without compromising in-store traffic -- or breaking the bank.
Warehouse retailer Costco Whole Corporation (COST) - Get Costco Wholesale Corporation Report stands head-to-head against digital heavyweight Amazon.com Inc. (AMZN) - Get Amazon.com, Inc. Report  by offering a simple, but comprehensive, omnichannel strategy without flashy marketing or compromises to the bottom line.
Costco absolutely killed in its first-quarter earnings Thursday, Dec. 14, posting a comp sales increase of 10% and an astonishing uptick of 42% in online sales.
"I almost heard the Frank Sinatra song 'My Way' during the conference call, because they're leveraging infrastructure without investing much otherwise," said Susquehanna analyst Bill Dreher. "They're using their current framework to evolve into an omnichannel retailer."
For instance, Costco built out its two-day grocery delivery platform by deploying centers for its business membership program as general fulfillment and distribution hubs, Costco CFO Richard Galanti said during the earnings call.

"We've...figured out how to do it without spending hundreds of millions of dollars," he told analysts Thursday. "We're doing [delivery] through a handful of our depots, which cover essentially the entire continental United States and we're able to do that pretty cheaply because we already allow business members to go to the business centers."
"Clicks cannibalizing bricks" is an easy trap for retailers to fall into, according to Dreher, who points to omnichannel strategies that end up diverting store traffic to web traffic without increasing overall sales.
Costco, on the other hand, has proved itself immune to this type of cannibalization, and here are five of its most clever plays.
1. Buy online, pickup in stores.
Costco has quietly begun offering a buy online, pickup in-store option on select items, Galanti announced. The assortment includes jewelry and laptop computers. With this offering, "we're seeing people coming in to pick them up and over half of them are shopping while they're here."
2. In-store digital integration.
Throughout Costco's warehouse space, Costco.com is promoted through signage. It's also equipped with tablets, allowing customers to search the site and buy items unavailable in the store, according to Galanti.
3. Same-day and two-day grocery delivery.
Here's a jab straight to Amazon's jaw. In October, Costco
unveiled two online delivery options
. Under the first, customers can choose up to 500 nonperishable items for two-day delivery, with free delivery for orders above $75. The other is a partnership with same-day delivery service Instacart, which offers delivery of 1,700 fresh and dry products from most Costco locations. The programs have been "positive today, while still in the soft opening and limited marketing mode," Galanti said.
4. Personalized consumer outreach.
Costco may be a no-frills retailer, but it's savvy enough to understand the power of customized marketing. Galanti pointed to higher foot traffic, thanks to personalized emails that tease customers with items they've purchased before. If you bought tires in-store, for example, you could receive an email with a banner that includes related car or garage items, Galanti said.
5. Taking advantage of brick-and-mortar failures.
In the brick-and-mortar world of retail, apparel sales are down, Galanti said Thursday. Costco, however, has taken advantage of this dip to grow its $7 billion private-label apparel segment by 9% in the past three years. And the bulk of Costco apparel sales, he added later, is online. 
More of What's Trending on TheStreet: