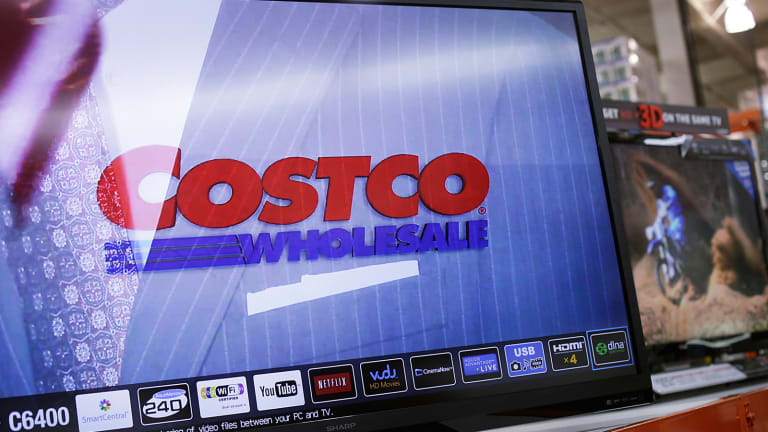 Costco Is Going Higher on Strong Performance, Overseas Expansion
The expected opening of a number of new clubs could give the giant retailer a tailwind.
NEW YORK (TheStreet) -- Year-to-date Costco (COST) - Get Free Report is up about 26%.
The stock could go higher when the company reports after close May 27.
There are a number of reasons, including the company's strong performance and expansion plans. An improved sales climate should also help Costco.
The stock has been weak because of a shorter Easter selling season. The cycling of last year's strong sales in Japan also negatively skewed same store sales for April.
Costco is expected to report third quarter fiscal 2015 revenue of $26.6 billion and $1.16 in earnings. Revenue should be up about 3%. Revenue would have been higher, but gasoline price deflation and the strong US dollar weighed down results. Factoring out gasoline price fluctuations and foreign currency issues, same store sales would have probably been up 7% this year.
 Costco is seeing increased store traffic. Higher membership fee income has also been a tailwind. The company raised membership fees in fiscal 2012. 
Still, the biggest reason the stock can go higher is an accelerated club-opening schedule. Costco is expected to open 30 new clubs this year and an additional 25 to 30 a year over the next several years. Roughly half those new clubs will be overseas.
The international business is only 22% of revenue, so there could be years of growth ahead. International customers are driving higher same store sales. While US same store sales usually rise in the 2% to 3% range, international markets routinely report 5% to 8% same store sales growth.
Strong membership renewal rates in the US and overseas will also work in the stock's favor. In the US, the renewal rate exceeds 91% and the overseas rate is 87%. Management must be doing something right to keep all those members happy.
For the full year, Costco is expected to earn $5.35 per share on revenue of $119 billion. If the company grows just 4%-5% next year, earnings per share will probably come in around $5.70, which means the stock is trading between 25 and 26 times earnings. That's below the company's historical multiple of 30. Applying a 30 multiple gets the stock over $170 per share.
This article is commentary by an independent contributor. At the time of publication, the author held no positions in the stocks mentioned.