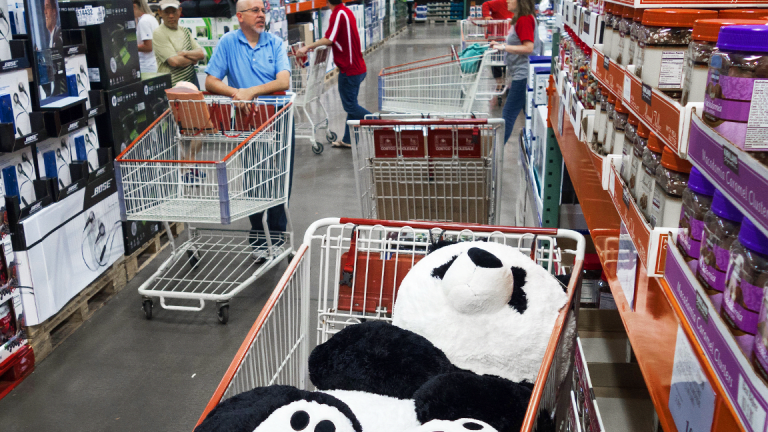 Costco Shares Jump After-Hours on Strong Quarterly Earnings
Costco's e-commerce efforts are paying off.
Grocery may be a disrupted field now, but Costco Wholesale Corp. (COST) - Get Costco Wholesale Corporation Report is holding its weight.
The supermarket warehouse retailer beat Wall Street expectations in its first-quarter earnings release Thursday, Dec. 14, reporting earnings of $1.45 per share compared to forecasts of $1.34. Comparable store stores grew 7.9%, while its digital platform grew by more than 41% year-over-year.
Shares jumped around 1.5% to $189.21 in after-hours trading after falling slightly during the regular session.
Sales, however, did not exceed expectations. Costco posted net sales of $31.12 billion, versus $31.13 billion consensus.
The Issaquah, Wash.-based chain got a stamp of approval Wednesday from Barclays analysts, who wrote that Costco remains "insulated from Amazon" thanks to its prime food selections, business customers low prices and an e-commerce push.
Costco ramped up its digital offerings in October, announcing a partnership with Instacart and its own two-day delivery service called CostcoGrocery. The latter service offers customers an assortment of 500 nonperishable foods and sundries with free delivery for orders over $75. Instacart will allow Costco to provide same-day delivery and a selection of 1,700 items.
Since its announcement, Costco's stock has soared. Shares went up by more than 20% since Oct. 9, to $186.50 at Thursday's close.
Costco, nonetheless, is not the only grocer to improve its online presence and delivery capabilities. Target Corp. (TGT) - Get Target Corporation Report announced Wednesday that it's coughing up $550 million to acquire delivery platform Shipt. Wal-Mart Stores Inc. (WMT) - Get Walmart Inc. Report has its own armory of delivery masters, including Jet.com and the New York City-based Parcel, which it bought in September.
Meanwhile, Walmart is also posting tremendous strides in e-commerce growth. In the first quarter of 2017, for instance, it reported a digital sales increase 63%
Next year, Costco will open 25 new stores. It currently operates 746 warehouses, 518 of which are in the U.S.
More from TheStreet.com: