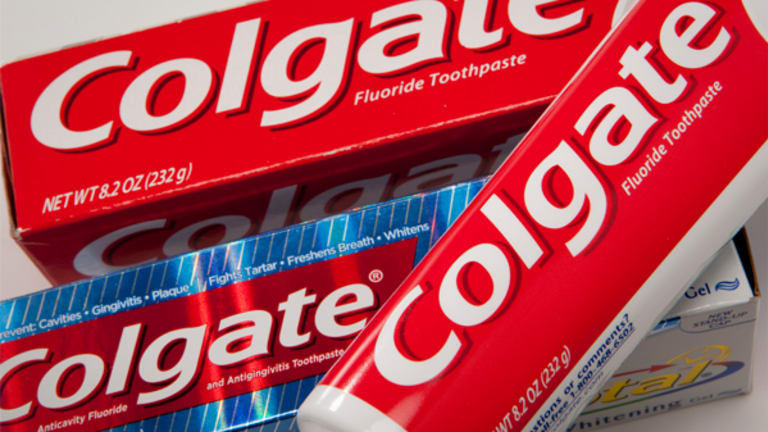 Corvex, Starboard Poised to Profit if Kraft Heinz Buys Colgate-Palmolive
Corvex's Keith Meister and Starboard Value's Jeff Smith have quietly accumulated shares in the household and personal care products company.
Two big activist fund managers may be betting that Kraft Heinz (KHC) wants to buy personal-care products maker Colgate-Palmolive (CL) in the not-too-distant-future.
Corvex Management's Keith Meister and Starboard Value's Jeff Smith accumulated about $102 million and $12 million worth of shares, respectively, in Colgate-Palmolive last quarter. Their stakes were disclosed in regulatory filings after Colgate-Palmolive CEO Ian Cook signaled earlier this month that he might be interested in selling the company for $100 a share, a 35% premium.
It's a deal that could interest Kraft Heinz, backed by billionaire investor Warren Buffett, after its spectacular, but ultimately unsuccessful, $143 billion bid for Unilever. Buffett is a member of the Kraft Heinz board, as is 3G Capital's Alexandre Behring.
Cook's comments, reported by the New York Post, suggest there's a strong possibility that a friendly deal for Colgate-Palmolive could be struck reasonably soon, said David Kass, a clinical professor at the University of Maryland's business school who follows Buffett and his company, Berkshire Hathaway (BRK.A) . The New York-based company could be attractive to Kraft Heinz, 3G Capital or Berkshire, Kass said.
One possibility is Buffett and 3G partnering to finance Kraft's purchase of Colgate-Palmolive for as much as $85 billion, a premium on the company's current $65 billion market capitalization, Kass suggested.
"It would be consolidated into Kraft-Heinz, and 3G would bring in its own management team," Kass said. "3G Capital would want to acquire it if it felt that it wasn't efficiently run and if they thought they could introduce efficiency."
That theory is buoyed by the fact that Buffett and 3G have worked together before -- on the purchase of Heinz, which predated its merger with Kraft. The combined company also has some synergies with Colgate-Palmolive. Colgate garners a large percentage of its sales outside the U.S., and it could use its international distribution chain as a channel for Kraft-Heinz, which has a much smaller international presence.
The merged companies would also benefit from some economies of scale with U.S. retailers that sell both Colgate's household products and Kraft Heinz's food and beverages.
If a friendly deal can't be worked out, it's possible Corvex or Starboard could agitate for one by shaking up the company's board.
The deadline to nominate directors chosen at Colgate's 2018 annual meeting is Feb. 11, though an activist can launch a boardroom battle earlier with a written consent solicitation. It wouldn't be a stretch for either Starboard or Corvex to expand their stakes and attempt such a move.
Alternatively, Buffett and Berkshire Hathaway could make a play to acquire the business on their own: As of the end of December, Berkshire had $86.4 billion in cash, prompting speculation that its CEO is in the market for a deal.
If Kraft-Heinz doesn't make a play for Colgate-Palmolive, it may make one for Mondelez International (MDLZ) , another company that has several activist fund managers circling the wagons.
Trian Partners' Nelson Peltz sits on the Mondelez board, which suggests that the company might become a target. Trian holds a 2.8% stake, and Bill Ackman's activist fund Pershing Square holds 1.3% of the shares.
To avoid a takeover by Kraft Heinz, Mondelez might try to buy General Mills (GIS) , the maker of Yoplait yogurt and Pillsbury Cinnamon Rolls.
The food and beverage company previously sought to buy Hershey but was rebuffed, in part because of the Hershey Trust, which held a sufficiently large stake that it needed to be convinced.
"Mondelez's effort to buy Hershey suggests that it may be interested in buying something else as a defensive measure, so that they may be more difficult for someone like Kraft Heinz to swallow," Kass said. "Mondelez has more international exposure than Kraft Heinz and putting the two together would open up more markets abroad, while bringing more domestic markets for Cadbury."
Read More Trending Articles:
11 Countries to Visit With Caution
Editors' pick: Originally published May 24.