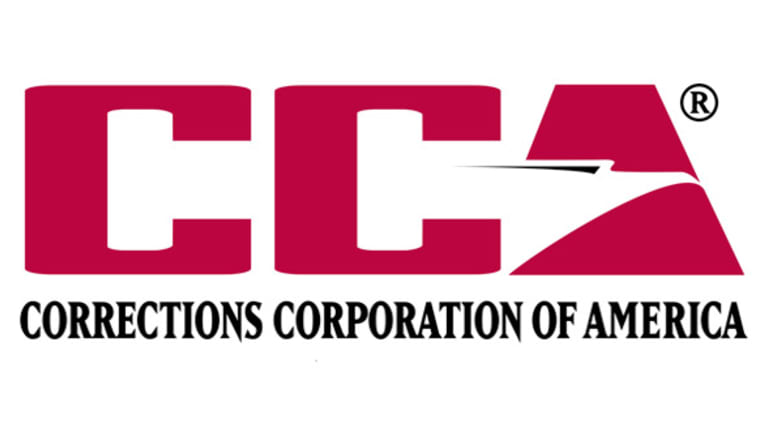 Corrections Corp. of America Stock: Value Play or Value Trap?
What does the recent plunge in the stock of this prison operator mean for investors?
Shares of prison operator Corrections Corp. of America (CXW) - Get CoreCivic, Inc. Report have fallen off a cliff, so some investors may be wondering whether the stock is now a buying opportunity or has become toxic.
Shares have plummeted 50% in the past month, and the primary catalyst was the recent announcement by the U.S. Department of Justice that it plans to end the use of private prisons. Let's look at the details, however, and see whether the stock's selloff is truly warranted or whether you should scoop up shares now.
On Aug. 18, media outlets reported that in a memo U.S. Deputy Attorney General Sally Yates had instructed officials to either decline to renew contracts for private prison operators or "substantially reduce" their scope.
The news hit not only shares of Corrections Corp. of America but also those of The GEO Group (GEO) - Get GEO Group Inc Report , which are down 41% in the past month.
Although the Department of Justice decision is bound to affect these companies' businesses, it's important to note that the announcement affects only facilities in the federal Bureau of Prisons system. Corrections Corp. has said that such facilities make up just 7% of its business.
Analysts at Canaccord Genuity said the selloff was overdone, adding that there was only about 9% Bureau of Prisons risk for Corrections Corp. of America and about 11% for The GEO Group.
And it's because the selloff was overdone that Corrections Corp. of America is a good bet in this overvalued market.
The recent stock price swing has been more a manifestation of fear. The prison operator was recently restructured as a Real Estate Investment Trust with plenty of opportunity to return value to shareholders.
Corrections Corp. of America has become the nation's largest owner of partnership correctional, detention, and residential re-entry facilities. It owns or controls 74 correctional, detention and re-entry facilities.
Presently, the contracts at the three facilities Corrections Corp. of America operates on behalf of the Bureau of Prisons remain unchanged. While the Bureau of Prisons will decide whether to extend these contracts toward the end of their contract terms, these contracts account for approximately $131.2 million in annual revenue, or about 7% of Corrections Corp. of America's total annual revenue.
Corrections Corp. of America has said it will continue to provide public service to its government partners serving more than 65,000 inmates, detainees, and residents in 85 facilities pursuant to over 100 contracts.
The value proposition for Corrections Corp. of America is thus intact. The Corrections Corp. of America delivers mission-critical secure and nonsecure facilities that are difficult to replicate.
Even if we assume a dividend cut in Corrections Corp. of America shares linked to a small business loss, the dividend would still be respectable. The yield is currently at 12.34%, but has been driven higher by the selloff. The current annualized payout is $2.13, and the dividend has grown for the past three years. 
The correction has made Corrections Corp. of America stock an extremely attractive value play. It trades at a price-to-cash flow ratio of 5.2, at a steep discount to peers such The GEO Group (16.2).
While the Justice Department opines that privately run facilities are less safe and less effective than those operated by federal or state governments, federal and state facilities have shortcomings, too. Remember also that elections are just around the corner, and the Department of Justice could change course on private prisons under a different administration next year.
---
If you're looking for new growth opportunities in this overbought and risky market, we've found a genius trader who turned $50,000 into $5 million by using his proprietary trading method. For a limited time, he's guaranteeing you $67,548 per year in profitable trades if you follow his simple step-by-step process. Click here now for details.
This article is commentary by an independent contributor. At the time of publication, the author held no positions in the stocks mentioned.