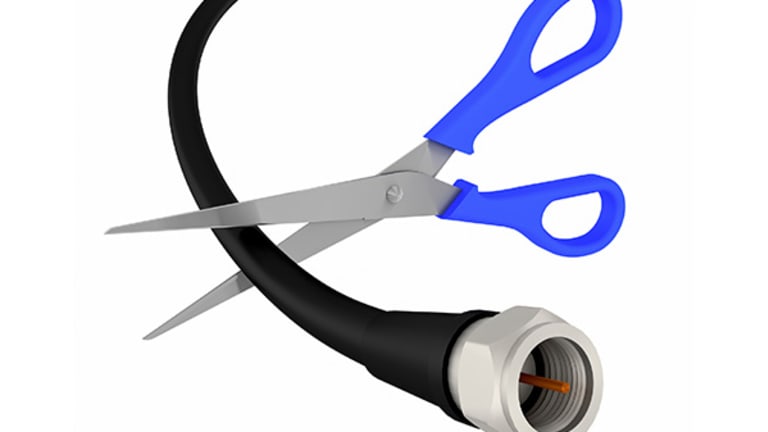 Cord-Cutting Accelerates as Millennials Start New Households
The number of people terminating their pay-TV contract is increasing, especially among young people.
The number of people terminating their pay-TV contract is increasing, especially among young people.
Cord-cutting is becoming more and more popular as better alternatives to the traditional pay-TV bundle are giving consumers more choices for their entertainment, news and sports viewing.
In an annual survey conducted by Magid Advisors, the media consultancy, some 5.7% of respondents 18 to 64 years old said they were "very likely" to discontinue their cable-TV or satellite subscription. That's a big jump from 2011 when the total number of people expressing a desire to terminate their cable-TV or satellite contract was 1.9%. In 2015, the survey found 3.8% were poised to cut the cord, a popular industry expression.
The reasons for the acceleration, said Mike Vorhaus, president of Magid Advisors, is a combination of generational growth. It's no longer viewed as unusual for a household to not have pay-TV service. Additionally, the availability of compelling alternatives such as Dish Network's (DISH) - Get Report SlingTV, Sony's (SNE) - Get Report PlayStation Vue along with Netflix (NFLX) - Get Report and Time Warner's (TWX) HBO GO, have given consumers more options, especially for those not who don't need to watch live sports.
"There's generally growing momentum in the attitude toward cord-cutting," Vorhaus said. "We've had 5 or 6 years of people aging into this question, and it's also about content. The quality of the content, the variety of the content is increasing considerably.
Among Millennials, those between the age of 18 and 34, the number of respondents who said they are "very likely" to stop subscribing to any pay-TV package was 9%. Concurrently, the number of Millennials who say they have never subscribed to a pay-TV service continues to rise.
"This is big: 9% is very far from 1.9% six years ago," Vorhaus said in New York during a presentation at Goldman Sachs' Communacopia Conference on the media industry. "This makes every next year harder and harder for these operators." Paraphrasing a media executive, Vorhaus added that, "very small numbers make a very big difference when you're dealing with mass media."
Pay-TV operators such as Comcast (CMCSA) - Get Report , Charter Communications (CHTR) - Get Report , which bought Time Warner Cable earlier this year,  and AT&T (T) - Get Report , which completed its acquisition of DirecTV a year ago, are expanding its online video platforms in an effort to offset declines in their pay-TV subscription businesses.
Reflecting the advent of compelling alternatives, some 75% of respondents said better options to the traditional bundle was their main reason for switching, not price, the Magid survey showed. The acceleration, Vorhaus added, has to be especially concerning for pay-TV operators given that it hasn't taken place during a recession. Arguably, the after-effects of the 2008 mortgage-backed securities crisis are still being felt, but the economy in general has improved from the gal of 2008.
When asked about their interest in so-called skinny bundles, offerings such as SlingTV which offers a package of 25 channels, including Disney (DIS) - Get Report ESPN, for $20 per month, more than half of respondents said they were "very interested" in paying for such a service. They also said they'd pay, on average, $48 per month. SlingTV offers a larger page for roughly that same among.
"Obviously, an average pay-TV bill of $48 from every consumer would be a problem for the [cable-TV] and satellite operators," he said. "It's going to have to be very careful how skinny bundles are introduced. They're not the savior of this industry, though this industry doesn't need to be saved."
At present, the 13 largest pay-TV providers held for 94.2 million subscribers in 2015, losing 385,000 net video subscribers in 2015, according to the Leichtman Research Group. Magid conducted the survey 2,400 U.S. consumers ages 18 to 64 from July 21 to August 5.
Comcast is a holding in Jim Cramer'sAction Alerts PLUS Charitable Trust Portfolio. Want to be alerted before Cramer buys or sells CMCSA? Learn more now.