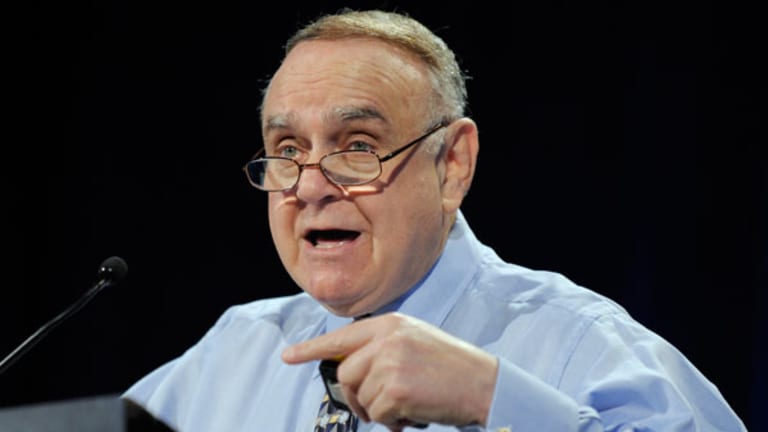 Cooperman's Omega Advisors Is 'Comfortable' With Linn Energy
Leon Cooperman's Omega Advisors is comfortable with its leading holding in Linn Energy, a letter shows.
Updated from 11:45 a.m. ET to clarify Linn Energy's hedging activities and include afternoon share prices
.
NEW YORK (
) -- Leon Cooperman of hedge fund
Omega Advisors
is comfortable with his investment in
Linn Energy
(LINE)
, amid analysis from major media and independent research firms that the oil and gas driller may be unable to support a high-yielding dividend and is only worth 50% of its current share price.
"Omega Advisors, Inc. is comfortable with our investment in Linn Energy, we are convinced of the professionalism and integrity of the company's management, we are optimistic about the company's future growth and financial performance," Cooperman wrote in a June 17 letter addressing Omega's investment in Linn Energy.
In his letter, Cooperman pointed out that Linn Energy has mostly hedged its energy production with costless swap contracts, potentially undermining claims that the company is under-reporting costs it incurs to hedge its energy risk. Such costs,
Barron's
argued, could mean Linn Energy is unable to maintain its dividend payout.
Omega Advisors is Linn Energy's largest outside investor, with a 3.05% holding in the company's shares worth more than $200 million, according to March 31
Securities and Exchange Commission
filings compiled by
Bloomberg
. Linn Energy is also Omega's fifth-largest investment, after stakes in
Sprint Nextel
(S) - Get SentinelOne, Inc. Class A Report
,
AIG
(AIG) - Get American International Group, Inc. Report
,
SLM Corp.
and
SiriusXM Radio Nextel
(SIRI) - Get Sirius XM Holdings, Inc. Report
, the data showed.
Cooperman argued Linn Energy has capitalized the costs of its energy hedges in accordance with Generally Accepted Accounting Practices (GAAP). Non-GAAP metrics such as earnings before interest, taxes, depreciation and amortization (EBITDA) that are often cited by Linn Energy and investors, by definition, would not include the capital expense of put contracts, Cooperman's letter stated.
Finally, Cooperman highlighted that independent third parties
Citigroup
and
Credit Suisse
have valued
LinnCo
(LNCO)
, a subsidiary Linn Energy is using to acquire
Berry Petroleum
, at $35.92 a share and $39.64 a share. Those valuations are well above Linn Energy's current share prices and, according to Cooperman, take into account any tax liability the company would face in its proposed acquisition.
"
We are of the view that the shares are undervalued and offer an attractive total return proposition -- dividend plus change in capital," Cooperman wrote in a follow up e-mail to
TheStreet
.
Currently, Linn Energy is a battleground stock in an energy sector filled with activist investor dramas, CEO change and corporate breakups.
At issue is whether Linn Energy can maintain or even expand its high-yielding quarterly dividend payout of 72 cents a share and whether a potential drop in the dividend would chip at the company's valuation.
Barron's
and independent research firm
Hedgeye Risk Management
both argued that Linn Energy isn't properly expensing the costs of its energy price hedges, which have so far helped the company either maintain or grow its dividend for 29 consecutive quarters.
They argued unrecognized costs of put contracts Linn Energy has to hedge its natural gas production at $5 per mcf undermine the company's ability to fund its dividend.
Barron's
and Hedgeye both questioned whether the costs of those put contracts, a weak quarter of energy production at Linn Energy and high capital expenditure put the company at risk of lowering its dividend.
Investors such as Cooperman appear to discount such a scenario.
Jim Cramer, founder of
TheStreet
and contributor to
RealMoneyPro
, currently owns Linn Energy shares in his charitable trust. Cramer has supported Linn Energy and invited CEO Mark E. Ellis on his
CNBC
show
to rebut Barron's analysis.
After highly negative reports earlier in 2013,
Barron's
on June 15 published a follow-up analysis that argued Linn Energy had "come clean" on the costs it incurs to hedge its energy risk. In a June 4 filing with the SEC, Linn Energy said in a footnote that premiums paid for put options that settled in the first quarter cost $43 million.
The company, however, has said in recent investor presentations it doesn't expect to open additional put positions in 2013.
In the near term, a drop in Linn's dividend payout or expectations of a decline could hinder its efforts to buy
Berry Petroleum
(BRY) - Get Berry Corporation Report
in an all-stock merger that the company projected will increase its distributable cash flow by 40 cents a share.
The merger appears to be a crucial piece of Linn Energy's strategy to bolster its dividend and energy production in coming years. In a
presentation
at the Howard Weil energy conference earlier in June, Linn Energy said Berry's assets would bolster the company's gas production by 30%, its liquids reserves by 54% and its provable reserves by 34%.
Those energy assets and a boost to the company's free cash flow mean Linn Energy and LinnCo plan to boost their dividend payout to $3.08 a share on an annualized basis following the Berry Petroleum acquisition.
Linn Energy said it sees its net asset value (NAV) at between $44.74 a share and $64.74 a share. A third-party adviser as part of the firm's merger efforts with Berry Petroleum sees the company's NAV at between $37.34 a share and $51.15 a share, the
company said
.
Barron's
and Hedgeye, however, argued the company's shares could only be worth between $5.48 a share and $18.17 a share.
Hedgeye is conducting a conference call Tuesday afternoon to further outline its analysis.
Linn Energy, meanwhile, continues to work to close its Berry Petroleum acquisition. Wells Fargo analyst Praneeth Satish expects the deal could come to a shareholder vote in the third quarter and could be a "meaningful catalyst" to Linn Energy's stock, which has fallen nearly 17% year to date.
After falling as much as 4% in early Tuesday trading, Lynn Energy shares reversed to gains just under 1% at $30.80. LinnCo shares were trading about 2.5% lower to $34.29.
-- Written by Antoine Gara in New York