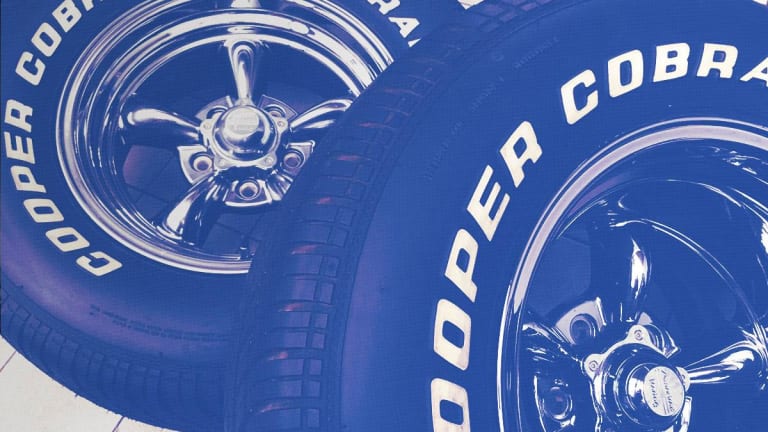 Cooper Tire Weaker After Second-Quarter Profit Miss, Weaker Outlook
Hurting the quarter were costs tied to new tariffs as well as restructuring expense from halting a tire line in the U.K., the company says.
Cooper Tire (CTB) shares were lower Monday after the tire producer reported second-quarter results below analysts' estimates and said tariffs and delayed price increases for some tires would hurt the rest of the year.
The shares were trading down 7.7% at $28.13.
Profit at the Findlay, Ohio, company fell to $9.3 million, or 18 cents a share, from $15.7 million, or 30 cents, in the year-earlier period. Sales declined 2.8% to $679.1 million from $698.4 million.
A survey of five analysts by FactSet produced consensus estimates of earnings of 50 cents a share on sales of $718.1 million.
Operating profit was $32 million compared with $33 million a year earlier.
Hurting the quarter, Cooper said in a statement, were $13 million of costs tied to new tariffs on products imported into the U.S. from China and $2 million of restructuring costs related to the Europe division's halt to light-vehicle-tire production at its facility in Melksham, England.
"Increased U.S. tariff costs and delayed timing of anticipated commercial truck tire price increases, as well as weakness in the China new-vehicle and Europe replacement-tire markets," are likely to hurt the second half, President and Chief Executive Brad Hughes said in a statement.
Cooper said it no longer expects to sell more tires in the full year than it did in 2018, particularly because the market for new vehicles in China is uncertain.
On the other hand, it expects its operating-profit margin to improve through the year, finishing the year in line with 2018's 5.9%.
Save 76% with our Summer Break Sale. Subscribe to our premium site Real Money and become a smarter investor! Click here today to sign up!