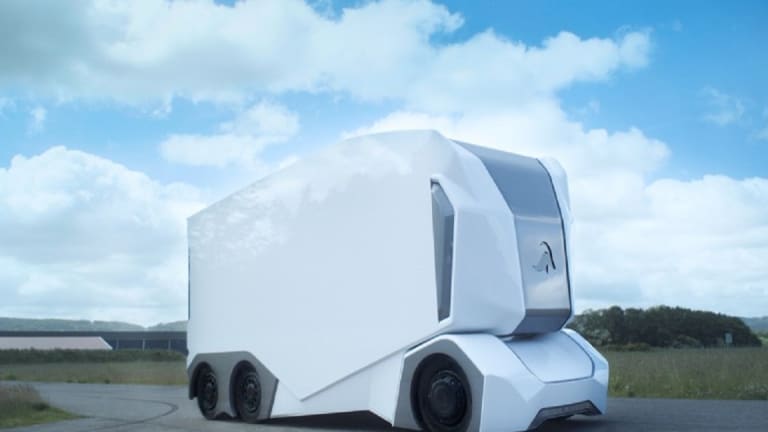 3 Cool Cars We Have Already Seen at Detroit Auto Show
The Detroit Auto Show is already in full swing. Here's are some rides TheStreet found cool as soon as entering the building.
Sorry Tesla (TSLA) - Get Report fans, the Detroit Auto Show isn't about you. 
In fact, the electric car-maker couldn't be further from the thoughts of early attendees (including TheStreet's Bret Kenwell) walking the floor judging by social media posts. There is so much auto innovation and eye candy on display there really isn't any reason to think of Elon Musk. 
Here are several rides that caught Kenwell's attention in the early going. 
T-Pod
Sweden's Einride showed up with its much hyped T-Pod. The Optimus Prime looking electric vehicle is self-driving. It is capable of carrying 15 pallets of goods 124 miles while giving off zero emissions. Not too shabby.
Einride believes that by 2035, 20% of Sweden's road transports are via T-Pods. What Tesla semi-truck? 
Bullitt Mustang
Unveiled Sunday evening, the new Bullitt Mustang pays homage to the legendary ride driven by Steve McQueen in the movie Bullitt. The 5.0 liter engine will churn out an impressive 475 horsepower. Top speed is 163 mph. 
Ford also managed to dig up the only drive-able, original Bullitt car left in the world. McQueen for years reportedly tried to buy the car back. No luck.
Kenwell says Ford (F) - Get Report also dropped another nugget Sunday evening: by 2020, it will release a hybrid F150.
Karma Revero
It was interesting to see this one up close -- the hybrid has received some non-flattering reviews by the auto press.
TheStreet's 2018 Detroit Auto Show videos, right here:
More of What's Trending on TheStreet: