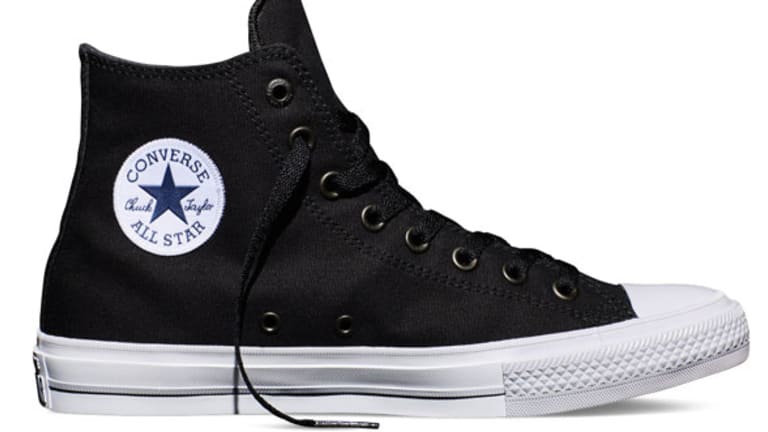 Converse Sales Plunged Last Quarter, But Nike Hints It Was Intentional
The sneaker giant said a 'purposeful tightening of supply in North America' overpowered strong growth in China, causing Converse sales to fall 16%.
Nike Inc. (NKE) managed an earnings beat on Tuesday, Sept. 26, driven by cost-cutting, share repurchases and low retail expectations, but sales of one of its iconic brands dropped 16%.
Nike's Converse brand's sales fell 16% year over year on a constant currency basis to $483 million during the quarter ending Aug. 31. The bulk of the decline was in North America, despite "high-double-digit growth in China," Nike CFO Andrew Campion said on a call with analysts. He attributed the decline to "a purposeful tightening of supply in North America."
Susquehanna Financial Group LLLP analyst Sam Poser said his impression of the supply tightening was that Nike believes the brand is oversaturated.
"They pulled a lot of product out of the US to make it cleaner, to re-kick it," he said by phone. "It was a big surprise but they're probably doing the right thing."
Although Converse sneakers retail for about $50, Poser compared Converse's position to the oversaturation of logo-branded Coach Inc. (COH)  handbags, even though Coach is a luxury brand and Converse is not.
Converse is a "cool brand," he said. "If all of a sudden everyone and their mother is wearing Converse, you don't like it anymore. It's not about luxury. It's about brand positioning. And making something special doesn't mean making it expensive."
The decline in Converse sales came in spite a 2% increase in revenue for the Nike flagship brand, which totaled $8.6 billion in the quarter. The full company's revenue for the quarter, $9.07 billion, was flat from last year, shy of analysts' expected $9.085 billion, while earnings of 57 cents per share exceeded the consensus estimate of 46 cents per share.
"Any time you get supply above demand, you've got to take an action," Poser added. "We're unsure to what degree they're taking that action with the other brands."
Nike acquired Converse for $305 million in 2003, two years after the brand went bankrupt. The brand had sales of $205 million at the time.
Nike's earnings follow good news and bad news at archrival Adidas AG (ADDYY) .
NPD analyst Matt Powel said this month that Adidas had surpassed Nike's Jordan brand to become the second-most popular American footwear brand, behind only Nike's flagship brand, which he called "an achievement I never thought I would see in my lifetime." NPD found that Adidas sports footwear sales grew 40% in August, while Jordan fell more than 30% and Nike was down low single digits. Jefferies LLC analyst Randal Konik predicts that Nike will continue to lose market share in North America to Adidas at an "accelerated pace" despite Nike's much greater size in.
On Tuesday, Adidas head of global sports marketing Jim Gatto became embroiled in a bribery scandal. The U.S. Attorney for the Southern District of New York accused Gatto of bribing prospective NCAA basketball players to attend Adidas-sponsored universities.
At sneaker stalwarts like Nike, Adidas and Under Armour Inc. (UAA) , prices are lower than ever.
"We are seeing price points on Nike, Adidas and Under Armour product that we never thought possible in N. America," Cowen and Co. analyst John Kernan wrote in a note. "Supply/Demand equation is disrupted."
Kernan also noted that Nike's stagnant sales are hurting some major retail partners. Finish Line Inc. (FINL) and Foot Locker Inc. (FL) both generate about 70% of their sales from Nike, while Nike apparel accounts for about 20% of Dicks Sporting Goods Inc. (DKS) sales. He predicts that North American sales will fall 5% year over year next quarter.
Watch: Why Is Lonzo Ball Wearing Nike?
More of What's Trending on TheStreet: