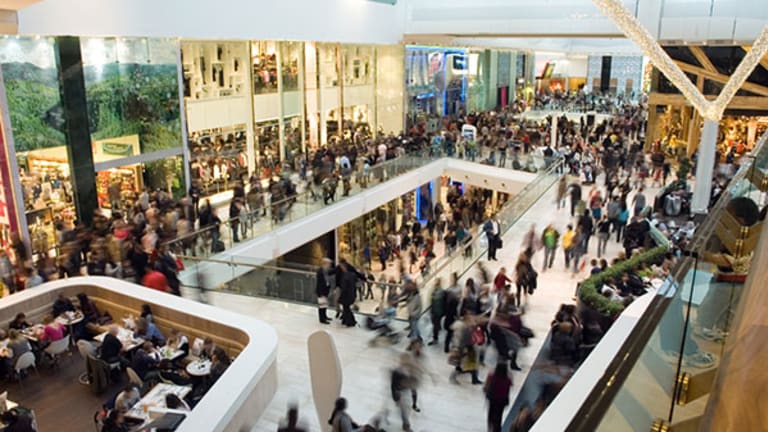 Consumers Passing By the Mall This Holiday Season
Data shows consumers aren't buying from retailers at the mall; That has analysts concerned about the upcoming holiday season.
NEW YORK (TheStreet) - Consumers aren't buying from retailers - at least not at the mall. They may be making purchases online, through mobile devices or hitting up discount retailers like TJX (TJX) , but they're certainly not shopping at the mall and that has analysts concerned about the upcoming holiday season.
The mall was once seen as a destination for individuals and families alike, spending an hour or the day walking around, eating at the food court, popping in and out of stores. Today, as the world turns increasingly digital and mobile, the idea of shopping in a mall is being beat out by quicker, cheaper and easier shopping methods, such as Amazon (AMZN) and eBay (EBAY) .
The latest findings of a ShopperTrak survey show that mall traffic has been on a decline this year, starting in earnest in the second quarter and continuing over the next few months. The data doesn't bode well for the all-important holiday season.
"ShopperTrak has shown a steady decline in mall traffic of late, with QTD trends down 3.2%, continuing the weakening trend that began in earnest in 2Q," Deutsche Bank analyst Paul Trussell cited in a research note on Tuesday. (TheStreet could not get ShopperTrak to confirm the data by press time.)
In the note, Trussell lowered price targets for three mall-inhabitants: Nordstrom (JWN) , J.C. Penney (JCP) and Macy's (M) , but upped his recommendation on non-mall retailer Kohl's (KSS) to "hold" from "sell" and increased his price target.
There seem to be several reasons why mall traffic is down, starting with the uneven economy leading shoppers to seek out increased value (i.e. quality goods at lower prices), a teen segment that has a higher percentage of unemployment than the national average, and perhaps most importantly changing preferences for digital and mobile options.
"We believe the department store sector has experienced market share shifts to off-price retailers and specialty/vendor shops as well as a crowding out to other pockets of retail, particularly home improvement. On average, our department store 3Q comp moves down 70 bps to 0.3% (excluding JCP), which compares to 2Q SSS results of 1.5%. With estimates once again being reduced, we continue to see department stores as one of the less attractive sectors in retail and within our coverage universe, we prefer exposure to the dollar stores," Trussell writes in the note.
The National Retail Federation predicts holiday retail sales (encompassing retail sales in November and December) this year to rise 3.9% to $602.1 billion, slightly ahead of 2012's actual holiday season sales growth of 3.5%. The forecast is higher than the 10-year average holiday sales growth of 3.3%.
According to NRF, the holiday season can account for anywhere from 20% to 40% of a retailer's annual sales, and accounts for approximately 20% of total industry annual sales.
This year, consumers' preference for larger ticket items such as cars and items for the home are supporting holiday sales forecasts, however the uneven economy and wariness regarding fiscal concerns along with the recent government shutdown could further impact holiday sales, the NRF said.
"The retail sector has been challenging, with weakening traffic trends in September, particularly at the end of the month as political/macro headlines stole the show," Paul Lejuez of Wells Fargo Securities, writes in an October 11 note. "It's rough out there, in our view."
Retailers across the board have been paring back their back half of the year expectations, however teen retailers like American Eagle Outfitters (AEO) , Abercrombie & Fitch (ANF) and Aeropostaleundefined seem to be taking the lower mall traffic particularly hard.
"Continued negative mall traffic, aggressive promotions and inventory growth running +1% above sales growth vs. -1% below [last year] put pressure on margins," Citigroup analyst Oliver Chen penned in a research note on Thursday.
"We are cautious for holiday given teen employment at 20-25% vs. [approximately] 45% pre-recession, back-to-school challenges" as well as the potential for further decelerating same-store sales comps and promotions that aren't successful, Chen added. He lowered fiscal-year earnings estimates and 12-month price targets on American Eagle and Abercrombie.
That said, as mall traffic continues to decline, mobile and e-commerce shopping will continue to grow, driving sales for retailers, he says.
"Last year, holiday retailers grew e-commerce an average of [approximately] 34%, thus we expect growth this year to be 15%-20%, primarily driven by an increase in mobile device sales," Chen wrote.
-- Written by Laurie Kulikowski in New York.
Disclosure: TheStreet's editorial policy prohibits staff editors, reporters and analysts from holding positions in any individual stocks.