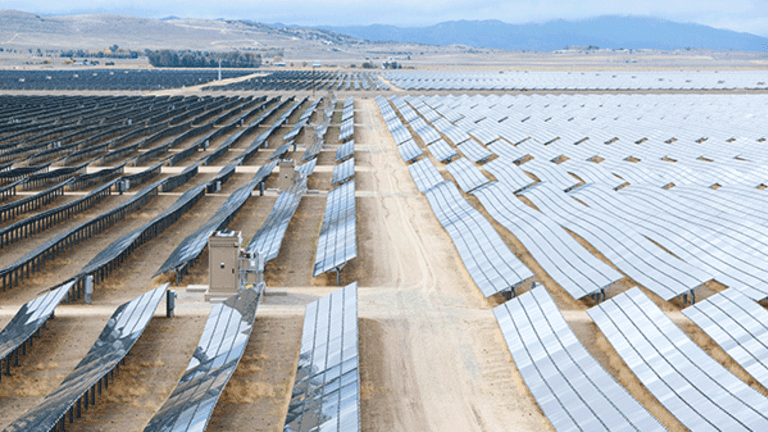 Green Energy Is Threatening to Cripple Many Utilities
The market for electricity consumption is changing, and for many utilities, now may be the time to adapt or die.
Utility companies are finding themselves in a pinch as the growing green energy movement threatens to destabilize their traditional business model.
That could one day be bad news for the investors of Pacific Gas and Electric Co.  (PCG) , Consolidated Edison Inc. (ED) and the Arizona Public Service Company, a subsidiary of Pinnacle West Capital Corp.  (PNW) , among others. Of course, some utilities, such as NRG Energy Inc. (NRG) , may benefit from their extensive investments in renewables and distributed generation optimization. 
But across the country, from LED lighting to rooftop solar, consumers are finding ways to use less energy or generate more power themselves - and it's having a material impact on many utilities as well as poorer customers who aren't able to invest in clean energy, analysts and researchers say. The rapidly declining cost of renewables, especially wind and solar, is accelerating the trend, as consumers benefit from low prices often unavailable to utilities, which purchase their energy in long-term contracts.
"I think there's a material impact on utilities everywhere," Morningstar utilities analyst Travis Miller said. While Miller thinks that utilities will be able to adjust in the long-term, he noted that it will require a concerted effort from consumers, shareholders and regulators, groups that often find themselves at cross-purposes.
The changing dynamics of the market are most pronounced in California, situated at the intersection of sunny weather and progressive politics and home to more than 12% of the country's population. The state also leads the nation in solar energy production, with more than 13% of its electricity coming from solar, according to the Solar Energy Industries Association.
In California, whole counties have opted to bypass their utility, creating so-called "community choice aggregators," or CCAs, to serve as retail electric providers. While in these counties the consumers still pay to use the infrastructure provided by their utility company, the CCA sources all of the energy, sometimes seeking up to 100% in renewables.
While only five CCAs operate in California, almost half of the state's 58 counties and more than 300 cities are in the process. If all of the planned CCAs actually form, companies such as Southern California Edison (EIX) and San Diego Gas & Electric, a Sempra Energy (SRE) subsidiary, will see 40% of their customer load leave, according to a Moody's Investors Service report.
"It's a phenomenon that is threatening to dominate the whole California territory," Moody's analyst Toby Shea said.
While California's CCAs are likely to be the most prolific, the arrangement exists elsewhere. Besides California, CCAs are legal in six other states, including Illinois, Massachusetts, New Jersey, New York, Ohio, and Rhode Island. CCAs have existed for decades as a method of sourcing electricity at lower prices than would be otherwise available, but the recent push is to use CCAs to buy cleaner energy, even if that means paying higher prices.
According to Shea, as consumers exit their utility arrangement, they're often leaving behind stranded assets. Utility companies typically buy energy in bulk, so as energy prices decline, they are stuck with prices well above the market price. While the cost can be pushed onto whatever customers remain in the system, hiking electric bills incentivizes the remaining customers to leave, possibly creating a cycle of increasing rates.
Analysts see regulators as a potential solution, noting that if utilities are able to charge CCA customers a larger price for using the utility company's infrastructure, it could solve the cost offsetting problem. Shea thinks regulators may be able to accomplish the increase in the next year or two, but said it will involve negotiations with CCAs and utilities. Getting a buy-in from the various stakeholders could prove difficult, he said.
To be sure, this wouldn't be the first time regulators have stepped in to manage changing market dynamics brought on by the green energy movement.
Regulators have been active in addressing rooftop solar ever since analysts predicted a utility "death spiral" in the mid-2010s. At least 16 states have put new regulations on the practice since 2010, including bans in states like Arizona and Nevada. Nevada has since reinstated net-metering.
This article was originally published on July 5, 2017.