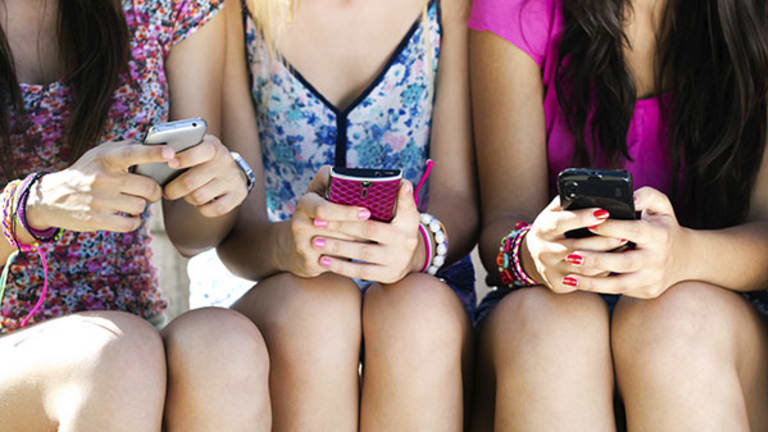 Consumer Survey of 6,000 Teens Reveals the Power of Amazon, Apple, Snapchat and Netflix
81% of teens expect their next phone to be an iPhone.
Piper Jaffray's survey of the consumer habits of 5,500 U.S. teens revealed a number of big winners in the tech and media categories, including Amazon (AMZN) - Get Report , Apple (AAPL) - Get Report , Snap (SNAP) - Get Report  and Netflix (NFLX) - Get Report . The survey participants had an average age of 16 and an average household income of $66,100.
Here's what we learned about teens from the results. 
Teens' favorite website is e-commerce giant Amazon.com, with 43% share, up from 40% share in Fall 2016. Amazon has held this title in the biannual survey since Fall 2015. Meanwhile, eBay's share dropped to 2% from 3%, indicating relative weakness in the brand, Piper Jaffray wrote. 
The firm noted that Amazon Prime subscriptions appear to be on the rise, with 69 million U.S. households paying for the membership that offers such perks as free two-day shipping and access to Amazon Prime Video. That is important because Prime members spend more money on the platform compared to non-members. Non-Prime members spent less than $1,000 in 2015, according to ITG analyst Steve Weinstein. In contrast, customers who joined Prime in January 2014 spent, on average, $2,147 in 2015, and customers who joined Prime in January 2012 spent, on average, $3,091 in 2015.
In regards to smartphone ownership, a stunning 76% of the teens say they own an iPhone, already up since Fall 2016 when 74% of teens said they owned an iPhone. This was most likely helped by the release of the iPhone 7 and larger iPhone 7 Plus in September 2016. In addition, 81% of the teens said their next phone will be an iPhone. This reflects the popular worldwide adoption of iPhones, with Loup Ventures estimating that a total of 680 million people worldwide own iPhones, according to a recent note.
"We view the survey as a positive data point on iPhone 7 demand and excitement around the upcoming launch of the 10th anniversary iPhone (iPhone X)," Piper Jaffray wrote in the report. The iPhone 10 is expected to launch this September and is expected to feature a complete design overhaul, including an edge-to-edge curved screen and OLED display. Apple's stock is up nearly 24% year-to-date, reflecting the iPhone 7 demand, as well as the excitement surrounding the iPhone 10. 
As for smartwatch adoption, less than 16% of the teens owned a smartwatch, and only 13% of the teens said they planned to buy an Apple Watch in the next 6 months, up from 11% in Spring 2016. Overall, Apple was in third place in terms of watch share at just 5%, beat out by Rolex with an incredible 37% share and Michael Kors (KORS) with 17% share. Meanwhile, fitness wearable company Fitbit (FIT) - Get Report sat in ninth place with just 1% of the teen market share. 
Apple is expected to launch the Apple Watch 3 later this year, but teens aren't the only ones who aren't jumping up and down to buy the product. Marketing firm Fluent found that out of 1,350 Americans surveyed, just 5% of the participants who didn't already own a smartwatch said they planned to buy an Apple Watch. Instead, most buyers of the device appear to be those who already own an Apple Watch, with 42% of that group saying they would "definitely" buy a new one. "Apple Watch owners aren't a diminishing group, but they aren't a growing group, either," Fluent Chief Marketing Officer Jordan Cohen said in an email.
Social media trends among teens showed a clear winner: Snapchat. The social media app that allows users to send and receive pictures, videos and messages beat out competitors for usage, with 81% logging on at least once per month, vs. 79% for Instagram (owned by Facebook) and 51% for Facebook. In addition, Snapchat also came out on top for teens' overall favorite social platform, with 39% share, vs. 23% for Instagram and 11% for Facebook. Piper Jaffray said it sees the data as most positive for Facebook because it shows that Snapchat is not causing continual declines in usage for Facebook, since the amount of teens that log on to Facebook at least once a month dropped just 1% since Fall 2016 to 51% from 52%. 
Snapchat parent company Snap Inc. had its first full day of trading on March 2, with shares closing 44% higher than its initial offering price of $17. Investors were excited about a big tech IPO that had a large base of support from millennials. However, in the few weeks after its IPO, the stock took a dip after a number of analysts labeled it with a sell rating before recovering in early April after 10 of Snap's underwriting banks gave it a buy rating. The stock has recently been called into question after Facebook has shown no hesitancy to copy its defining features, including its popular Stories feature, which Facebook has installed on both the Facebook and Instagram app. 
Lastly, teens surveyed by the firm said that their daily video consumption belonged largely to streaming site Netflix, with 38% share, vs. YouTube (owned by Alphabet's (GOOGL) - Get Report Google) in second place with 26% share. Meanwhile, cable TV is continuing to drop in popularity among teens, claiming just 23% share. But overall, demand for video consumption from teens is largely fragmented, meaning there are opportunities across traditional and emerging platforms, according to the firm. The data is a positive for Lionsgate (LGF) in particular since it produces high-quality content across all platforms, the firm added. 
Netflix boasts about 116 million hours of viewing. But it's going to have some competition from other players as companies move into the online streaming space for fear of continued chord cutting. Recently, Google launched YouTube TV, which costs $35 per month, a similar price to AT&T's (T) - Get Report  DirecTV Now, as well as Sling TV from Dish Network (DISH) - Get Report . In contrast, Netflix costs just $7.99 to $11.99 per month, depending on the plan. YouTube also boasts 1 billion users worldwide and reaches more people in the key 18-to-24 and 18-to-49 age demographics than any cable TV network in the U.S. Meanwhile Netflix's total subscriber number reached 16.9 million in the past quarter. 
, which Cramer manages as a charitable trust, is long AAPL and GOOGL.