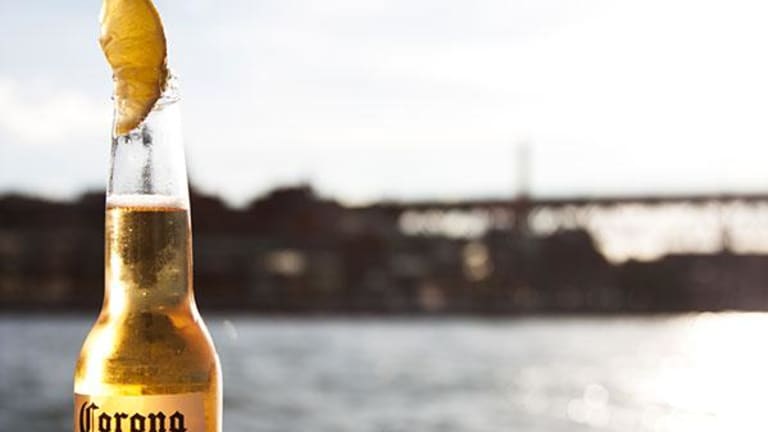 The Maker of Corona Beer Sees Its Stock Whacked on Report of Possible Trump Border Tariff
The alcohol company gets a majority of its revenues and profits from imported Corona and Modelo beers.
Constellation Brands (STZ) - Get Free Report  shares fell about 2.7% to $149.97 after White House Press Secretary Sean Spicer said Thursday that President Trump's proposed wall on the border with Mexico will be financed with a 20% tax on imported goods from Mexico. 
Constellation, maker of Corona and Modelo beers, both brewed in Mexico, sold $3.44 billion worth of beer in the U.S. in 2016, according to the company's fiscal 2016 year-end report, which came out in February.
The possibility of a tariff prompted Bank of America Merrill Lynch analyst Bryan Spillane to downgrade Constellation's stock to underperform from buy on Nov. 9, the day after Election Day.
A Constellation spokeswoman did not respond to questions about the tariff.
In 2013 Constellation bought out joint venture partner Grupo Modelo's 50% stake in their Crown Imports Mexican beer importing business, as well as perpetual rights for the Corona and the Modelo brands in the U.S., for a total of $4.75 billion. During the company's third-quarter earnings call on Jan. 5, Constellation CEO Rob Sands noted that imported Mexican beers could presumably be exempted from taxes.
"It's possible that Mexican beer could be exempt because it's an inherently Mexican product, and it's not the kind of thing that perhaps is being targeted, i.e., the movement of production from the U.S. to Mexico," Sands said. "In fact, in our particular case, it's the complete opposite, which, you have a U.S. company that bought a[n] inherently Mexican company and actually resulted in the creation of jobs in the U.S. as opposed to the opposite."
Such tariffs are "a big if," he added, and even if adopted "there will be a relatively length phase-in period."
Before the election, Susquehanna Financial Group analyst Pablo Zuanic identified the possibility of then-candidate Trump's victory as a small but significant risk to the stock. He speculated that due to tariffs, brand decline and a reduction in Mexican immigration, Trump's proposals could lower Constellation's earnings by 30%. Other analysts cautioned that policies such as a renegotiation of Nafta would take time.
Credit Suisse's Laurent Grandet calculated in a Jan. 10 note that a 10% tariff (half of that proposed by the White House) coupled with a 10% decline in the peso would reduce Constellation's earnings per share by 7% to 9%. The peso has declined about 14% since Election Day.
Outside the United States, Corona and Modelo are owned by Anheuser Busch InBev (BUD) - Get Free Report , whose shares closed at $104.81, down 1.3%.