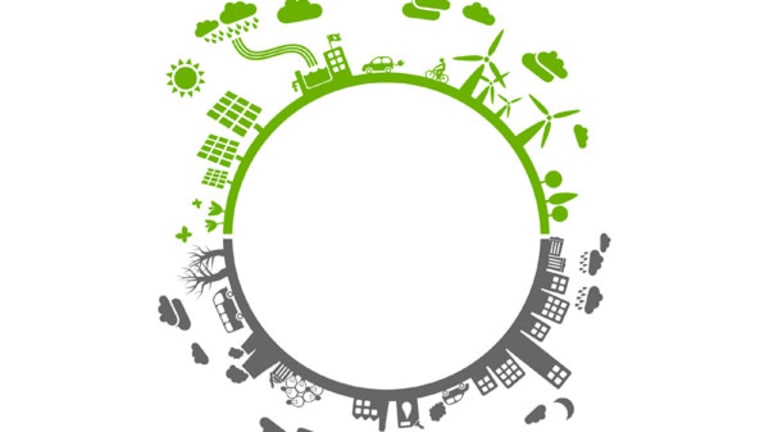 ConocoPhillips Split: Who's Next?
ConocoPhillips' plan to spin off its refining assets is causing ripples throughout the energy sector.
NEW YORK (
) --
ConocoPhillips
(COP) - Get ConocoPhillips Report
plan to spin off its refining operations is sparking discussion about who could be next, and what the move means for the rest of the industry.
There's already chatter that another integrated oil major like
ExxonMobil
(XOM) - Get Exxon Mobil Corporation Report
may now follow suit. At the same time, there are implications for stocks in the independent E&P space as well as the oil refiners.
Here are a few of the trading read-throughs Wall Street was discussing after the ConocoPhillips' surprise.
ConocoPhillips may be the best dividend stock play, and by a wide margin, in the independent E&P sector.
Argus Research analyst Phil Weiss noted that ConocoPhillips CEO James Mulva said on the Thursday conference call that ConocoPhillips will be keeping its dividend policy in place. The stock is currently offering a dividend yield of 3.3% and if it maintains that policy as a smaller, stand-alone E&P company, the yield could rise to over 4%, Argus Research estimates.
"No one is close to that in the independent E&P space," Weiss said. As an example, he cited the dividend yield of 1.8% offered by
Occidental Petroleum
(OXY) - Get Occidental Petroleum Corporation Report
as high among independents currently. He added
Chesapeake Energy
(CHK) - Get Chesapeake Energy Corporation Report
as another example, with a 1.2% yield.
"ConocoPhillips may not get some of the same growth-oriented investors that flock to other E&Ps, but income investors would find something not available in other E&Ps," Weiss said.
Is Exxon Mobil, Chevron or BP next to pursue a refining spinoff?
BP shares gained over 1% on Thursday on elevated trading volume. It was the only other major energy stock trading up, alongside ConocoPhillips, as the energy sector and markets were down on Thursday. BP has been trying to sell off some of its refineries, and hasn't found a buyer yet.
Sam Margolin, refining analyst at Dahlman Rose, wonders if BP will look at ConocoPhillips' move and the recent success of the
Marathon Oil
(MRO) - Get Marathon Oil Corporation Report
spin off and shift gears.
"This should sort of set off light bulbs when these companies are deciding to sell refineries and leave them on the market for months, like BP. Why not do a tax-friendly spin off?," he says. "It's not good to see a 'for sale' sign out there for so long, so maybe BP does the same.
The analyst also noted that there are only a handful of buyers that would even be able to acquire a refining asset like BP's Texas City, and that would have been a problem for ConocoPhillips also.
While Margolin knows the refining space specifically, analysts that cover BP are hesitant to predict a major shift in strategy by the company away from individual refinery sales. It's not that the integrated model has no flaws, and analysts say it's clear there is value embedded in integrated stocks that could be unlocked by a split.
In fact, Raymond James just released an analysis of refining on Monday that came to this conclusion: "If it looks like the majors just don't like refining all that much, that's because it's true."
The firm estimates that the majors have cut refining capacity by 10% in the past 30 months, prompted by the desire for multiple expansion, and recognition of a legacy business that no longer makes sense in a global market, and a secular oil consumption peak that makes refining a zero growth asset.
However, there is a key difference between shrinking refinery business and shedding it completely. The rise in BP shares on Thursday may also have been related to the putting out of a fire at its Valhall complex in the North Sea, which occurred on Wednesday. Stacey Hudson, analyst at Raymond James, noted that BP declined on Wednesday afternoon, and that
Hess
(HES) - Get Hess Corporation Report
, which owns a stake in the refinery, took and ever steeper dive on Wednesday when news of the Valhall fire broke.
Hudson said she thinks a ConocoPhillips-style spin-off doesn't make sense for BP specifically. "I know they want to sell refineries but I don't know if it would be enough to take BP to this extreme. COP has been trying for a while to reduce its footprint and BP has not been as outspoken," Hudson explained.
Argus Research's Weiss sees
Chevron
(CVX) - Get Chevron Corporation Report
as the most likely candidate to follow ConocoPhillips in spinning off refining. While ExxonMobil has been among the speculative headlines, Weiss says that ExxonMobil and its CEO Rex Tillerson have been clear in previous public comments that they believe there is value in the integrated model.
"I don't think today is the last of these deals, but when I think about who could be next, I come to Chevron," Weiss said. Chevron has already said they are deemphasizing refining, while BP and ExxonMobil have continued to talk about the benefits to integration, both financially and strategically. Chevron said on Thursday that it's sticking with its integrated model, and it makes as much sense as ever.
The Argus analyst notes that Chevron has the weakest refining business of the majors relative to the size of its business overall. Midstream assets and the chemicals businesses are integrated into these companies in a way that has led BP and ExxonMobil to make more forceful arguments about integration, Weiss said.
Raymond James highlight the distinction between integrated oil companies shedding refining outright and de-emphasizing it, with the example of Chevron. It's also a counterpoint to Chevron's statement on Thursday reinforcing its commitment to refining.
For 2011, Chevron has allocated $2.9 billion to downstream out of a total capital budget of $26 billion. The best way to analyze this, according to Raymond James, it to compare it to the relative (book) asset values on the balance sheet. A business that comprised 23% of Chevron's total assets as of year-end 2010 is getting only 11% of this year's capital. "By definition, this represents a significant deemphasizing of the downstream segment," Raymond James concluded.
With bigger refiners, refining stocks become the next takeout targets
If more of these refining spinoffs are coming, smaller players in the sector may become takeover candidates.
Valero
(VLO) - Get Valero Energy Corporation Report
is the only stand-alone large-cap refiner, but if ConocoPhillips is not the only integrated major to pursue a refining spinoff, there could be a new class of large-cap refiners able to consolidate the smaller names in the refining sector.
With the new Marathon refining operation, ConocoPhillips and Valero there are more natural buyers for refining stocks that Margolin considers undervalued names.
"One of the drags on refiner multiples is that nobody wants to buy them," he said. "With three large cap refiners the threat of consolidation becomes real."
Among undervalued names in the space that could be targets are
CVR Energy
( CVI.) and
HollyFrontier
(HFC) - Get HollyFrontier Corporation Report
-- Written by Eric Rosenbaum from New York.
>To contact the writer of this article, click here:
Eric Rosenbaum
.