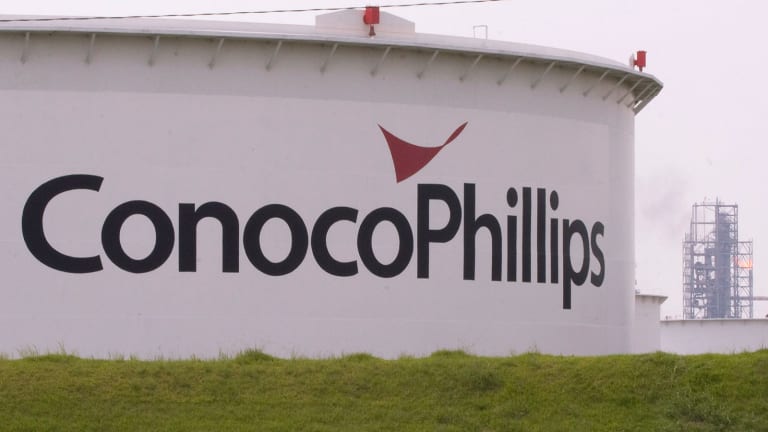 ConocoPhillips Is Weaker Than Wall Street Thinks; Dump the Stock Now
Energy producer ConocoPhillips has ridden the energy sector rally to unsustainable heights. Here's why you should jettison or sell short the stock immediately.
ConocoPhillips (COP) - Get ConocoPhillips Report has been one of the biggest winners during the energy rally. But don't get suckered; the company faces grim prospects and remains one of the most toxic stocks out there. Dump or sell short the stock now.
With a market cap of $62.3 billion, ConocoPhillips is one of the world's largest independent oil and gas companies. ConocoPhillips is also among a group of weak, overvalued stocks poised for a steep decline amid the likely economic woes ahead. ConocoPhillips shares fell nearly 1% in Tuesday trading. 
Over the past year, ConocoPhillips stock has soared 37.8%, as investors giddy over the energy price rally bid ConocoPhillips shares to unwarranted heights. The surprise election of the pro-fossil fuel Donald Trump also has cheered investors, driving up ConocoPhillips shares by 9.6% since Nov. 9.
The Vanguard Energy ETF (VDE) - Get Vanguard Energy ETF Report has jumped almost 42% and 7.1%, respectively, during the same time frames. By comparison, the so-called oil and gas "Super Majors" have posted more modest gains and face lower expectations. Exxon Mobil, for example, has only risen 14.3% and about 1.3%, respectively.
Some analysts are bullish on ConocoPhillips, excessively so. They cite the company's promising reserves around the world, especially its 213,000 net-acre position in the heart of the prolific Eagle Ford shale play in South Texas. They expect ConocoPhillips's production growth, and stock price, to soar in coming months as the company's existing rigs in these areas come on line. However, this scenario is wildly optimistic and ignores the company's entrenched woes.
To be sure, ConocoPhillips boasts leading positions in both natural gas and heavy crude oil in North America, in the North Sea and off the coasts of emerging nations. The Houston-based company also claims Canadian oil sands plays, as well as liquefied natural gas projects overseas. However, ConocoPhillips has slashed capital spending to grapple with huge debt, a dynamic that's been battering the bottom line.
ConocoPhillips has endured a dizzying decline in profits over the last two years, with its net income plummeting from roughly $7 billion in 2014 to an anticipated loss of over $4.5 billion in 2016.
The average analyst estimate for ConocoPhillips's earnings growth in the current year is -101.4%; for the next five years it's -39% on an annualized basis. At the same time, the company's total debt stands at $28.69 billion, for a debt-to-equity ratio of 79, compared to the debt/equity ratio of 67 for its peers. ConocoPhillips's operating margin is a grim -35.4% on a trailing 12-month basis.
As with its peers, ConocoPhillips has benefited from rising oil prices. West Texas Intermediate, the U.S. benchmark, now hovers at $52 per barrel; Brent North Sea crude, on which international oils are priced, stands at about $55. Those levels are about 112% higher than oil's nadir of $26 per barrel in mid-February, but still 50% lower than oil's peak of $110 reached in mid-summer 2014. It was during this heyday of high prices that companies such as ConocoPhillips got overextended.
And as this volatile new year has already shown, oil could easily plunge again, as President Trump rattles sabers abroad and a long-belated stock market correction hits at home.
Indeed, if the global equity correction and U.S. economic recession predicted by most analysts occur in 2017, oil prices will resume their downward trajectory and take overvalued energy stocks with them.
The upshot: energy investors should stick to quality and avoid fundamentally flawed stocks such as ConocoPhillips.
---
It's not just ConocoPhillips that's poised for a fall. A full-blown crisis is coming. When it hits, weak companies and their investors will be washed away. Don't let that happen to you! I've found seven companies you should own no matter what the economy is doing. Each one of these powerful yet overlooked companies barely notices when the market tumbles. And they'll skyrocket when it rebounds. You can pick up all seven for pennies on the dollar right now. To get the names of these "seven survivor stocks," click here now.
John Persinos is an analyst with Investing Daily. At the time of publication, he owned none of the stocks mentioned.