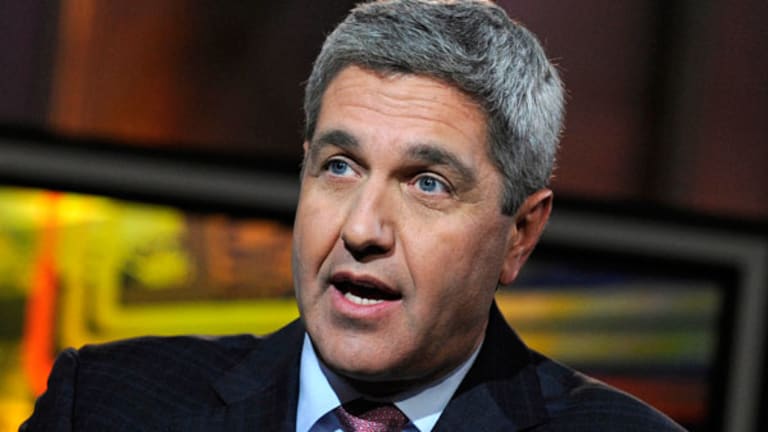 ConnectOne Posts Solid Numbers Following IPO
After completing the first successful U.S. bank IPO since 2011, ConectOne of Englewood Cliffs, N.J., reported strong first-quarter results.
Updated from 10:37 a.m. ET, with afternoon market action.
NEW YORK (
) --
ConnectOne Bancorp
(CNOB)
, fresh off the first successful initial public offering for a U.S. bank since 2011, reported strong first-quarter results on Friday.
Shares were up 2% in afternoon trading, to $29.52.
ConnectOne Bancorp of Englewood Cliffs, N.J., formerly known as North Jersey Community Bank, completed its IPO on Feb. 15, selling 1,600,000 share at a price of $28.00 a share, for $44.8 million. Net proceeds were $41.5 million.
The company reported first-quarter net income of $2.4 million, or 58 cents a share, increasing from $1.7 million, or 76 cents a share, in the first quarter of 2012. ConnectOne Bancorp had $1.0 billion in total assets as of March 31, with eight ConnectOne Bank branches in Bergen, Hudson, and Monmouth Counties, in New Jersey.
ConnectOne CEO Frank Sorrentino III
First-quarter net interest income was $9.4 million, increasing from $7.7 million a year earlier, reflecting the company's balance sheet expansion. Average loans receivable grew 30% year-over-year, to $873.6 million in the first quarter. Average deposits were up 23% from a year earlier, to $607.8 million in the first quarter.
ConnectOne CEO Frank Sorrentino, in a phone interview today, says the bank has "always been predominantly a commercial lender. We do some residential, but it is not a significant portion of the portfolio."
"We have seen a resurgence in construction lending, along with some commercial and industrial loan growth as companies look to expand their businesses," Sorrentino says. "We are also seeing a resurgence of certain types of commercial real estate loans, with owner operators looking to own their own buildings."
The company's net interest margin -- the difference between the average yield on loans and securities and the average cost for deposits and borrowings -- contracted to 4.01% in the first quarter from 4.07% in the fourth quarter and 4.22% in the first quarter of 2012. The narrowing the margin was in line with the industry in the prolonged low-rate environment, however, a margin above 4% is very impressive for a community bank under current market conditions.
According to the most recent available data from the Federal Deposit Insurance Corp., the aggregate fourth-quarter net interest margin for all U.S. banks was 3.32%.
ConnectOne Bancorp's first-quarter efficiency ratio of 49.2% was also impressive, improving from 51.9% a year earlier. The efficiency ratio is, essentially, the number of pennies of overhead a bank incurs for each dollar of revenue. An efficiency ratio below 50% is a strong number for any community bank. The aggregate fourth-quarter efficiency ratio for all U.S. banks in the fourth quarter was 61.6%, according to the FDIC.
Focusing on growth without increasing the branch count is a key to the bank's efficiency. "For a billion dollar bank you typically see an average of 15 branches," according to Sorrentino "We have only eight, which is an important strategy, in that we are growing this business without growing a lot of brick and mortar."
Sorrentino adds "We are using technology to bring in customers. We are way above and beyond what a typical community bank competitor has, and these products create enormous efficiencies." The bank's electronic deposit services include online banking, remote capture, and mobile deposit capture.
Within the bank, Sorrentino says "we are constantly looking to improve technology. We have one of the highest ratios of assets to full-time employees in the industry, because of that reason." The bank's fully electronic lending process is among the efficiencies listed by Sorrentino.
The bank's asset quality is good, with nonperforming assets making up 0.79% of total assets as of March 31, improving from 0.90% at the end of 2012.
Connect One's first-quarter return on average assets was 0.99%, compared to 1.01% in the fourth quarter and 0.99% in the first quarter of 2012. The company's return on average equity (ROE) was 9.77% in the first quarter, declining from 12.70% the previous quarter and 12.80% a year earlier.
The lower ROE of course reflects the company's higher capital base following the IPO. ConnectOne had $122.4 million in total stockholder's equity as of March 31. The company's tangible common equity ratio was a very strong 12.15% as of March 31, increasing from 7.76% the previous quarter, and leaving plenty of room for significant expansion."The story for this bank is that it is strong and consistent," Sorrentino says. "We stick to our knitting."
-- Written by Philip van Doorn in Jupiter, Fla.
>Contact by
.
RELATED STORIES:
Senators Try to Gum Up Dodd-Frank
Philip W. van Doorn is a member of TheStreet's banking and finance team, commenting on industry and regulatory trends. He previously served as the senior analyst for TheStreet.com Ratings, responsible for assigning financial strength ratings to banks and savings and loan institutions. Mr. van Doorn previously served as a loan operations officer at Riverside National Bank in Fort Pierce, Fla., and as a credit analyst at the Federal Home Loan Bank of New York, where he monitored banks in New York, New Jersey and Puerto Rico. Mr. van Doorn has additional experience in the mutual fund and computer software industries. He holds a bachelor of science in business administration from Long Island University.