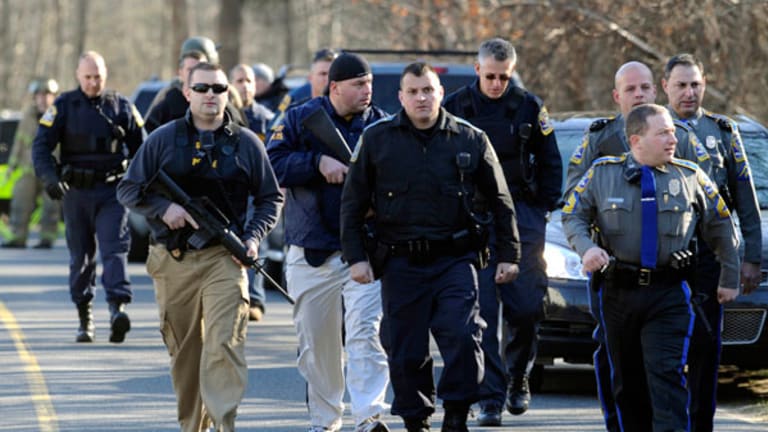 Updated with comments from Obama
NEW YORK (
) -- President Obama spoke at an interfaith memorial service held at Newtown High School in Connecticut. "We are not doing enough to keep our children safe and that needs to change," Obama said in the speech.
Several religious leaders offered prayers as hundreds gathered to honor the victims and first responders. Ahead of the ceremony, Obama met privately with the victims' families.
The following was posted on Sunday afternoon, Dec. 16
New details have emerged in the Connecticut massacre. Using a semi-automatic rifle, Adam Lanza blasted his way through a locked door at the Sandy Hook Elementary school. Lanza killed himself as he heard first responders arrive. Federal agents are canvasing the local gun stores and shooting ranges, chasing leads and looking for answers.
Meanwhile, President Obama prepares to join the mourners in Newtown, CT tonight.
Related Stories
:
>>
World Mourns as Police Look for Answers
>>
Could Shooting Be a Gun-Control Tipping Point?
The following was posted Dec. 15, at 7:19 p.m. ET
A heartbreaking list of the 26 names of the Newtown, CT victims in the Sandy Hook Elementary School massacre have been released to the public. Parents are sharing stories of their children whose lives were cut too short. Family and friends are setting up
Facebook
(FB) - Get Facebook, Inc. Class A Report
pages to remember the victims.
The children were the ages of 6 and 7. There were 8 boys and 12 girls. The elementary school principal Dawn Lafferty Hochsprung, 47, and the school psychiatrist ran toward the gunman to protect the children. They were among the heroes who were killed.
Police now say there was no connection between the gunman's mom Nancy Lanza and the school, contrary to earlier reports. This makes shooter Adam Lanza's actions even more baffling.
Lanza's mental health is being discussed on several news stations. Police earlier said Lanza had a personality disorder.
The New York Times
reports he suffered from Asperger's Syndrome.
On
MSNBC
, Dr. Lisa Van Susteren said in an interview that we need to go upstream and look at why this is happening. This is not the last time it will happen, she warns. There are many families out there who have children and family members with mental diseases but have nowhere to turn, because several mental health facilities have been shut down.
The nation's mental health and outreach solutions are apparently not working well enough. Due to the stigma associated with mental disorders, people go undiagnosed or don't take their medications. In this case, was it a mental health issue or easy access to guns? Perhaps it was a bit of both.
Those having difficulties coping with the grief are encouraged to reach out to the Yale Crisis Team at (203) 270-4283.
The following was posted Dec. 15 at 10:37 a.m. ET
There are still more questions than answers.
A press conference was aired on several stations shortly after 10 am on Saturday, Dec. 15, about 24 hours after Adam Lanza opened fire inside the Sandy Hook Elementary in Newton, CT.
Lt. Paul Vance of the Connecticut State Police said all bodies have been identified. The next of kin have been notified and the list of victims' names will be released; Vance also asked the media to respect the privacy of the victims' families.
Without much details, mental health issues and gun control debates are in focus. Lanza killed 26 people at the school, including 20 children, according to
Lanza also killed himself and his mother, toting three of six guns registered to her. The principal and several teachers also lost their lives after Lanza forced his way into the school, according to Vance.
There is a disturbing pattern of mass gun violence in America, as
MSNBC
confirms this as the second worst mass shooting in 30 years (after Virginia Tech, in terms of body count). About 47% of American families own guns. Gun control advocates want to see more legislation.
Vance says people in the community who want to talk about the tragedy should call the Crisis Intervention Center 203-270-4283. More details will follow as they unfold, he said.
This article was written by a staff member of TheStreet.