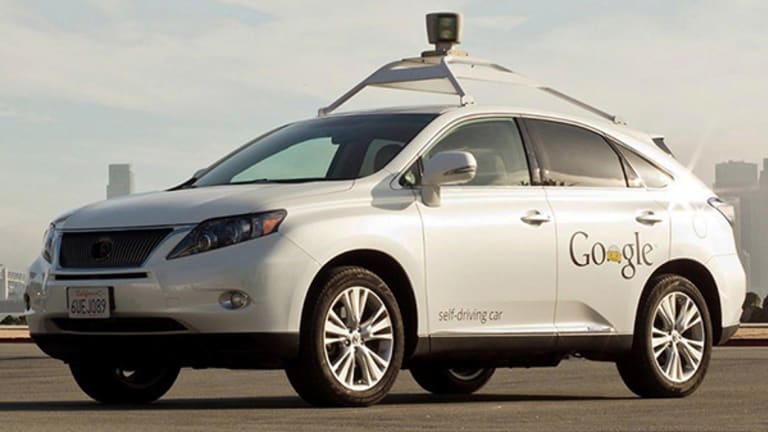 Connected Cars Have Potential Not Just for Chipmakers, but Won't Always Move the Needle
The number of cars with built-in web connectivity is soaring. Here's a look at some of the companies that could benefit.
Automobiles have long been one of the chip industry's biggest end-markets. And it's a market that's due to see healthy growth over the next several years, thanks to rising penetration rates for hybrid and fully electric cars, driver-assistance and autonomous driving systems, and more advanced infotainment systems.
The last two trends are also going to fuel a surge in the number of cars with built-in radios that communicate with both mobile networks and neighboring vehicles, and officially make them part of the Internet of Things. That spells fresh opportunities for both chipmakers and mobile carriers, though as is always the case for hyped new technologies, investors need to be aware the trend won't always be a giant needle-mover for some larger firms.
As more and more cars ship with 4G (and eventually 5G) modems built in, mobile carriers will have a chance to sell automotive data plans to consumers wanting connectivity -- via built-in hotspots -- for both infotainment systems and devices passengers may be using. They also have opportunities to sell plans to businesses looking to monitor and communicate with their vehicle fleets (i.e. telematics services), and to automakers seeking real-time maintenance and diagnostic data on the cars they've sold.
Many of these service plans won't generate a ton of monthly revenue, but with the potential to eventually connect hundreds of millions of vehicles, the revenue from individual plans could quickly add up.
AT&T (T) , which already has deals in place with 19 major automakers to provide data services, claimed 9.4 million connected cars on its network as of the second quarter. In January, AT&T announced a deal with Ford (F) to power Ford's SYNC Connect service -- among other things, it lets drivers remotely lock/unlock doors, locate parked vehicles and see maintenance data -- on 10 million vehicles by 2020.
Verizon (VZ) , meanwhile, is betting heavily on enterprise automotive software and services. This summer, the company announced the purchase of cloud telematics software firms Telogis and Fleetmatics -- the latter cost $2.4 billion -- along with plans to integrate their offerings with its existing Verizon Telematics platform.
The company has also released Hum, a $14.99 per month service for older cars that lack built-in mobile connectivity; it relies on a module that plugs into a car's on-board diagnostics port to provide vehicle health monitoring, tracking and emergency assistance services.
There are also independent firms providing a combo of telematics hardware, software and services for business vehicle fleets. Notable examples include Novatel Wireless (MIFI) , which last year bought South Africans telematics firm Digicore, and CalAmp (CAMP) , which this year bought vehicle-tracking/recovery hardware and service provider LoJack.
For chip suppliers, the transformation of cars into connected devices naturally spells opportunities to sell 4G and Wi-Fi chips to automakers and module suppliers. Automotive opportunities are considered a main reason top 4G modem supplier Qualcomm (QCOM) is reportedly looking to acquire top automotive chipmaker NXP Semiconductors (NXPI) .
That should yield additional chip sales for the likes of Qualcomm, NXP and Cypress Semiconductor (CY) ; Cypress recently bought Broadcom's IoT connectivity chip business. RF chipmakers such as Skyworks (SWKS) and Qorvo (QRVO) will also benefit from the proliferation of radios within cars and the devices and objects that communicate with them.
NXP is a holding in Jim Cramer's Action Alerts PLUS Charitable Trust Portfolio. Want to be alerted before Cramer buys or sells NXPI? Learn more now.
Intel's vision for intelligent cars.
Likewise, the adoption of autonomous driving systems is linked to the transformation of cars into web-connected devices. Self-driving cars will rely on mapping, traffic and other data provided via mobile connectivity, and in turn will share driving data over mobile networks to help make self-driving cars more intelligent. They'll also often communicate with nearby cars that are partially or fully autonomous.
A number of companies have set a goal of bringing a self-driving car to market by 2020 or 2021. But given how much tougher it is to create a fully autonomous car relative to one that can drive itself some of the time, and given all of the regulatory, insurance and liability issues that still need to be hammered out, there's a good chance at least some of those targets will prove optimistic.
Mobileye (MBLY) is the top provider of vision processors for driver-assistance systems, and also has autonomous driving partnerships with BMW and Delphi. Nvidia (NVDA) , the leading provider of app processors for in-car infotainment systems, is also going after the autonomous driving processor market, as is NXP. Intel (INTC) wants to supply processors that can analyze the data created by autonomous driving vision processors and sensors, both inside of cars and in data centers.
But while an explosion in the number of connected cars presents opportunities for carriers and chipmakers to grow their addressable markets, it's important to put those opportunities in the context of how much revenue they're already producing.
For example, AT&T's 9.4 million connected cars account for only a small portion of the revenue of a company that has a 2016 consensus analyst sales estimate of $164.6 billion, and claimed nearly 132 million wireless "subscribers and connections" as of June 30. Verizon claimed 113.2 million retail wireless connections as of June, and has a 2016 consensus sales estimate of $126.5 billion.
In the case of Qualcomm, it's worth noting the lion's share of the $23.2 billion in revenue the company is estimated to have produced in fiscal 2016 (ended in September) is believed to have come from the mobile phone market. Likewise, Skyworks and Qorvo get most of their revenue from phones, and Nvidia gets a solid majority of its sales from the PC and server GPU markets.
Thus, while plenty of companies have already begun talking up their automotive IoT exposure, investors would be well advised to dig out just how much revenue a company is producing from sales of automotive chips or connectivity services. For a particular firm, what's trumpeted as a major growth engine (pardon the pun) might ultimately just be a nice side business.