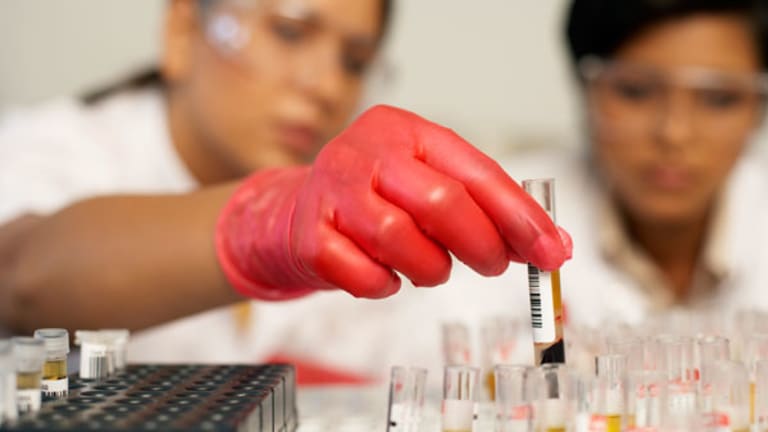 Conatus Pharma Deserves a Look by Investors in Love With Liver Disease Stocks
Conatus Pharmaceuticals is an early-stage developer of drugs to treat diseases of the liver with a favorable risk-reward profile, particularly after recent investor selling in the biotech sector has created some nice values.
Conatus Pharmaceuticals (CNAT) - Get Conatus Pharmaceuticals Inc. Reportis an early-stage developer of drugs to treat diseases of the liver with a favorable risk-reward profile, particularly after recent investor selling in the biotech sector has created some nice values. 
Investors piled into a number of liver disease stocks late last year, riding the coat tails of Intercept Pharmaceuticals (ICPT) - Get Intercept Pharmaceuticals, Inc. Report and its NASH (fatty liver disease) drug. Conatus was one of the Intercept beneficiaries, but the stock also took at hit when safety concerns were raised about the Intercept drug. Today, Conatus' market capitalization stands at only $118 million (an enterprise value of around $63 million.) Given the broad potential of Conatus' lead compound, emricasan, the selling appears overdone. Of course, cheap valuations are often deserved, so what makes Conatus different?
Emricasan is a pan-caspase inhibitor Conatus is developing for a number of chronic liver disease indications. A pan-caspase inhibitor can address two mechanisms leading to liver damage: excessive apoptosis (cell death) and inflammation. In general, the preclinical models confirmed emricasan is able to reduce caspase activity, which reduced ALT (biomarker of liver damage), reversed fibrosis, and improved metabolic parameters.
There are currently four indications for which emricasan is being developed: acute-on chronic liver failure (ACLF), chronic liver failure (CLF), post-liver transplant HCV clearance with unresolved fibrosis (POLT-HCV-SVR), and non-alcoholic steatohepatitis (NASH). Emricasan phase II data in ACLF and NASH are expected in the second half of the year and phase IIb trials are expected to start in POLT-HCV-SVR and CLF by the end of 2014. Of these indications, the two largest are ACLF and NASH, both of which are touted by analysts as billion dollar plus market potentials.
Given the preclinical activity and full schedule of clinical trials, why is Conatus valued so low? Concerns have been raised about the safety profile of emricasan. The drug was once owned by Pfizer (PFE) - Get Pfizer Inc. Report, but development was put on hold due to a cancer risk signal. Pfizer then licensed emricasan to Conatus, which ran the needed safety studies to clear emricasan before its IPO. Conatus also got clearance from the FDA to continue emricasan's clinical development. The drug has now been dosed in over 500 individuals without a problem. While the risk of a cancer signal popping up again is certainly something to watch, the lack of evidence to date is reassuring. 
Emricasan is still in the early stages of development. There are currently two ongoing trials with two more to start this year, but none of them will be large enough to provide a definitive signal of efficacy. While the studies are powered to provide some proof of activity, Conatus is more using these studies to make a decision on where to focus future clinical development and how to design phase III trials.
Even though Conatus is clearly not a late-stage drug company, it is likely only 18 months away from the launch of a phase III trial. This will probably be in ACLF -- a significant market opportunity but not a "hot" liver disease like NASH. Conatus is taking a slower approach to developing emricasan in NASH, preferring to let other companies figure out the clinical and regulatory path before committing to its own registration trials.
The most obvious reason for the Conatus valuation gap is a recently announced delay in the phase IIb trial in ACLF. Data once expected in mid-2014 have now been pushed back to the end of the year. A restrictive inclusion/exclusion patient enrollment criteria for the study was the stated reason for the delay, not a lack of enthusiasm for the drug. Conatus loosened the enrollment criteria and expects the pace of enrollment to increase, but the delay may have put off some investors interested in near-term trading catalysts.
All these knocks on Conatus are reasonable but the company's current valuation also already reflects a lot of negativity. Any positive news should compel investors to revise expectations higher. The phase II trials underway will likely confirm emricasan's ability to decrease levels of ALT and cCK18 - key biomarkers of clinical efficacy. The start of additional phase II trials should be viewed favorably. Obviously, any additional trial delays or negative study results will put additional pressure on the stock but I believe downside risk is limited. 
Sobek is long Conatus.
David Sobek has been writing on biotech for a number of years through various outlets with a general focus on small cap oncology and antibiotics companies. He received his PhD in political science from Pennsylvnia State Univeristy in 2003 and a BA in international relations from The College of William and Mary in 1997.