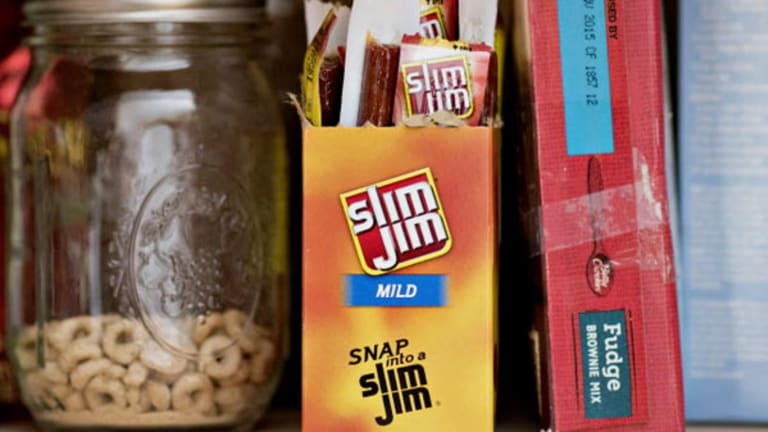 Conagra Brands' Latest Earnings Results Bode Well for Its Shares
This food manufacturer with familiar brands such as Slim Jim, released fiscal second-quarter results Thursday. Here are the takeaways.
Last month, Conagra Brands (CAG) - Get Report , formerly ConAgra Foods, completed the separation of its Lamb Weston Holdingscommercial foods business, but its fiscal second-quarter earnings report Thursday didn't show a meaner and smarter company.
Conagra Brands, with a strong portfolio of food brands that include Healthy Choice, Hunt's, Marie Callender's and Slim Jim, had a disappointing quarterly report overall, despite earnings growth and margin expansion. 
Regardless, Conagra Brands, with more than $8 billion in annual revenue, could be an appealing long-term growth stock.
Analysts had expected the company to report quarterly earnings of 45 cents a share, and Conagra Brands beat that by 4 cents a share. But revenue was $2.09 billion, falling short of the $2.11 billion that analysts expected.
The company reported a 6% drop in groceries/snacks and an 11% slump in frozen-goods sales.
But having recently gotten rid of several under-performing brands such as JM Swank and Spicetec Flavors & Seasoning, the company's true growth capacity will only be evident after a couple of quarters.
Chief Executive Sean Connolly expects sales growth trends to improve in the second half of this fiscal year.
The company has said that full-year earnings should come in between $1.65 and $1.70 a share, versus the $1.68 a share expected by analysts.
Branded foods remains a segment of enormous opportunity for the company. Brand power, pricing strength and a wide portfolio of products are on track to generate dependable cash flows and growth.
In terms of growth, Conagra Brands has already looked at Pinnacle Foods, which has a market value of more than $6.2 billion, as a possible acquisition target.
As Conagra Brands consolidates its business and lays out a platform for earnings, it must work on further boosting gross margins, which were 31.1% in the fiscal second quarter. 
Going forward, investors should be interested in a few key negatives.
First, there is the possibility of more problems from an old salmonella outbreak. Any negative headline on that front would obviously be bad for the stock.
Second, with more than 40 brands, Conagra Brands could find that getting rid of more under-performing ones would be a positive.
Finally, it is important to understand the larger capital allocation strategy in terms of debt reduction, dividends, share repurchases and strategic growth opportunities.
In the fiscal second quarter, Conagra Brands paid a quarterly dividend of 25 cents a share. A quarterly dividend payment of 20 cents a share will be paid on March 1.
The company's dividend yield of about 2% is reliable, but processed and packaged-goods companies such as General Mills, Kellogg,PepsiCo and J.M. Smucker are better picks for income-oriented investors.
Pepsico is a holding in Jim Cramer's Action Alerts PLUS Charitable Trust Portfolio. See how Cramer rates the stock here. Want to be alerted before Cramer buys or sells PEP? Learn more now.
Conagra Brands also repurchased shares worth $85 million during the quarter.
Shares of Conagra Brands trade at about 21 times one-year forward earnings, in-line with peers Campbell Soup, General Mills, Kellogg and Mondelez, all of which trade below that.
---
Worried about a bear market? We've found a genius trader who makes this bold promise: "If I don't deliver 24 triple-digit winners in the next year...I'll give up $1,950." His top-tier trading service reeled off twenty-four triple-digit winners in less than a year, along with more than thirty double-digit winners thrown in for good measure. And he racks up these profits in up or down markets. Get the details here.
The author is an independent contributor who at the time of publication owned none of the stocks mentioned.