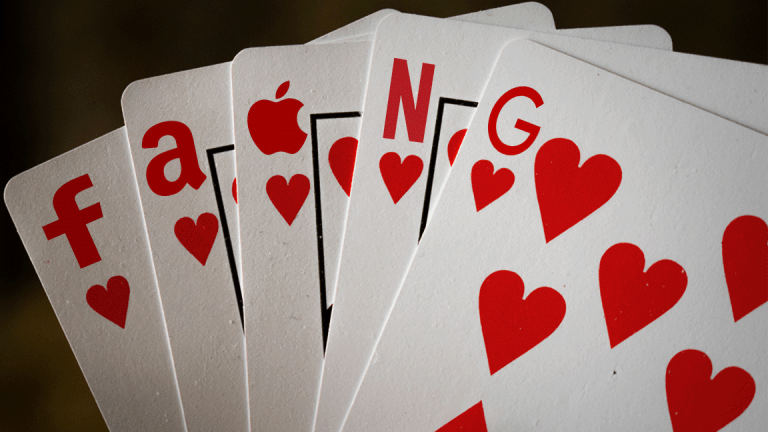 6 Companies the FAANGs Should Consider Buying
As growth inevitably slows at Amazon, Alphabet and their peers, perhaps it is time for the mega-cap tech firms to shrug off their general aversion to large acquisitions.
The apparent "new normal" of slowing growth for tech giants Amazon (AMZN) - Get Free Report and Alphabet (GOOGL) - Get Free Report and the others likely means one thing: it's time for them to go shopping. 
It's true that the FAANGS and their megacap tech peers aren't known for acquisitions of public companies. But the precedents matter little if tech is in search of new opportunities, and that certainly seems the case given decent but less-than-astounding results of late from Amazon and the rest. 
Interesting acquisition candidates for tech's giants include the chip-design technology providers Synopsys (SNPS) - Get Free Report and Cadence Design Systems (CDNS) - Get Free Report ; young cloud computing outfits such as Veeva Systems (VEEV) - Get Free Report and ZScaler (ZS) - Get Free Report ; and some relative outliers making key enabling technology such as Finisar (FNSR) - Get Free Report .
As I wrote back on February 5, the latest earnings results for the December quarter showed the staying power of the large tech franchises, but also a slowdown in overall growth. Amazon's projected 28.5% revenue growth this year, to perhaps $275 billion, is impressive for a twenty-five-year-old company of such scale. But it is still a slowdown from the average rate of growth. Something similar can be said of peers Alphabet, Facebook (FB) - Get Free Report and Apple (AAPL) - Get Free Report .
Mega-cap tech is generally thought of as not doing large deals, but the trend has been moving in that direction. When Alphabet's Google unit gobbled up Motorola Mobility In 2012 for around $10 billion, it was a shocker,  an exception in the history of the group, who generally focus on small deals involving private companies. But then there was Microsoft's $26 billion purchase of LinkedIn in 2016, and Amazon's $13.2 billion purchase of Whole Foods in 2017. Large tech is willing to spend large if they see revenue they like or a real strategic rationale.  
Changes are afoot broadly speaking in the tech market, and historical discipline can't be assumed from these tech leaders. 
For one thing, the tech giants are making more and more of the basic technology they rely on, because they have to: industry can't keep up with all of the needs of the tech giants to fuel their unique businesses. Both Alphabet and Amazon have developed specialized chips for their cloud computing services, and on Monday, Facebook's AI director, Yann LeCun, indicated that the social network is also now actively developing its own chip technology in-house. 
All of these companies could consider owning the two dominant suppliers of software tools used to design semiconductors, Synopsys and Cadence Design. At roughly $15 billion in market capitalization, neither would be a small deal, nor, however, would they be unmanageable for any tech giant. Their shares are slightly pricey on an earnings basis, at 23 times forward earnings for Synopsys and 27 times for Cadence. But as multiples of revenue, which is more to the point, really, for the tech giants, both companies are a steal of a deal at five times for Synopsys and seven times for Cadence. 
The point is that neither company is meant as a source of revenue alone, but really as a strategic technology asset in the battle to dominate the computing landscape of cloud and AI.
Speaking of cloud, Alphabet's Google could use some help given its trailing position in the cloud computing services market relative to Amazon and Microsoft. Google could consider buying one of the young cloud firms to at least bolster its offerings, if not its revenue. In this vein, Veeva is a very accomplished vendor of software for the life sciences industry. Its offerings could burnish Google's appeal to enterprise cloud customers in a serious way. 
At $17 billion in market cap and with a forward price-to-earnings multiple of 66 times, Veeva is not a deal that would go down easily with Alphabet investors. But a better case could probably be made for Veeva than was made for the Motorola deal. 
Another prospect is Zscaler, which has a novel approach to security by putting the technology into a cloud computing setting. This would have similar appeal to Alphabet as Veeva. The company is not yet profitable, and projected revenue of perhaps $271 million means it has yet to establish itself as a major contender for the long term in its field. That makes its revenue multiple of 28 times rather concerning. But at least its market cap of $6 billion would make it easier for investors to swallow, if only slightly. 
The third group of acquisition prospects are a hodgepodge of technology developers whose fundamental enabling technologies possess varying degrees of importance. Among this group, Lumentum Holdings (LITE) - Get Free Report and Finisar are the largest suppliers of fiber-optic components that go into cloud computing data centers, as well as telecom networks. Either one would be a superb technology acquisition.
They also both contribute to the latest mobile devices for things such as the "Face ID" function on the iPhone. The companies would be easy deals to do, with roughly $3 billion in market cap apiece, and forward earnings multiples that are undemanding -- 10 times for Lumentum and 17.6 for Finisar. 
These are not make-or-break deals for any of the tech giants, but when growth slows and the agenda for technology generally needs to be advanced, it will be quite tempting for the giants to use their enormous cash piles to move forward their own businesses -- and the broader industry -- by bringing new resources and objectives to bear upon already excellent businesses. 
Amazon, Apple, Alphabet and Facebook are holdings in Jim Cramer'sAction Alerts PLUS Charitable Trust Portfolio. Want to be alerted before Cramer buys or sells these stocks? Learn more now.
The author does not own any shares of any companies written about here nor does he trade their stocks.