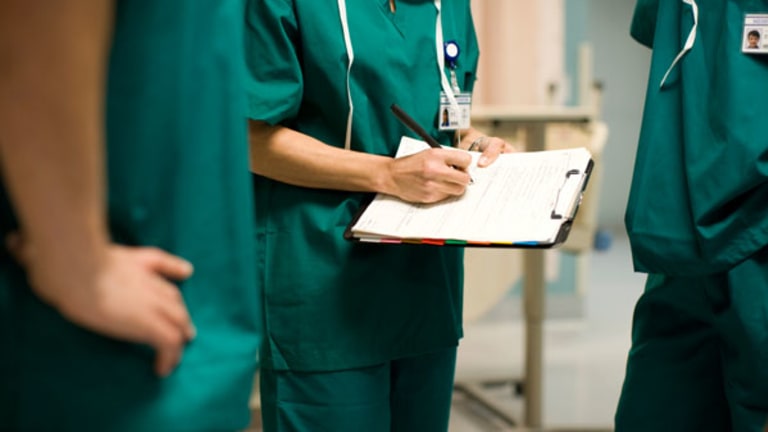 Community Health's Earnings Shrink
Medicaid cutbacks hurt the company's bottom line.
Medicaid cutbacks hurt the company's bottom line.
OKLAHOMA CITY --
Community Health Systems
(CYH) - Get Report
has seen its profit shrink, even as the company has expanded significantly in size.
The nation's largest publicly traded hospital chain posted first-quarter earnings of $47.9 million -- down almost 11% from a year ago -- as lower Medicaid payments and rising costs hurt the company's results.
Earnings per share of 52 cents missed the consensus estimate by a full nickel.
Still, investors seemed to be bracing for some bad news. They pushed the company's stock down 6.3% to $32.50 ahead of Monday's report.
Franklin, Tenn.-based Community blamed its first-quarter shortfall on Medicaid cutbacks in Indiana, which ranks as a crucial market for the company following its ambitious buyout of Triad Hospitals. As a standalone company, Triad relied on its hospitals in Fort Wayne, Ind., to generate virtually half of its overall profits.
Community did see second-quarter revenue more than double, soaring 125% to $2.69 billion, due in large part to that mega-deal. The company fell short of Wall Street sales targets, however, as its revenue from hospitals that were open 12 months ago inched up less than 5%.
Notably, in a presentation hosted by Wachovia just last month, Community CEO Wayne Smith portrayed that kind of revenue growth as rather weak.
"In this business," Smith stated in late June, "if you're not growing your net revenues 5% to 7%, you're in trouble."
At the time, Smith was touting Community's geographic diversity as well. Specifically, he noted that Community operates in 28 different states and -- unlike Triad -- relies on no single market for a disproportionate share of its earnings.
"That really helps you if you have a problem with Medicaid in one particular state, which goes on all the time," Smith went on to explain. "For us, it's never been an issue ... We've never had an earnings issue over Medicaid."
On Monday, however, Community blamed its entire earnings miss on Medicaid shortfalls in Indiana. Going forward, the company must hit the top of its full-year guidance range -- now set at $2.20 to $2.35 a share -- in order to meet analyst targets.
Recently, Leerink Swann analyst Jason Gurda warned about risks to Community's forecast, fretting over the company's bad-debt expense in particular.
All told, Community wrote off $291 million worth of unpaid bills during the latest period. The company wrote off about half that amount during the same period last year.
To be fair, Community saw its actual bad-debt expense - or the percentage of revenue wiped out by bad-debt write-offs - fall by 1% to 10.8% during the second quarter. However, the company adopted new billing policies that helped lead to that decline. Moreover, it is forecasting a higher bad-debt ratio for 2008 overall.
"We are cautious on the potential for rising bad-debt guidance, which may make the back half of the year (earnings) ramp challenging," Gurda wrote in a hospital earnings preview issued late last month. "Our view is based on a recent acceleration in self-pay admissions growth and soft first-quarter collections.
"After declining for three quarters, self-pay admissions grew 7.1% in the first quarter," he reminded. Meanwhile, "we estimate that CYH used up nearly half of its bad-debt cushion from the (special fourth-quarter) charge to increase its reserves."
Gurda has a market-perform rating on Community's stock. Instead, he favored
Universal Health Services
(UHS) - Get Report
-- which also issued quarterly results on Monday -- headed into the earnings season.
Universal boasts a large fleet of behavioral health centers, which have fared quite well during the acute-care hospital downturn. Due in part to its diversified operations, Universal saw its profit soar 35% to $54.2 million during the latest period. The company's earnings per share came in at 97 cents, 6 cents ahead of Wall Street targets.
Shares of Universal bounced 1.6% to $60.05 on Monday ahead of that report.