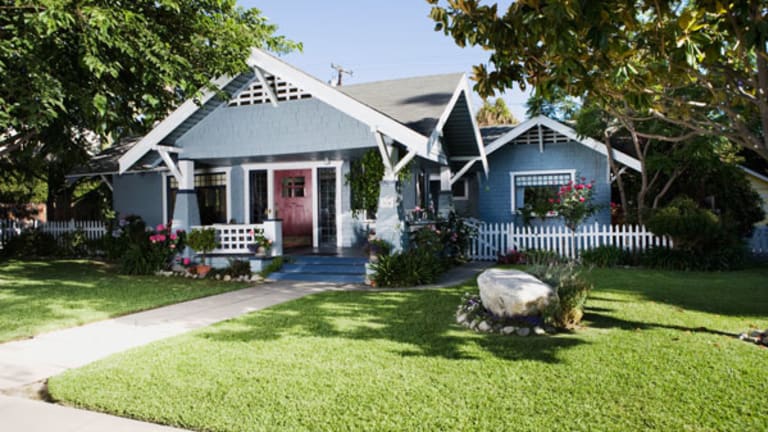 Publish date:
Commercial Real Estate May Be Doomed
While residential real estate appears to be stabilizing, several factors are weighing on the commercial real estate sector.
While residential real estate appears to be stabilizing, several factors are weighing on the commercial real estate sector.
By Kevin Grewal, Editorial Director at www.SmartStops.net
NEW YORK (
) -- As residential real estate foreclosure numbers seem to be subsidizing and rates of negative equity are easing, the residential real estate sector appears to be stabilizing, however, the commercial real estate sector is a different story.
The troubles in the commercial real estate markets continue to unwind, which is evident in the most recent problems seen by the Dubai World. In fact, some experts suggest that the default rate in speculative-grade debt will hit 12% to 14% by the end of the year, marking a 28-year high. What makes this predicament even more unique is that it is not only the small business owner who is defaulting on payments, large companies with assets north of $100 million are as well.
One reason the sector is struggling is the direct correlation of cash flow in commercial real estate to macroeconomic factors like the labor markets. Labor markets continue to remain weak. The most recent data published by the Labor Department illustrates that the number of newly filed unemployment claims continues to rise by numbers higher than expected by analysts. As long as this trend continues, cash flow will likely remain weak in commercial real estate.
A second reason the sector is hurting is due to the lack of available credit. In prior years, one was able to refinance and extend out payments, but this is no longer the case. Many large and healthy banks are reluctant to lend and are hoarding cash to repay TARP funds and build a protective barrier for 2010.
This fragileness in the commercial real estate markets has been detrimental not only to the real estate sector, but financials as well. In fact, it is anticipated that the non-performance of commercial property loans has been the primary driver behind the surge in bank failures seen this year.
To make things even more challenging, nearly $200 billion in commercial real estate senior bank loans and commercial mortgage-backed securities are coming due over the next two years. Meanwhile, many experts are expecting the economy to grow at a minimal pace, with unemployment remaining close to, if not in, double digit territory. This will likely put a damper on cash flows and the ability to generate cash.
On the plus side, U.S. exports are up for the sixth straight month in a row, which is likely to give a boost to the manufacturing sector and is a sign that the overall health of the economy is heading in the right direction. Additionally, the TARP program has been extended into 2010, which could help support ailing banks and could potentially give a boost to the credit markets.
Equities likely to be influenced by the commercial real estate markets include:
The Vanguard REIT Vipers ETF (VNQ) - Get Report, more than doubling from a March low of $21.15 to close at $42.86 on Thursday. The SPDR Dow Jones REIT ETF (RWR) - Get Report, up 105% from a March low of $22.97 to close at $47.18 on Thursday.
With all things in mind, it is important to understand the risks that are inherent in investing in the commercial real estate sector and a good way to mitigate these risks is through the implementation of an exit strategy. According to the latest data at www.SmartStops.net, an upward trend in the previously mentioned ETFs could come to an end at the following price points: VNQ at $41.01 and RWR at $45.02. Keep in mind that these price points change as markets fluctuate and updated data can be found at www.SmartStops.net.
-- Written by Kevin Grewal in Laguna Niguel, Calif.
At the time this article was written, Grewal held no positions in the stocks mentioned.
Kevin Grewal serves as the editorial director and research analyst at The ETF Institute, which is the only independent organization providing financial professionals with certification, education, and training pertaining to exchange-traded funds (ETFs). Additionally, he serves as the editorial director at SmartStops.net where he focuses on mitigating risks and implementing exit strategies to preserve equity. Prior to this, Grewal was an analyst at a small hedge fund where he constructed portfolios dealing with stock lending, exchange-traded funds, arbitrage mechanisms and alternative investments. He is an expert at dealing with ETFs and holds a bachelor's degree from the University of California along with a MBA from the California State University, Fullerton.