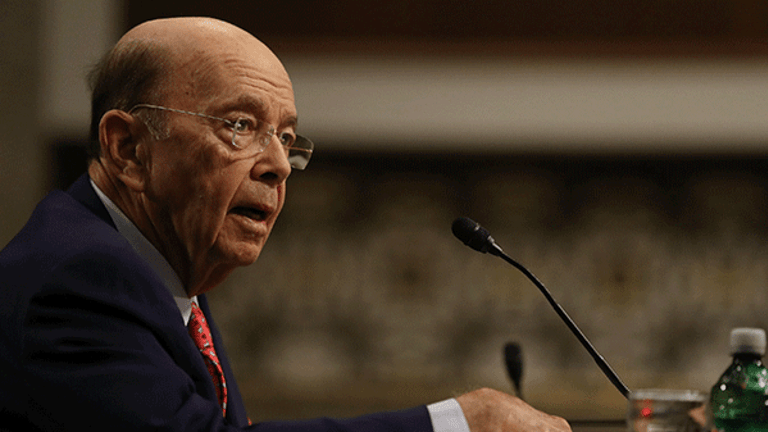 Commerce Secretary Ross Doesn't Think Amazon Has an Antitrust Problem, But Trump Might
Wilbur Ross might want to get on the same page as his boss on Amazon and antitrust.
Wilbur Ross might want to get on the same page as his boss on Amazon (AMZN) - Get Report and antitrust.
The Commerce Secretary said he doesn't perceive any antitrust issues for Amazon in an interview on Fox Business Network on Thursday, even in the wake of the Seattle-based company's recently-announced Whole Foods (WFM) acquisition. The remarks run contrary to President Donald Trump's comments on the campaign trail that Amazon has a "huge antitrust problem."
"Well I haven't seen anything that Amazon has done that would qualify remotely for antitrust consideration," Ross said in an appearance on FBN's Varney & Co. "And that really would be the only reason for doing it. Take their acquisition of Whole Foods. I think that's a very clever move to marry together a very good, high quality, niche retailer with the very broad brush approach of marketing everything that Amazon has done so well. But I surely don't see any antitrust implications in that."
Amazon announced its $13.7 billion agreement to acquire Whole Foods last week.
Ross on Thursday acknowledged there could be some sort of political backlash to the power Amazon has accumulated, noting that "we're in a very populist world."
Still, he said he doesn't think Amazon has been using predatory pricing to compete unfairly. "It seems to me what America is all about is competing fairly," Ross said. "And if you do, if you can compete better than some other company, then surly you can get big and surely you can get powerful. So I don't think big and powerful in and of themselves are that big a problem. I think the real problem is if they begin to abuse whatever power they have."
Trump while campaigning for the White House did not mince his words on Amazon or CEO Jeff Bezos.
In an interview with Fox News' Sean Hannity in May 2016, Trump accused Bezos of using The Washington Post, which he bought in 2013, as a tool to influence tax policy and accused Amazon have having an antitrust problem.
"He thinks I'll go after him for antitrust," Trump said at the time. "Because he's got a huge antitrust problem because he's controlling so much, Amazon is controlling so much of what they are doing. The Washington Post, which is peanuts, he's using that for political purposes to save Amazon in terms of taxes and in terms of antitrust."
Bezos hit back at a Post-sponsored event days later.
"I'm very, very comfortable with all of Amazon's approaches and behaviors, the way we pay taxes, the political positions we take are very focused on our business and highly appropriate, and I have [said] I think a company like Amazon also deserves to be scrutinized and examined and criticized, and I have no worries about that, I have absolutely no worries," he said.
Trump and Bezos have since the election tried to make nice.
The Amazon-Whole Foods deal has raised some eyebrows on Capitol Hill. Representative Ro Khanna (D-CA), whose district encompasses part of Silicon Valley, following the announcement expressed concern about what the acquisition means for suppliers and local grocery stores and called for a reorientation of antitrust policy to consider the effect on jobs and wages as well as prices.
There's little chance that the Department of Justice or the Federal Trade Commission will view the core part of the deal as a violation of antitrust laws, though it could come under scrutiny over its wholesale business.
"They made a mistake telling investors there are no antitrust issues," Scott Cleland, president of the consultancy Precursor LLC, said in a recent interview with The Deal. "I wouldn't be surprised if Amazon had to commit to some conditions to gain antitrust approval, so that Amazon could not leverage the market power it has online through Amazon Prime into the offline grocery-delivery and retail markets."
Amazon has said it expects the deal will close in the second half of 2017.