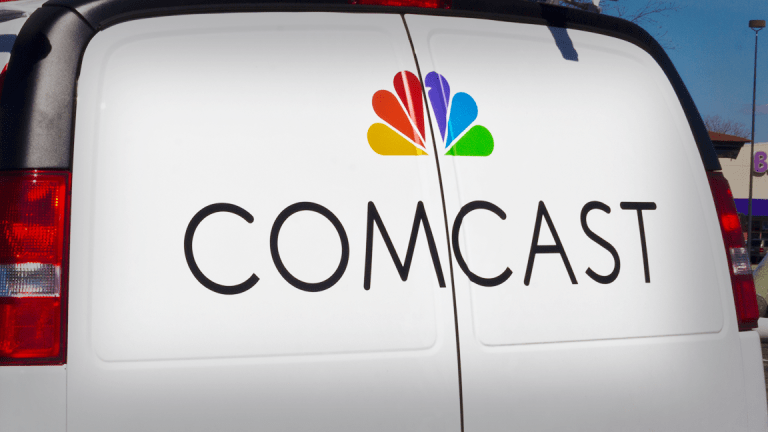 Comcast Tops Q4 Profit Estimates, Boosts Dividend and Stock Buyback Plans
Comcast will buyback $5 billion worth of stock this year and increase its dividend by 21% after posting stronger-than-expected fourth quarter earnings and booking at $12.7 billion gain from changes to the U.S. tax code.
Comcast Corp. (CMCSA) - Get Report posted modestly stronger-than-expected fourth quarter earnings Wednesday and boosted its dividend and share buyback plans after booking a one-time $12.7 billion gain from the recent overhaul of the U.S. tax code.
Comcast said adjusted earnings for the three months ending in December were pegged at 49 cents per share, topping Wall Street forecasts of 47 cents thanks in part to a 4.2% increase in revenue to $21.92 billion. The biggest U.S. cable operator said it lost around 33,000 customers over the three month period, compared to a gain of 80,000 in the fourth quarter of 2016, but still saw a 3.4% rise in its cable business thanks to 350,000 new high-speed internet customers - although that figure was down from 385,000 over the same period in 2016.
"I am exceptionally proud of our performance this past year, and we enter 2018 with significant momentum. In 2017, we achieved strong financial and operational results while also delivering new innovations, experiences and must-see content to people around the world," said CEO Brian Roberts. "Our confidence in the business enables us to announce, with the support of our Board, a 21% increase in our dividend, which is our 10th consecutive annual increase. We also expect to repurchase at least $5 billion of our stock in 2018."
Comcast will pay a 76 cent per share dividend this year, the company said, after returning $7.9 billion in payouts and buybacks over the whole of 2017. The group also said its $12.7 billion tax liability change was "primarily associated with a reduction of our net deferred income tax liabilities as a result of the 2017 tax reform legislation in the fourth quarter of 2017." Comcast also said it declared a quarterly cash dividend of 19 cents a share, payable on April 25.
Comcast shares were quoted 0.73% higher in pre-market trading in New York following the earnings release, indicating an opening bell price of $42.75, a move that would extend the stock's three month gain to around 17%
More of What's Trending on TheStreet: