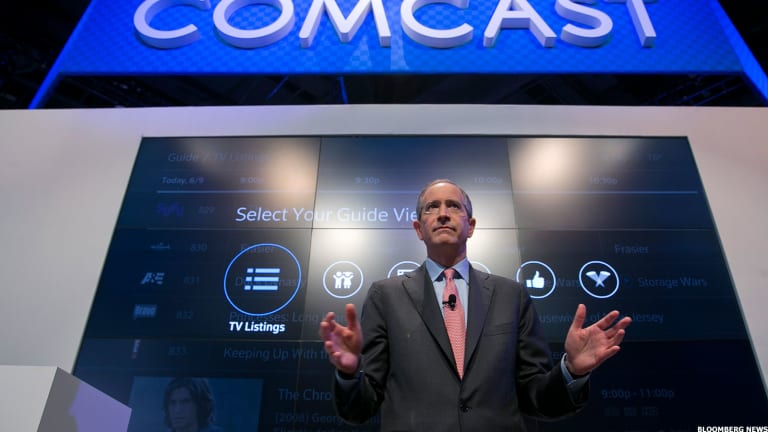 Comcast Beats Estimates as NBC Rocks, Plus Jim Cramer's Comments
CEO Brian Roberts says Comcast posted its best video customer results in a decade and its best internet customer results in nine years.
Updated from 8:49 a.m. ET with additional information including Jim Cramer's comments.
Comcast (CMCSA) - Get Free Report  is proving that traditional pay-TV is far from dead.
The country's largest cable TV provider exceeded Wall Street's expectations in the fourth quarter, handily beating estimates for both revenue and profits on higher licensing and affiliate fees from its NBC broadcast network and cable TV channels.
Comcast also announced a 2-for-1 stock split, a 15% increase in its dividend and a commitment to spend $5 billion this year buying back its own stock.
The Philadelphia media conglomerate, which also owns Universal Studios, posted revenue of $21.02 billion, beating the average analyst estimate of $20.7 billion, according to FactSet. Revenue at NBCUniversal rose 13% to $8.5 billion, edging analyst estimates for $8.26 billion.
Sales at its NBC network jumped 14% to $2.8 billion in the fourth quarter on the debut of its version of the Thursday Night Football franchise and a boost in political advertising, while revenue at its cable network group rose 4% to $2.5 billion.
Earnings per share adjusted for some costs was 89 cents in the quarter, once again exceeding forecasts that called for 87 cents per share. Comcast's net income was 9.9% higher than a year ago. 
Reflecting the popularity of its X1 set-top box, Comcast added 80,000 cable TV customers in the quarter, surpassing analyst projections of 75,000 net additions. Comcast finished the year with 23 million cable TV customers. The number of net new internet subscribers in the quarter totaled 385,000.
The average Comcast customer pays the company $150.58 per month, a 3.9% increase from the fourth quarter of 2015.
Shares of Comcast were up 1% on Thursday morning at $74.18. 
TheStreet's Jim Cramer, co-manager of the Action Alerts PLUS portfolio, which includes Comcast, called it a very good earnings report. After topping estimates and raising its dividend, what more could investors ask for?
Ironically, the thing hurting Comcast's stock the most could be how well it has done, Cramer said. Sometimes when a stock has rallied so much -- 37% in the past year, 188% over the past five -- it pulls back even if the results are good.
But for opportunistic investors, the pullbacks in high-quality stocks with future catalysts is a buying opportunity, not a selling opportunity, he reasoned.
In this case, Comcast is certainly a buy on a pullback, Cramer said. Also, should tax reform and deregulation occur under the Trump Administration, Comcast will be a big beneficiary.
Comcast got a big boost in the quarter from content licensing fees, money it receives from pay-TV operators to carry its cable TV channels and broadcast network. At its cable TV networks, content licensing jumped 14.6% in the quarter, more than offsetting tepid advertising sales, which rose 0.6%. NBC posted content licensing revenue that surged 20%, primarily due to the timing of certain agreements. Ad sales at NBC rose 12% largely due to its premiere of Thursday Night Football.
The Universal film group posted a 13% increase in sales in the quarter to $1.8 billion, results which included revenue from DreamWorks Animation, which Comcast acquired in August. Theatrical revenue jumped 96.7%, due to the performance of Sing in the quarter. Operating cash flow at Universal did fall 15% to $121 million in the quarter as a result of restructuring costs and other expenses related to integrating DreamWorks into the film group.
Comcast continues to focus on its X1 video system, widely considered the most advanced set-top box on the market. Its emphasis on the X1, a big bet on cable TV, comes as leading rival AT&T (T) - Get Free Report in November launched DirecTV Now, an online subscription-based multichannel service, joining similar offerings from Dish Network's (DISH) - Get Free Report -- Sling TV -- and Sonyundefined -- PlayStation Vue.
Later this quarter, Comcast will get its chance to counter AT&T, Dish and Sony when Hulu launches its own multichannel pay-TV platform. Hulu is jointly owned by Comcast, 21st Century Fox (FOXA) - Get Free Report and Disney (DIS) - Get Free Report , with Time Warner (TWX) holding a minority stake.
Theme park sales increased 32% to $1.3 billion in the quarter on higher attendance, driven in part by the popularity of its new Hollywood attraction, The Wizarding World of Harry Potter.
By adding a net 161,000 cable TV subscribers in 2016, Comcast proved that at least for one company, the traditional pay-TV model remains alive and kicking. 
Comcast's prospects are likely to improve further if the Federal Communications Commission under new chairman Ajit Pai moves, as expected, to allow internet providers more leeway to charge higher fees for customers and companies that use more data.
Pai's FCC is expected to curb or eliminate net neutrality provisions that give the commission power to ensure that broadband providers ensure access to all content and applications regardless of the source, without favoring or blocking particular products or websites. Comcast firmly opposed the FCC's adoption of net neutrality rules, which were passed by the commission in a 3-2 vote along party lines in February 2015.
For the fourth quarter, operating income jumped 6.6% to $4.3 billion while free cash flow surged 64% to $2.6 billion.