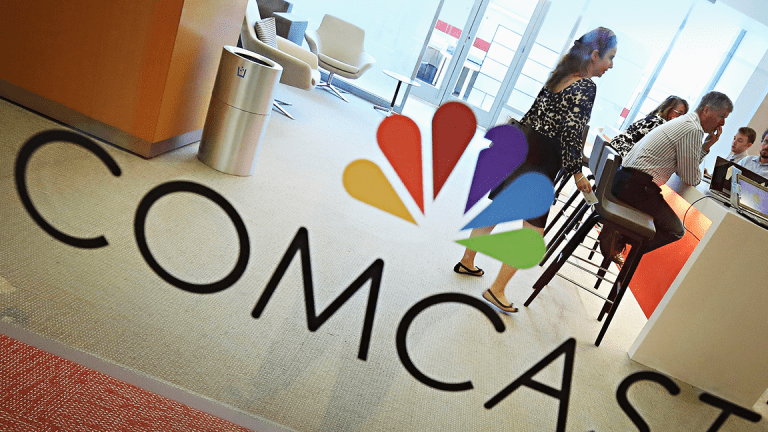 Comcast Is the Best Kind of Stock to Own in Today's Market
The telecom giant's cheap valuation and strong dividend growth make it an attractive play in this volatile, low rate environment.
With so much talk of trade wars, slowing global growth, yield curve inversions and impending recessions, it's time for the blue chips to shine.
We're more than a decade into an economic expansion. Bull markets don't die of old age, though with volatility on the rise and serious storm clouds looming on the horizon, it seems prudent to focus on quality holdings. But the time to speculate is over. When focused on proven winners trading with attractive valuations that offer investors reliable passive income, Comcast (CMCSA) - Get Free Report  stands out as a great long-term investment with market-beating potential.
Comcast is probably known best as a cable and internet provider, though the company has built itself into a well-diversified global media company over the years. Content distribution remains a key cog in Comcast's operations and the company continues to gain market share in the internet space. Comcast also has impressive content creation operations via NBC Universal and Universal Studios. Comcast has more than doubled NBCUniversal's cash flows since acquiring the company in 2011.
The company recently acquired Sky, giving it international market share, allowing it to better compete in the ongoing streaming wars. Comcast also has theme park assets and competes in other experiential entertainment markets like video games/eSports. 
Relative Outperformance 
In recent weeks, Comcast shares have held up very well. The S&P 500 is down roughly 4.4% from its all-time highs whereas Comcast shares are down only 3.4%. And Comcast has outperformed its largest rival in the media space, Disney (DIS) - Get Free Report , by an even wider margin. After a disappointing second quarter, Disney shares are now down approximately 7.2% from their 52-week highs.
Looking back to the Great Recession, we see that Comcast also slightly out-performed the market during that rough patch. From the highs in 2009 to the lows in 2007, Comcast shares fell 52%. This was slightly better than the negative 55% performance that the S&P 500 posted during the same period of time. Yet, it's important to note that Comcast managed to grow revenues and earnings per share during this period, making it one of the rare companies in the market that posted growth while the sky appeared to be falling around it.
Year-to-date, this out-performance holds up as well. The S&P 500 is up roughly 15.5% during 2019 thus far, with Disney up roughly 24.5% during this same period of time. Comcast shares, however, are up an impressive 28.7%, nearly doubling the year-to-date performance of the broader averages.
Cheap Valuation 
Yet, even after this relative outperformance, Comcast's valuation remains attractive. Shares are trading for just 15.1x trailing twelve month earnings-per-share. Analysts expect Comcast to produce bottom-line growth of 20% in 2019, so using that forward looking estimate, we see that Comcast is trading for 14.2x 2019 expectations.
2019's double digit EPS growth isn't expected to be a one-off either. Right now, the current analyst consensus estimate for Comcast's 2020 EPS is $3.42, which represents additional growth of 11% next year. Looking out 16 months, Comcast is trading with a forward price-to-earnings ratio of just 12.8x. In short, Comcast boasts one of the more impressive price-to-earnings-growth (PEG) ratios that you'll find in the S&P 500.
Moreover, all of these figures are well below Comcast's long-term average P/E multiples. Over the last 20 years, Comcast's average P/E ratio is 24.5x. Over the last 10 years, that average has fallen to 17.75x due to the pressure put on the media space during the Great Recession, yet it still sits well above today's multiple. And due to a strong premium being applied to shares in 2015-17 by the market, Comcast's 5-year average P/E ratio has perked back up a bit, landing at 18.9x.
Either way you slice it, today's 15.1x premium represents a steep discount to historical averages and being that Comcast grew earnings at a 18% clip in 2018 and is expected to post double digit bottom-line growth in both 2019 and 2020, this discount seems irrational.
Strong Dividend 
Comcast management appears to agree with analyst's bullishness. During the recent second quarter conference call, Comcast CFO Michael Cavanagh raised full-year guidance, saying that he expects strong first-half growth to improve in the second half of the year. Management sees margins improving, capex falling and cash flows rising, which should help the company to continue deleveraging its balance sheet after the Sky acquisition.
During the first half of the year, Comcast generated $8.8 billion in free cash flow. Not only has the company used a portion of these funds to lower its leverage ratio to 3.1x, but it also returned $1.8 billion to shareholders in the form of a dividend. It's Comcast's dividend that makes it such an attractive long-term investment.
Right now, shares yield 1.92%. That is slightly higher than the S&P 500's dividend yield of 1.88%, and it's also 30% higher than the U.S. 10-year bond yield of 1.47% and essentially on-par with the U.S. 30-year Treasury yield that hovered between 1.90% and 1.95% during the last trading session. But, what Comcast offers that none of these other assets do is strong, double-digit dividend growth.
While it's true that there is no such thing as a bond equivalent in the equity space, Comcast's appears about as safe as they come. The company began paying a shareholder dividend 12 years ago and has given shareholders an annual dividend increase every year since. The company's 10-year dividend growth rate is 22.7%, and its 5-year dividend growth rate is 14.2%. And the company's most recent dividend increase came in at 10.5%, or more than 5x the rate of inflation.
Dividend growth here is definitely slowing, but Comcast still maintains a relatively low 27% forward payout ratio (based upon 2019 EPS expectations). And now that the Sky acquisition is behind them and the deleveraging process has begun, I expect to see management continue along the double-digit annual increase path.
This level of dividend growth goes far beyond simply protecting the purchasing power of an investor's passive income stream; it leads to fantastic compounding over time. This is the type of stock that I want to buy and hold during market volatility.
Save 57% With Our Labor Day Sale. Join Jim Cramer's Action Alerts PLUS investment club to become a smarter investor! Click here to sign up!
Comcast and Disney are holdings in Jim Cramer'sAction Alerts PLUS Charitable Trust Portfolio. Want to be alerted before Cramer buys or sells these stocks? Learn more now.
Nicholas Ward is long CMCSA.