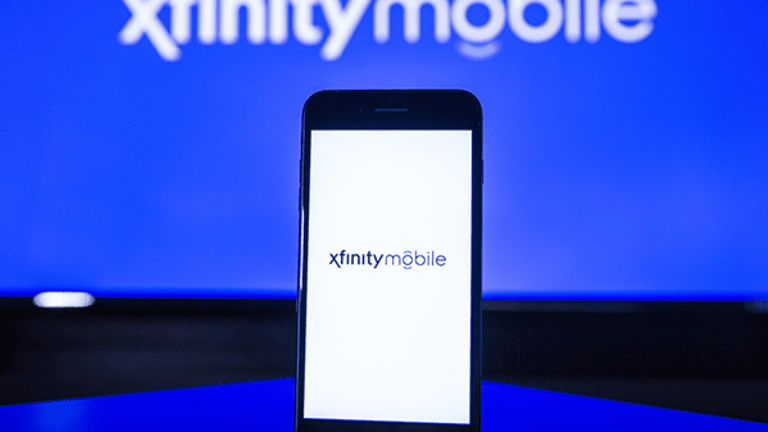 Comcast's Unlimited Data Phone Plans Will Start at $45 a Month for its Best Customers
The cable giant will resell Verizon's wireless service and seek to leverage its 16 million WiFi hotspots to help support its cable business.
The cable giant will resell Verizon's wireless service and seek to leverage its 16 million WiFi hotspots to help support its cable business.
Updated from 11:40 a.m. with additional information.
Comcast (CMCSA) - Get Report on Thursday outlined its plan to break into the mobile phone market business through a partnership with Verizon (VZ) - Get Report . The cable operator, which had indicated last year that the service would begin in 2017, touted the combination of Verizon's 4G network with its 16 million WiFi hotspots and the latest phones from Apple (AAPL) - Get Report and Samsung (SSNLF) . 
"We get it," said David Watson, the CEO of Comcast's cable business. "Wireless is a very hyper-competitive marketplace." Wireless will support the cable business, he said. Comcast expects to make money on wireless, but Watson said the company will measure success by customer loyalty and retention.
Customers of Comcast's premier cable and broadband services will pay $45 per month for its Xfinity Mobile phone and unlimited data packages. Verizon recently introduced its own unlimited wireless data plans for $80 a month. Comcast customers with less-expensive broadband packages will pay $65 per month for unlimited mobile plans, while other customers can pay $12 per gigabyte of data per month.
The company said the new service will launch sometime in the second quarter and will be preceded by an employee trial.
Comcast's wireless ambitions have been the subject of great speculation with recent years, with the options ranging from a gradual roll-out of the Verizon partnership to a bolder alternative such as acquiring T-Mobile USA (TMUS) - Get Report or Sprint (S) - Get Report .
For now at least, Comcast is taking the more cautious route. "The strategic/financial rationale was clear: protect their core cable business rather than compete with the Big-4 [wireless carriers]," Macquarie analyst Amy Yong wrote in a Thursday report.
Comcast has staked out a conservative approach that involved slowly growing the wireless base by selling to its cable and broadband subscribers, which Yong described as a "crawl, walk, and run," approach. "In our view, this approach diminishes the likelihood of a wireless acquisition near term," she noted.
Comcast and other cable operators have been trying to get into the wireless business since the 1990s, at first through partnerships with Sprint. Comcast, Cox Enterprises Inc. and Tele-Communications Inc. formed a wireless pact with Sprint in 1994, with Comcast holding 15% of the venture.
The partnership eventually unwound, but Comcast, Time Warner Cable, Cox and Bright House Networks later joined with Sprint in 2006 to buy wireless spectrum licenses in a government auction. The cable operators also took stakes in wireless broadband provider Clearwire, which Sprint later rolled up.
Comcast eventually dropped Sprint, and struck a mobile pact with Verizon in 2011. As part of a larger deal Comcast, Time Warner Cable and Bright House Networks sold wireless spectrum licenses to Verizon for $3.6 billion. Comcast and Verizon also struck the commercial agreement that underlies the Xfinity Mobile service. 
"While execution is still an unknown given the history of cable providers trying to enter wireless, we believe this time around the company is likely to persist more and invest more seriously relative to past efforts," Barclays analyst Kannan Venkateshwar wrote.
The market will get an indication of Comcast's investment in wireless when the FCC releases the results of a wireless spectrum auction in which Comcast is a participant. Bidding concluded recently, and the government will announce winners in the coming weeks. Comcast said it could not discuss the auction because of a quiet period, but the cable operator could deploy its new spectrum as part of the Verizon joint venture to boost its mobile capacity.
Comcast's cable boss Watson likened wireless to other non-cable TV businesses that the company has entered, including broadband, wireline phone services, business telecom services and home security. "These are big categories," he said. "In everyone of these ones we were not first in these categories. I would also say we have had success in each of them."
Xfininty Mobile President Greg Butz said the service would provide customers with a better wireless service and popular phones.  "You're not credible in this space if you don't have Apple and the iPhone...Samsung and the Galaxy," Butz said. Most customers who buy other Comcast services would save on their mobile bills, he added.
Shares of Comcast rose 2.1% to $38.13 on Thursday, and are up about 10% so far this year. 
Comcast is a holding in Jim Cramer's Action Alerts PLUS Charitable Trust Portfolio. Want to be alerted before Cramer buys or sells CMCSA? Learn more now.
Read More: Comcast Launches Wireless Service With Unlimited Data Plan