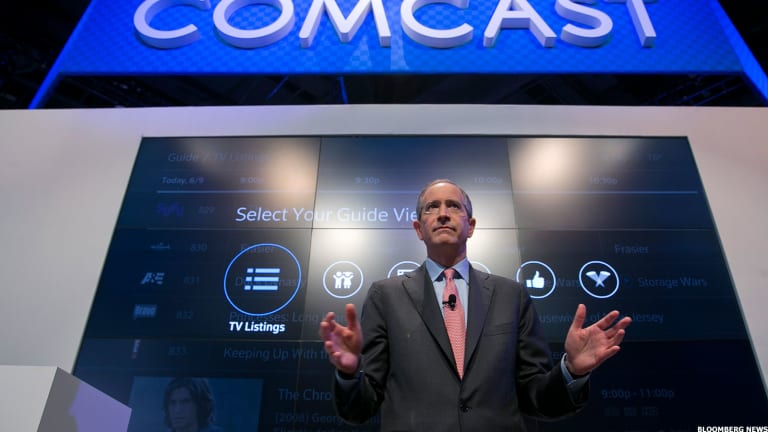 Comcast's Future Isn't as Bright Even If Net Neutrality Is Eliminated
The cable operator and network owner will have to rely on pricing power as declines in pay-TV subscribers accelerate amid slow growth in internet services.
Comcast Corp. (CMCSA) - Get Report shares have tripled over the past five years even as net neutrality was debated and then approved by President Obama's Federal Communications Commission in February 2015.
Yet despite a pronouncement from President Trump's new FCC Chairman, Ajit Pai, that he plans to kill net neutrality rules that regulate internet service providers as public utilities, the outlook for Comcast's stock going forward isn't nearly as bright, media analyst firm MoffettNathanson LLC said in a reported published June 20.
That's partly to do with Comcast's prosperous run-up -- sales grew to $80 billion last year from $55 billion in 2011 -- as well as accelerating declines in cable TV subscribers and a flattening picture for internet growth. 
Most people already have an internet connection, and fewer of them are using the TV to get their entertainment and news. Netflix Inc. (NFLX) - Get Report , Hulu LLC and Amazon.com Inc. (AMZN) - Get Report are ascendant because more people prefer video-on-demand standalone services. Apple Inc.'s (AAPL) - Get Report hiring last week of two Sony TV executives to jump-start its own video plans is only going to accelerate the transition to internet-based video and away from traditional linear television.
For MoffettNathanson, it all comes down to pricing power. Yes, your friendly neighborhood (monopoly) broadband provider can be expected to use Washington's deregulatory mood to raise prices. But it's unclear whether Comcast and other broadband providers will be able to hike prices enough to offset broader slowdowns in their core businesses: internet services and pay-TV.  
The upshot is that even though broadband providers will raise their prices, investors are likely to value Comcast, Charter Communications Inc. (CHTR) - Get Report , AT&T Inc. (T) - Get Report , Verizon Communications Inc. (VZ) - Get Report and others at a lower multiple because revenue will be fueled by pricing power rather than increased unit growth.
"Broadband growth will inevitably slow, and it will likely do so at precisely the same time that video growth rates also come under pressure from [video-on-demand] substitution," analyst Craig Moffett wrote in "Will the Broadband Burden Be Too Heavy to Bear?" He continued: "It is not our intention to 'sound the alarm' on any one issue. We conclude only that risks and rewards appear relatively balanced at current valuations."
On that note, MoffettNathanson downgraded its overall view of the broadband sector while singling out Comcast for a lowered rating to neutral from buy while maintaining a 12-month price target of $45.
Jim Cramer and the Action Alerts PLUS team, meanwhile, recently said, "We continue to see upside to shares as the company is perfectly positioned to take advantage of the stay-at-home economy, where consumers want entertainment on demand and experiential entertainment if they are going to leave the house." The investment club owns Comcast shares.
Comcast shares on Tuesday morning were down 2.9% to $40.60, trimming the stock's 12-month gain to 30%. The company declined comment on the report.
As for broadband pricing power, there are already calls for providers to raise internet service prices given the increasing amount of video moving through their pipes (built, of course, with all sorts of government subsidies and tax credits.) Internet service providers should be getting an average of $90 per subscriber, New Street Research LLP analyst Jonathan Chaplin said in a recent report.
Yet such growth is ephemeral, MoffettNathanson argued. Broadband providers already are having to adjust to a quickening pace of cord-cutting. The pay-TV subscriber universe in the first quarter shrank at its worst-ever annual rate of decline, a drop of 2.4%. And it's likely to get worse.
Even gutting net neutrality won't reverse that trend.
Jim Cramer and the AAP team on a recent call with members of the investment club said they aren't buying Apple here and think Facebook Inc. (FB) - Get Report and Alphabet Inc. (GOOGL) - Get Report look better on a dip.