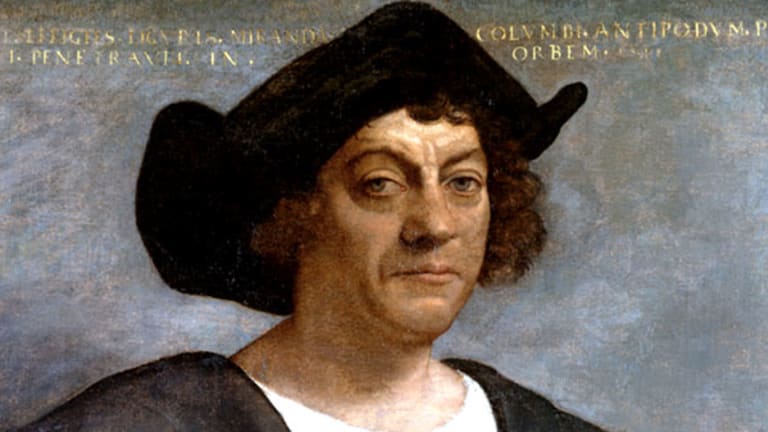 Columbus Day 2013: What's Open, What's Closed
Whether you get Columbus Day off depends on where you live. But just be sure you get the name right.
Updated with information on delivery of mail and packages.
NEW YORK (
) -- Columbus Day, which is now the second Monday of October, is among the strangest "holidays" on the calendar. It is celebrated irregularly, in many different ways, while in other places it's ignored and in still others actively discouraged.
Technically
, but the shutdown means national parks, where employees might celebrate, are also closed, including some, like Biscayne National Park off Miami,
that mostly exist in the water.
Many Italian-American groups, of course, celebrate their pride with a parade -- New York's is the biggest -- but is anyone other than federal government employees and very proud Italians really taking the day off?
TheStreet
is not, because the
New York Stock Exchange
, across from our offices,
On the other hand, the bond market, which deals with federally insured paper, is closed. With the bond market, and other federal offices dealing with money, taking the day off, this means your bank office will be closed. The ATM, of course, will be open.
Whether your local public library is open depends on whether the city or county it's in is giving employees the day off. Generally, governments in northeastern states are giving the holiday, those elsewhere are not. For instance, libraries in Buffalo are closed. Those in Atlanta are open. State offices in Georgia are closed, but early voting for city elections will be available from county offices.
Here's how close it can get. Parking meters run by the city of Minneapolis will not be visited, so park all you want. Unless you're at the University of Minnesota and local parks -- meter maids there will be issuing tickets. As will all those
Generally, the closer you are to a large Italian-American population, the more likely people will be out celebrating. Italians will be proudly marching in San Francisco, for instance. But Berkeley is giving its employees the day off, and has called this holiday Indigenous Peoples' Day for 20 years. They're
Hawaii calls the day "Discoverers' Day" for its Polynesian community, but state offices there are open.
Don't think this Columbus Day defiance is some crunchy liberal thing, either. South Dakota calls October 14
"Native Americans Day"
and state offices will be closed. Oklahoma state offices will be open, but the day is celebrated by each tribe. Most of the northeast corner of the state will celebrate Monday as
Cherokee Day.
But there are eight other tribes nearby, and each will attach their name to the celebration.
The resentment isn't confined to native Americans, either. Many Latin American countries, including Mexico, call October 14 Dia de la Raza, or "Day of the Race," but the intent there is the same, to counteract the idea that a European called Columbus "discovered" something that was here all along.
What the day is called depends on who has the political clout to own it. In Costa Rica, where there is a close balance of all races, October 14 is "Dia de las Culturas," or "Day of the Cultures," and recognizes all the African, European, native American and Asian cultures
Just as Columbus Day keeps some people away from work, of course, it means others work harder than ever. This is especially true in retailing, where car dealers, malls and outlets have made it a tradition to advertise specials.
The action has even moved online, to sites like
,
and
Pinterest
.
So whether you're celebrating Columbus Day, an anti-Columbus Day, a shopping day, or just a Monday, make it a good one. Next Tuesday, the day after, we hope you are all happily back to work.
At the time of publication, the author planned to be hard at work Monday morning.
Columbus Day is a postal holiday; no mail will be delivered by USPS.
FedEx and UPS will provide normal pickup and delivery services on Columbus Day.
This article is commentary by an independent contributor, separate from TheStreet's regular news coverage.
Dana Blankenhorn has been a business journalist since 1978, and a tech reporter since 1982. His specialty has been getting to the future ahead of the crowd, then leaving before success arrived. That meant covering the Internet in 1985, e-commerce in 1994, the Internet of Things in 2005, open source in 2005 and, since 2010, renewable energy. He has written for every medium from newspapers and magazines to Web sites, from books to blogs. He still seeks tomorrow from his Craftsman home in Atlanta.