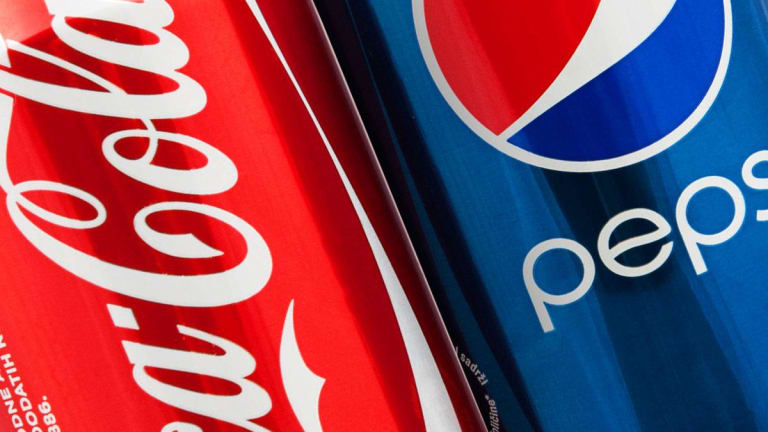 Coke and Pepsi Dump Sugar, Sweeten Earnings Prospects as Consumer Habits Change
Coke joined rival Pepsi in riding a renewed wave of demand for sugar-free and low-calorie soft drinks to firmer-than-expected sales this quarter, confirming the industry's focus on healthier snacks and changing consumer habits.
Coca-Cola (KO) - Get Coca-Cola Company Report joined rival PepsiCo Inc.  (PEP) - Get PepsiCo, Inc. Report in riding a renewed wave of demand for sugar-free and low-calorie soft drinks to firmer-than-expected sales this quarter, confirming the industry's focus on healthier snacks and changing consumer habits.
Coke Zero, the iconic soft drink maker's no sugar alternative, notched "double-digit" sales growth in the three months ending near the end of September, helping boost overall group revenues 8.5% to $9.5 billion. Coke Zero volumes, the company told investors on a conference call, are rising 14%. 
Pepsi said earlier this month that Gatorade Zero, a sports drink with no sugar, and Bubly, a sugar-fee canned sparking water, helped overall sales -- which include a huge portfolio of snacks -- rise 4.3% to 17.19 billion.
"Improving choices across our portfolio by continuing to reduce added sugars, sodium and saturated fats in many of our products," is one of Pepsi's key focus points, CEO Ramon Laguarta told investors earlier this month, adding the group will  meet or exceed its 2019 organic revenue growth target of 4%.
"We currently offer several choices that address this objective, including Pepsi Zero Sugar, Lay's Baked, whole fruit and multigrain, Tropicana Whole Fruit and Sunbites Veggie Harvest," he added. "And we will continue to expand our offerings of more nutritional options."
Nestle SA (NSRGY) - Get NSRGY Report , the world's biggest food company, committed to a 5% reduction the sugar found in its products by 2020, after hiving more than 32% of the table sugar added into food between 2000 and 2013.
The shift certainly makes sense; around 28 countries, as well as 12 different cities around the world have increased levies on food and drinks with heavy sugar contents, according to the World Cancer Research Fund, while others have limited television advertizing and marketing of sugary drinks to children. 
That's had a mixed affect, however, according to research from the Rudd Center for Food Policy & Obesity at the University of Connecticut, which found that nearly two-thirds of the $2.2 billion in fruit drinks and flavored waters sold to children. 
"Beverage companies have said they want to be part of the solution to childhood obesity, but they continue to market sugar-sweetened children's drinks directly to young children on TV and through packages designed to get their attention in the store," said study lead Dr. Jennifer Harris. "Parents may be surprised to know that pediatricians, dentists, and other nutrition experts recommend against serving any of these drinks to children."
Public Health England, however, notes that Britain's tax on sugary drinks, which came into effect in April of 2018, as lead to a 13.8% increase in the sale of non-sweetened alternatives and an 8.8% fall in the sale of traditional, sugar-heavy brands. 
Coca-Cola has sensed this pressure for years, and has moved to slowly shift its reliance on sugary sodas to healthier drinks, as well as coffee and tea, where volumes grew 4%, this quarter, led by strong performance in Japan and in Turkey as well as Gold Peak tea in North America.
Last year, Coca-Cola paid $5.1 billion to Britain's Whitbread Plc (WTBDY) to buy Costa Coffee, the world's biggest coffee retailer behind Starbucks Inc. (SBUX) - Get Starbucks Corporation Report , establishing a foothold in what CEO James Quincey called "one of the strongest growing categories in the world."
Shares in the group rose 1.8% in early Friday trading after Coca-Cola said its sees  improving operating income for this year, despite stiffer headwinds from a stronger U.S. dollar, as growth of its trademark soft drink, as well as zero-sugar and healthier options, drove solid third-quarter sales growth.
Looking into the final months of 2019 Coca-Cola said its expects organic revenue growth of "at least 5%", a modest increase from its prior forecast, with full-year operating income growth of between 12% and 13% on a currency-neutral basis. Headwinds from a stronger U.S. dollar, which is trading around 3% higher from the same period last year on an index basis, will rise to between 8% and 9%, Coca-Cola said, up around 100 basis points from its second quarter estimate.
"Our performance gives us confidence that our strategies are taking hold with our consumers, customers and system," Quincey said. "We are positioning the company to create a better shared future for all of our stakeholders by delivering on our vision and growing sustainably."