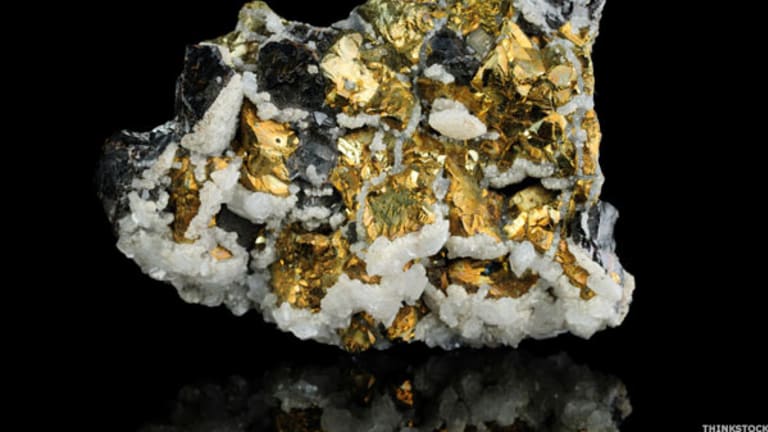 Coeur d'Alene Looks to Prove its Worth Among Silver Stocks
Coeur D'Alene Mines, a silver and gold miner, has been punished by markets, but its luck could be changing as silver prices rise.
NEW YORK (
) -- Mitch Krebs, the newly minted chief executive officer of
Coeur d'Alene Mines
(CDE) - Get Coeur Mining, Inc. Report
, is looking to bring some shine back to the silver miner -- and he has his work cut out for him.
Krebs was named president and CEO in July, taking the reins of a 60/40 silver and gold miner whose shares have, so far, failed to ride the breakout in
higher and have returned little to investors. Despite its struggles, analysts believe Coeur could now be a buy.
Coeur has suffered from recent missteps. The company missed second quarter estimates and finds itself in the midst of a painful growing phase. The company has three primary mines in production: San Bartolome in Bolvia -- reportedly immune from recent nationalization talks -- Palmarejo in Mexico and Kensington in Alaska. The miner has proven and probable gold reserves of 2.5 million ounces and 227 million ounces of silver. Despite making 43 cents a share in the second quarter on net income of $38.6 million, the stock has seen little love from the market.
While
and silver prices are up 33% and 40%, respectively for 2011, shares of Coeur are down 1.75%. It's not alone in this respect. The
Global X Silver Miners
(SIL) - Get Global X Silver Miners ETF Report
is flat for the year while heavy weights in the industry like
Barrick Gold
(ABX)
and
Kinross Gold
(KGC) - Get Kinross Gold Corporation Report
are down 0.72% and 6.14%, respectively.
Vote: How High Will Silver Prices Go in 2011?
One reason these mining stocks have lagged their underlying commodity is that investors are piling into gold and silver ETFs as a safer way to invest in the metals. To entice investors, gold and silver mining companies are forced to sweeten the pot by expanding their growth profiles, sometimes at the expense of high grade metal and low cash costs, and by raising their dividend. In fact,
Newmont Mining
(NEM) - Get Newmont Corporation Report
instituted the first dividend tied to the gold price earlier this year while other companies are just increasing their payout.
The move has caught Krebs' attention.
"2012 is a year where this company will be looking very hard at putting some sort of dividend policy into place," he said.
Krebs is also hoping to woo investors by ramping up the company's exploration profile by announcing a 67% increase in its exploration budget for the second half of the year with the accelerated pace to continue in 2012. The company's debt is down 16% in the second quarter and it has $100 million in cash and cash equivalents, which Krebs said has grown to $147 million since the end of June.
Despite the improving balance sheet, Coeur's three main mines aren't running smoothly yet. According to Krebs, on a scale from 1 to 10 -- 10 being operationally "perfect"-- San Bartolome is at a 9, Palmarejo is at a 7 and Kensington is at a 5.
"In the first year or so these new mines are less efficient than they get in years 2-5 and beyond," said Krebs. "We've brought on in quick succession three new mines, and as a new mine comes on that overall gross margin comes down as new mines get efficient ... we've seen those margins increase."
Although it cost $4 to mine an ounce of silver in the second quarter, down 50% from a year earlier, Coeur's cost to mine an ounce of gold at Kensington was $924 due to lower grade gold. Krebs is hoping for better ore in the second half of the year and by 2012 hopes the mine will be producing 125,000 ounces annually, which would be the target for the life of the mine and would drastically reduce costs.
In the meantime, Krebs is hoping to control costs by buying in bulk to score better pricing deals on consumables like tires and cyanide. Krebs says diesel costs are coming down and that labor costs have been flat.
Analysts are split on Coeur. The stock has 4 buy ratings, 4 holds and an average price target of $40.50, representing a 49% premium to its current stock price.
Analyst reaction to Coeur's second quarter was relatively muted. The company missed estimates drastically by failing to sell all of its silver and gold but compared to a year earlier, when the company reported a loss, the second quarter was a big win. Krebs said all the gold and silver has now been sold and is reflected in the company's increased cash position.
CIBC
has a sector perform rating on the stock and expects Coeur to have a strong performance in the second half of the year and to meet production guidance at 19.5-20.5 million ounces of silver and 240,000-250,000 ounces of gold.
JPMorgan Chase
, which is neutral on the stock, noted the company's "much improved quarter" and has maintained its guidance for the rest of the year. "While investor interest in silver continues to grow, we expect Coeur will remain attractive as the stock is, in our opinion, very sensitive to further upside in silver prices." JPMorgan also listed Coeur's ability to invest at other mines sites and take tactical stakes in junior explorers that "might have attractive assets" as positive attributes.
JPMorgan says the biggest downside for Coeur is a long-term pullback in silver prices, production delays and rising cash costs. The investment bank says that Coeur is fairly valued but that a big increase in the gold and silver price could provide upside.
With gold prices flirting near $1,900 an ounce and many experts thinking silver is playing catch up, higher prices could be the catalyst Coeur has been looking for.
--
Written by Alix Steel in
New York.
>To contact the writer of this article, click here:
Alix Steel
.
>To follow the writer on Twitter, go to
.
RELATED STORIES:
>> Where will gold prices finish in 2011?
>> How High Will Silver Prices Go in 2011?
Disclosure: TheStreet's editorial policy prohibits staff editors and reporters from holding positions in any individual stocks.