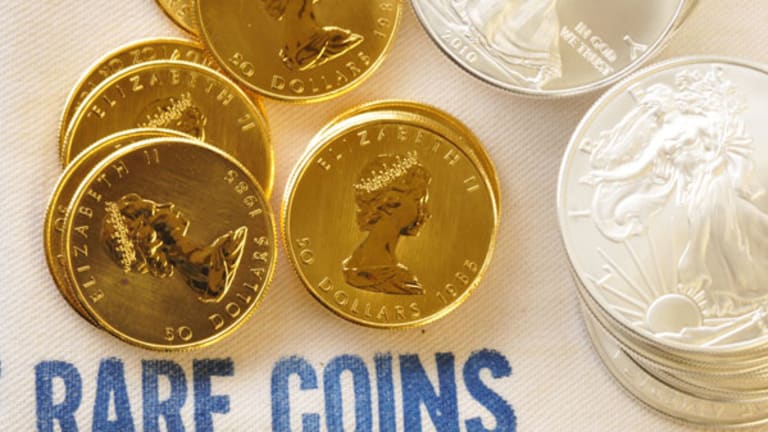 Coeur d'Alene Looks Like 'Silver Chalice'
This stock may be poised to take speculative money to the land of capital gains.
COEUR D'ALENE, Idaho (TheStreet) --Traders and investors are constantly on the quest for the next "silver chalice" to take their speculative money up to the land of capital gains.
All roads do not lead to good results and pleasing outcomes. That has been especially true for precious metals and precious metals stocks in the past seven months.
It's been a tough year for the silver-mining community and their shareholders as well.
Take a peek at the one-year chart of the
Global X Silver Miners
ETF
(SIL) - Get Global X Silver Miners ETF Report
, which poignantly demonstrates how low these stocks have dropped. It also hints at the beginning of a possible new rally.
After tanking on May 16 at $16.54-a-share (intra-day low), SIL closed on May 25 at $18.21, a 10% gain in just eight trading sessions.
One component of SIL is
Coeur d'Alene Mines
(CDE) - Get Coeur Mining, Inc. Report
, which closed at $17.46 on May25. This is a 7.7% increase from the intra-day, 52-week low price of $16.21 reached on May 23.
Coeur d'Alene, which is based in Coeur d'Alene, Idaho, claims on their < ahref="http://www.coeur.com" target="blank">web page to be "the largest U.S.-based primary silver producer and a growing gold producer."
In 2012, the company expects to produce between 18.5 million and 20.0 million ounces of silver and between 210,000 and 230,000 ounces of gold.
Total cash operating costs are expected to be $6.50-$7.50 per silver ounce (assuming $1,500 per gold ounce by-product credit, which may be conservative).
Cash operating costs at its Kensington mine are estimated at $1,150-$1,250 per ounce of gold. Kensington, located 45 miles north of Juneau, Alaska, contains 1.3 million ounces of gold in proven and probable reserves within 6.0 million tons at an average grade of 0.22 ounce per ton at year-end 2011.
Kensington is expected to produce 82,600-86,500 ounces of gold in 2012. Over two-thirds of this year's production is expected in the second half of the year.
Coeur d'Alene Mines announced on May 24 that
full production resumed
at one of its Mexican mines, after a small group of employees who had been blocking access to the mine agreed to return to work.
The company had reported the day before that workers began blocking access to the Palmarejo Mine in northern Mexico the previous weekend.
Coeur d'Alene spokeswoman Stefany Bales was quoted by the
on May 24 as saying the workers were blocking access because of pay concerns.
The good news is that Coeur d'Alene doesn't anticipate the shutdown to have much of an impact on the mine's 2012 production.
The AP report claimed that "In 2011, the mine produced 9 million ounces of silver and 125,071 ounces of gold, representing about half of the company's revenue that year" and that was according to Coeur d'Alene's annual report.
CDE prepared an excellent
Overview of First Quarter 2012 Results
that is not only comprehensive but does an outstanding job of showing shareholders what a valuable company it is..
I strongly urge current shareholders and investors interested in Coeur d'Alene to take the time to go through every page of this illustrative overview.
You'll be able to convince yourself one way or another whether this is the "silver chalice" you've been looking for at a price that doesn't come along very often.
Cash operating costs for silver has dropped appreciably in 2012 and silver production increased by almost 20% to nearly 5 million ounces.
As a metric of how undervalued CDE shares are, its PEG Ratio (5-year expected) is an incredibly low 0.20. The lower the PEG Ratio is below 1, the more its share price is deeply discounted and "on sale".
Due to central banks purchases and speculative bargain-buying,
precious metals prices
are expected to rise meaningfully between now and the end of the year.
That's why I won't be surprised to see CDE retest its 52-week high of $30.99 before 2012 comes to a close.
The precious metals sector make retest recent lows first, but eventually I'm convinced it's going to surprise to the upside in a big way.
Disclosure: At the time of publication, Marc Courtenay was long CDE.