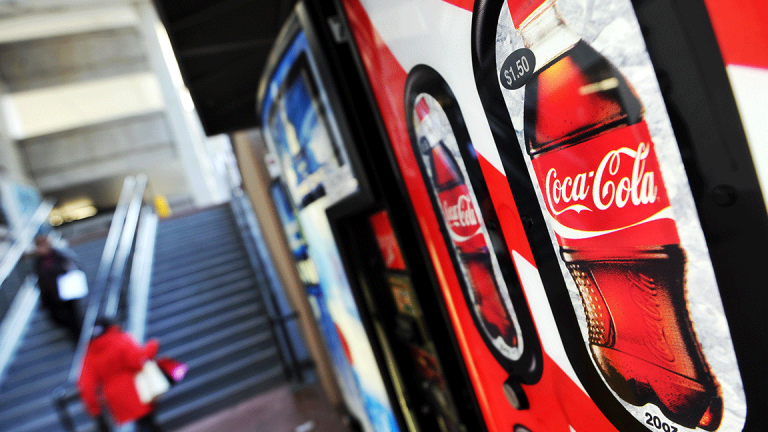 3 Challenges Coca-Cola's New North America President Jim Dinkins Faces
Dinkins previously headed Coca-Cola's Minute Maid business unit and served as chief retail sales officer. He's replacing Sandy Douglas, who had been on the job at Coke for 30 years.
Coke's new guy has some work to do. 
The Coca-Cola Co. (KO) - Get Coca-Cola Company Report will have a new head of its North America operations at the start of next year, the company said Monday, Oct. 23, but the challenges the new leader could face are already piled high.
Jim Dinkins, who formerly served as the head of Coca-Cola's Minute Maid business unit and chief of retail sales officer in North America, will take over as President of Coca-Cola North America starting Jan. 1, 2018. Dinkins is replacing Sandy Douglas, who will retire after 30 years with the company.
Dinkins started working at Coca-Cola North America in 1988 and was most recently promoted earlier this year. When he begins his new duties as North America president, Dinkins will report directly to Coca-Cola CEO James Quincey.
Douglas had previously made his intentions clear: he wanted to retire from Coca-Cola after his successful refranchising process was completed. With most of that campaign done and dusted, he's retiring to start a non-profit with his wife.
Dinkins is a logical choice - he's been with the company for as long as Douglas and headed Coca-Cola's Minute Maid business. That means he has ample experience in Coke's rebranding that aims to pivot the company to more of a "total beverage" firm than just a soda pop company.
But even with his impressive resume, Dinkins will face some unique challenges at the helm of one of Coca-Cola's most important businesses, its flagship North American market.
People Just Don't Drink as Much Soda as They Used To
Over the past decade, soda consumption has slowed. About half the people in America don't drink soda at all, according to food activist Marion Nestle's book "Soda Politics." As the general population skews increasingly toward the health conscious, they're giving up the sticky sweet stuff for water.
While Coca-Cola still has a horse in that race, it's worth noting that the company his previously disclosed in SEC filings that obesity and health-related concerns pose a major threat to demand for Coke products.
"If we do not address evolving consumer preferences, our business could suffer," Coca-Cola wrote in its most recent annual report.
"Consumers are going to go where they're going to go ... They're interested in a broader universe of products," said Beverage Digest editor Duane Stanford in an interview with TheStreet. "They're interested in ingredients."
Dinkins seems to be the right man for the job, Stanford noted, given his diverse background in customer relations. He should have a "very full understanding" of how consumers expect Coke to become a total beverage company.
Coca-Cola Is Undergoing Major Changes and Growing Its Brands
Coca-Cola has been through a great deal of change since it was first founded 125 years ago. Gone are the days of selling only carbonated soft drinks, due in large part to the health concerns outlined above.
Coca-Cola now operates as subsidiaries Odwalla, Honest Tea, Innocent Drinks, Fuze, Simply Orange Juice and more. That means Dinkins is going to have to prove his chops in a variety of consumer brands, not just soda or lemonade.
"His proven leadership with our customers and in expanding our portfolio of juices, natural health beverages, chilled tea and value-added dairy gives him the breadth of experience and skills required for this role," Douglas said of his successor in a statement released Monday.
Notice there was no mention of Coke's flagship soda product in those laurels. Dinkins snagged this job for his experience outside of the traditional Coke wheelhouse, so he'll likely be expected to deliver right away.
Leading by Example Is the Only Way
Coca-Cola has been growing value for its carbonated soda drinks portfolio even as volumes sold shrink, primarily as a result of strong bids to drive revenue and profit with streamlined production and consumer-oriented sales and marketing, Stanford said.
While this goal to drive value is not unique to North America, that's the market that's leading the charge - and Dinkins is about to be on the front line. Stanford said Coca-Cola has to get it right in North America in order to outline the best means of dealing with a shift in consumer demand for other markets.
The way North America traverses the changing demands of consumers will inform how other markets maintain value and profitability moving forward, Stanford said. That means all eyes will be on Dinkins as soon as he takes over Jan. 1.
Coca-Cola stock traded slightly lower 0.19% to $46.29 Monday. Shares have gained close to 12% since the start of the year.
More of What's Trending on TheStreet: