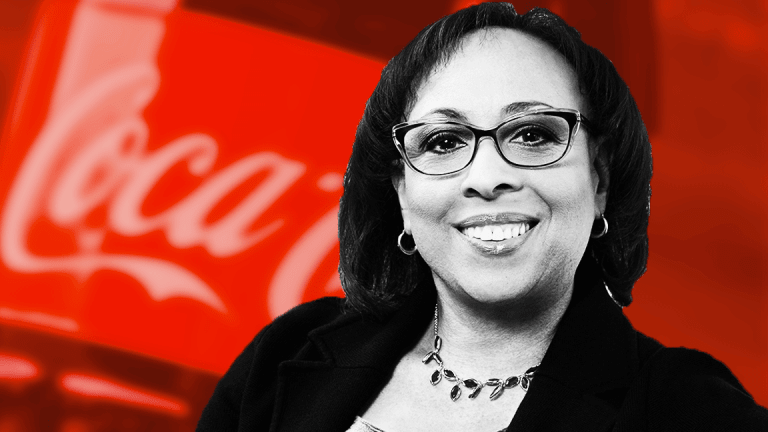 Podcast: Coca-Cola CFO Kathy Waller Talks About Future of Women in Business
The Coca-Cola Chief Financial Officer Kathy Waller is an American business success story. TheStreet talks with her about how more women could follow her career path.
Very few make it to the top of Corporate America's highest mountain, known as the C-Suite. Those that do often have a story to tell. 
The Coca-Cola Company (KO) - Get Coca-Cola Company (The) Report Chief Financial Officer Kathy Waller has come a long way in her career since joining the beverage giant as a senior accountant in 1987. Through tireless efforts and an unyielding dedication to her company, Waller has ascended to one of the most elite positions at Coke ... if not Corporate America.
TheStreet talks with Waller about her rise through the corporate ranks and how she thinks more woman could follow her path. Here are two excerpts below from the podcast interview, which could be listened to below. 
Coke beat on earnings estimates on Tuesday, for the record.
On How to Get Ahead:
TheStreet: How could my two-year old niece eventually become the CFO of Coca-Cola? What advice would you give her? 
Waller: I would tell her to allow herself to dream and figure out what makes her happy. Take jobs that she enjoys, but always strive to learn new things. The experience builds on its each, the learning builds on each other. Meeting people and creating relationships is invaluable and can lead you to places that you can't even dream about. 
Learning and meeting people have helped me to get where I am, and are a great recipe for anybody.  
On Coke's Future
TheStreet: What's the future of Coca-Cola look like?
Waller: First off, I think it's exciting and there lots of opportunities for the company. We are expanding our beverage portfolio and making sure we have beverages that the consumer wants. That's going to bring lots of different challenges, but also opportunities. We will see what that looks like. 
Still, we will be a beverage company that is very consumer-focused. Certainly not on the forefront of some of the changes, but certainly not lagging either. We will be more digital in our operations and how we deal with consumers.