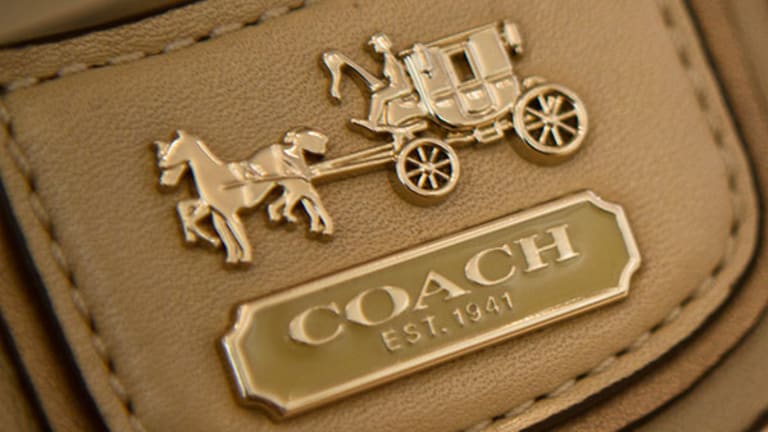 Coach's Turnaround: Too Little, Too Late
Cost control helped Coach beat expectations, but it's playing in a market where consumers are shifting priorities and brand preferences.
NEW YORK (TheStreet) - Good cost control helped Coach (COH) beat consensus earnings expectations in its fiscal first-quarter, but it doesn't ignore the fact the handbag and accessories maker is playing in a market where consumers are shifting priorities, as well as brand preferences. As the company resets itself for long-term growth into a more lifestyle-oriented company, it's hard to know if consumers will still be receptive.
Early Tuesday, Coach reported first-quarter profit of $218 million, or 77 cents a share, compared with $221 million, or 77 cents a share, in the year-earlier quarter. Wall Street was expecting the company to earn 76 cents. Net sales slipped to $1.15 billion in the September-ending quarter, below analysts' expectations of $1.19 billion.
Internationally, even though total sales slipped to $365 million, on a constant currency basis, sales rose about 9%, Coach said. Sales in China specifically remained very strong, up 35%, with comparable sales up double-digit rates, offsetting declines in Japan.
However, it was the sales comps at Coach's U.S. stores that have investors worried. The company said total North American sales fell 1% to $778 million in the quarter. Comparable store sales declined 6.8% in the quarter, worse than expected. U.S. direct sales were down 1%, as well as department store sales in the U.S., which were also down modestly from the prior year.
Shares fell 7.9% on Tuesday to $49.88, with the stock struggling throughout 2013. Shares are down 0.60% year-to-date as of Monday's closing price, vastly underperforming the S&P 500.
Coach is working on a transition, going from a handbag and accessories maker to a full lifestyle company, focusing specifically on men's products, watches and shoes. Early evidence says that the transition is working, but will still take time to complete.
Coach shares are down "reflecting comp momentum and continued weak North American comps projected for remainder of the fiscal year," said retail analyst Marie Driscoll in an email. "That said they are seeing good response to new handbags, footwear and watches -- notably in the outlet channel. It's a nice entry point for the next double-digit gain expected over the coming 12 months as COH executes [its] turnaround and sees a lift in sale productivity in North American as well as internationally."
Still Coach is faced with a tough competitive environment, exacerbated by a consumer base that isn't really in the market these days for Coach products.
Retail consultant Jan Rogers Kniffen though believes Coach will continue to be a victim of changing consumer preferences.
"The consumer has stepped away from Coach in favor of Michael Kors (KORS) , Fifth & Pacific's (FNP) Kate Spade, Tory Burch, etc.," Kniffen said in an email to TheStreet. "Coach is no longer breaking out full line versus outlet comps for the U.S., but full line has been and continues to be very tough for them. I do not see that changing between now and holiday. International seems to be fine for Coach with China exploding, it is the lack of interest in the good, old [U.S.] that is killing them at the moment."
During the earnings call this morning, the company said it expects North American comparable sales run rate to be down in the "high-single-digits" for the balance of its 2014 fiscal year.
Driscoll thinks the company is being overly cautious, especially when it comes to selection for the holiday season.
"In North America, I'm surprised they aren't projecting an improving trend, I think they are being extremely cautious. The holiday assortments look fabulous and very upscale," Driscoll adds.
However Kniffen says the company will likely have a tough holiday as the season is shaping up to be a tough quarter for many retailers.
"The first half of 2013 was tough for discretionary retail. August was awful, and September was no better. October may be marginally improved, but that is not enough. I am hopeful that the slowdown in housing and the peaking of auto sales may make room in the consumer's budget for sweaters and accessories, but I am not holding my breath," he says.
"While I think Coach will put it all back together under the new management team, that is not a fast or easy process, and the conversion to a 'lifestyle brand is not easily done either," Kniffen says. "This is a next year story, at best."
-- Written by Laurie Kulikowski in New York.
Disclosure: TheStreet's editorial policy prohibits staff editors, reporters and analysts from holding positions in any individual stocks.