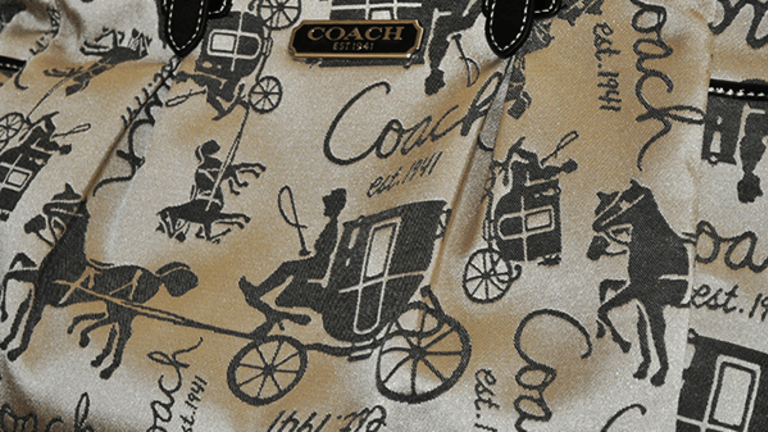 Coach Will Spend $2.4 Billion to Buy Rival Kate Spade - Here's Why
A long-rumored deal finally comes together.
Coach (COH) has increasingly yearned to be a portfolio manager of accessories brands that it could grow, and just opened its pocketbook up very wide to further that mission. 
The handbag and accessories maker said Monday it will acquire Kate Spade (KATE) for $2.4 billion. The deal represents a 27.5 percent premium to Kate Spade's closing price as December 27, 2016, which is when speculation of Coach's interest surfaced. Kate Spade shares closed Friday at $16.97. They surged more than 8 percent on Monday to $18.38. 
Coach sees about $50 million in cost savings within three years of the deal closing, most of which will come from closing unproductive locations at department stores and consolidating operations. On a conference call with analysts, Coach executives said Kate Spade will continue to be an independent brand, but will likely leverage its best in class leather supply chain.  
For watchers of Coach under CEO Victor Luis, who assumed the leadership position in January 2014, the play for Kate Spade isn't a shocker. It was always a matter of when Coach's next deal would happen, not if. In January 2015, Coach spent $574 million to buy designer footwear maker Stuart Weitzman. 
"We have been pretty consistent in discussing our interest in three spaces -- the handbag and accessory space, the footwear space, outerwear as well as other luxury retail categories because it is about the unique skill-set we can bring to any acquisition," Luis said in an interview with TheStreet in November about his views on potential acquisitions. Luis believes Coach is best in class in quickly scaling luxury brands globally as well as developing them by expanding into new categories. Those are things that Coach hinted on Monday that it will do with Kate Spade.
Watch: Coach to Buy Kate Spade in a $2.4 Billion Deal
"More than a category, it's about great brands -- and obviously if there are great brands in the space we will look at them," added Luis, who has spearheaded an impressive turnaround of the 75-year old leather maker via an improvement in product quality, the debut of trendier, more expensive handbags such as ones featuring Mickey Mouse, and cost cuts.
As for Kate Spade, the transaction comes after an exhaustive search to sell the company in light of some activist pressure. In November of last year, small hedge fund Caerus Investors said in a letter to Kate Spade's board that the company should sell itself amid a weak stock price.
Read More of TheStreet's Top Stories:
Here's a Big Clue That Warren Buffett Is Very Bullish on Bank of America's Future
Why Tesla's Explosive Stock Price Deserves to Keep Plummeting
You Must Start Investing Now Because the Dow May Hit 100,000 By 2030