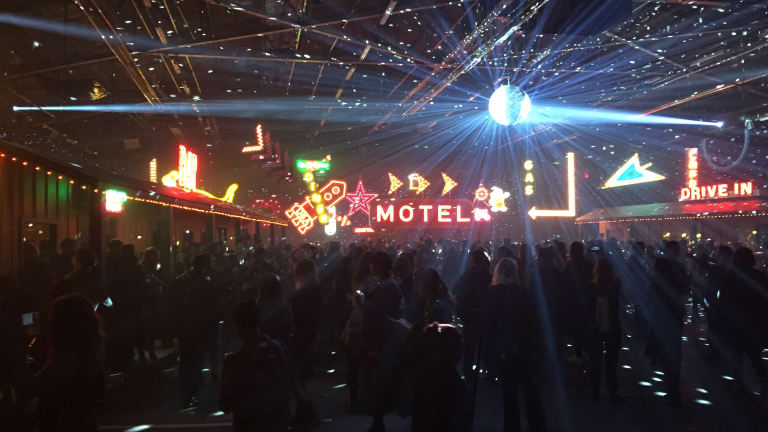 Coach Throws Itself a Mind-Blowing 75th Birthday Bash
The luxury goods maker pulls out all of the stops to celebrate its important milestone.
The luxury goods maker pulls out all of the stops to celebrate its important milestone.
The good times returned to Coach (COH) this year, so the handbag maker apparently was OK with sparing no expense to celebrate its 75th birthday with a few close fashionable friends on Thursday night.
Actually, make that a crowd of fashion elite (and fashion wannabes) the size of a rock concert packed out in an old warehouse by the water in New York City. Coach's musically loud birthday bash, which was attended by TheStreet, was nothing short of over-the-top featuring various props such as vintage American cars, hanging electric dinosaurs and outposts that looked straight out of a old Western movie set. And yes, there was top shelf liquor (but sadly, no food).
What was likely a big budget affair continued a theme of Coach focusing on the fashion scene to help boost the brand's cachet. Along with its elaborate birthday party, Coach is also fresh off opening a pop up store in New York to showcase an ultra-trendy new product line as well as throwing quite the eye-popping runway show during fashion week.
"Our transformation that we refer to as modern luxury is really about transforming the brand much more into a lifestyle brand that has fashion credibility and that is very much grounded in the history, heritage and quality of Coach being America's original house of leather," Coach CEO Victor Luis told TheStreet in an interview in May. "Where we are seeing the most positive response, and one we are most excited about, is the most fashion engaged consumers are an increasing number of our customer base," added Luis. 
Before Coach shareholders inundate the investor relations email inbox with questions about the birthday party's cost, they should probably reflect on the impressive comeback for the brand this year inside a brutally competitive handbag market. In large part, it's Coach's perceived higher quality and coolness among consumers -- words that are being spread online by holding elaborate gatherings with influential fashion scene people -- that are fueling its business.  
Coach saw U.S. same-store sales -- which are sales from stores open longer than a year -- rise 4% at its bricks-and-mortar retail locations for the quarter ended Oct. 1, helped by a venture into more premium handbags such as its 1941 and Felix the Cat collections. Coach's sales of handbags priced above $400 rose to 50% of its retail store sales, up sharply from 30% a year ago.
The push into higher-priced bags and accessories lifted the Coach brand's gross profit margin in the October quarter to 69.8% from 68.6% a year ago. Earnings jumped 10% from the prior year to 45 cents a share.
Strength at its U.S. retail stores -- as well as in China and Europe -- aided Coach in overcoming another challenging quarter at North American department stores. Sales in that channel plunged a whopping 30% as the company exited about 120 unproductive spaces, per a decision announced earlier in the year to vacate 250 or so locations.
Coach reiterated that it sees revenue rising by a low- to mid-single digit percentage for its fiscal year, as well as earnings rising by a double-digit percentage. Shares of Coach have gained about 24% over the past year, outperforming the S&P 500's 9.4% gain. 
Here are some of the sights from Coach's birthday party. 
Classic American cars greeted what was a very fashionable group of people. 
An old four-door Caddilac never looked so good.
Coach has used dinosaurs as muses for its handbags and apparel this year. 
Coach's stock has roared higher over the past year.
Inside this house, Coach workers were hand-stitching things together for guests. The crowds were too fierce to see what they were stitching -- maybe a highly sought after free party gift. 
The bar was free, of course.
Cool props were scattered about.
We want this sign.
So ... many ... trendy ... looking ... people ... on ... hand. Definitely some faux Instagram influencers walking about the room with their free booze and Apple iPhones. 
Guy's jacket seems pro-Trump.